Utrecht On a Budget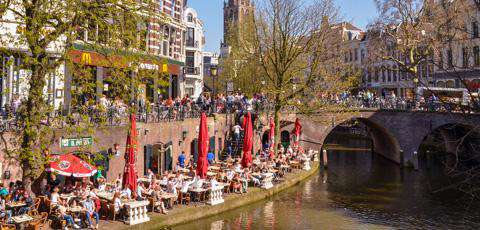 Utrecht is a province in the Netherlands, and its capital city happens to be called Utrecht as well. Utrecht is a unique university city (sorry for the tongue twister). Imagine Amsterdam but smaller, and with fewer tourists. Utrecht has the same underlying historical/magical feel as Amsterdam does, but is full of locals rather than crowds of tourists. It has a population of about 300,000 making it the fourth largest city in the Netherlands.
Sights
There is a lot of abstract street art in Utrecht. From rainbow-colored crosswalks to animated bunnies as traffic symbols, you will really witness it all. Nightfall is when it really gets interesting, though. Without fail, 365 days a year, Trajectum Lumen illuminates the streets of the historical city center. This is basically an outdoor art exhibit of sorts. Light artists from around the world have created eye-catching installations that project onto buildings, or light up dark tunnels. Trajectum Lumen is open from sunset to midnight every night, and a map can be downloaded online. You can also get a map at any of information center around the city.
The "main attraction" in Utrecht is Domtoren (Dom Tower). It is a Gothic style church tower in the center of the city, and also, the tallest one in the whole country. You can climb 465 stairs up the tower for incredible 360-degree views of Utrecht. If you want to find a place where you can actually have the tower as part your view, go to the top floor of the V&D department store located in central station. The Domtoren is the tower of St. Martins Cathedral, which was the cathedral of the Diocese of Utrecht during the middle ages. There is a beautiful garden courtyard in the center with benches to sit at and reflect on your amazing experience in Utrecht.
De Oudegracht (old canal) is, in my opinion, the best canal experience in all of The Netherlands- and there are thousands of canals. This particular one was, long ago, an original section of the Rhine River. The canal lies below street level and the shores of the canal have been turned from historical warehouses and wharves into cafes, shops, and galleries. It runs through the city center so it's pretty hard to miss.
Nearby de Oudegracht you will find De Winkel van Sinkel. Winkel means shop, just so you know. It was the first department store in The Netherlands and has multiple female statues as pillars in the front. This department store opened in 1824.
The Koppelpoort in Amersfoort, which is northeast of Utrecht, is a medieval gate that was built around 1425. It sits over water and is part of the second city wall of Amersfoort. When the water is still, you can get stunning reflection shots, no matter your level of photography skills.
Neighborhoods
The Netherlands has 12 provinces, one of them being Utrecht. The provincial capital of the province is called Utrecht. There are many other cities in this province. Amersfoort, Zeist, and Nieuwegein are some of the surrounding cities.
Activities
Utrecht is always buzzing, it seems like every night there is some sort of event or festival happening somewhere tucked away in the city. Tivoli is a contemporary music palace in the city center that offers all sorts of lives performances, whether it is music, dancing, or acting. There is also a political cultural center in the city center that hosts activities like dance nights, concerts, bars, food, poetry events, and much more. This place is called the ACU.
Utrecht University plays a large role in the uniqueness and excitement of Utrecht. This university is one of the oldest in the Netherlands and one of the largest in all of Europe. A great day activity is to visit the Universiteitsmuseum where centuries of research are on display. Outside the museum is a peaceful botanical garden with sheltering trees and an array of beautiful plants.
Food and Dining
There are many places that are great for dining in Utrecht. In some places, you can find traditional Dutch food (kroketten, bitterballen, stampot, etc.) but there is also a really diverse food culture present in the city. One of the more Dutch places to visit is called De Bakkerswinkel (The Baker's Shop) for breakfast or lunch. You can sit out on the canal while enjoying a freshly made bakery item and tea. Another great place to try is Grand Cafe Lebowski (yes it is a reference to the movie). It is located very near to Domtoren. It has American style food (hamburgers, hot dogs, etc.) and also incredible seafood. At night, this place becomes a lively bar.
Transportation
To get to Utrecht from Schiphol Airport, Amsterdam Centraal, or any other city in the Netherlands, just catch the Intercity or Sprinter train. Buying a single journey ticket is the best way to go unless you are planning to stay in the Netherlands for more than a week. In this case, purchase and OV Chipkaart (travel card) and you can use this on all forms of public transportation all throughout the country.
As in all other parts of the country, biking is a popular mode of transportation. Renting a bike during your stay in Utrecht will allow you to see most of the city. There are bike paths on every road with traffic signals, so you don't have to really worry about looking out for cars and pedestrians (although you still should). Other than biking, walking and public transportation is the best ways to get around. There are trams and metros within Utrecht that can be easily navigated. Walking is a great way to see the city though, as you can stop into any shop, museum, or cafe that may catch your eye.
Related:
Looking for a party? Find a
hostel in Amsterdam
,
London
, or
Paris
.
Traveling alone to
Brussels
?