Lisse On a Budget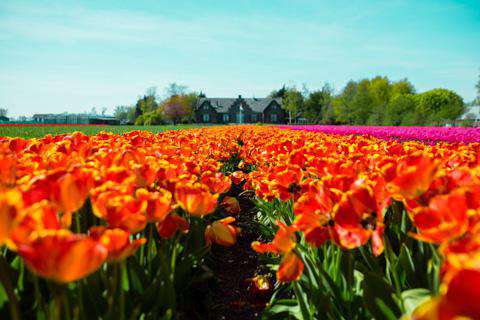 Lisse is very much a seasonal destination. During a two month period every spring it becomes one of the Netherlands most popular tourist destinations. In the Bulb Region of South Holland, it is home to the Keukenhof amusement park, which comes to life every spring with millions of flowers coming into full bloom. The spectacular sight attracts over eight hundred thousand visitors every year, all during that two month time period. This sight truly is amazing with rows of colored flowers lighting up the grounds. The flowers cover more than 32 hectares and include tulips, hyacinths, daffodils and other spring flowers. Its a wonderful sight for people of all ages, and a wonderful photographic opportunity for anybody in the area.
Sights
While travelers visit Lisse specifically to see the flowers in bloom, the town itself does have some attractions worth visiting. Castle Keukenhof is not located in the park, and is worth a separate visit. You can get a guided tour on Mondays and Sunday. Often it is closed for special events on other days. If you're a flower enthusiast, there are lectures throughout the year on horticulture or the Netherlands flower industry. There are also elaborate guided tours which give you a basic understanding of the flowers and a glimpse at the history of the area.
Neighborhoods
Lisse itself is quite small. Because tourists flock to the area during such a short period of time the town can become crowded and restaurants and hotels are filled to their max. There are a few hotels around the area, but during the peak times these are not enough. If you're hoping to stay in Lisse during the events, you absolutely must plan ahead and make reservations well in advance. It is possible to stay somewhere nearby and make the trip as a day trip. This is likely to save you some money as well.
Nearby locations include Haarlem, which has a nice, historic city center, Leiden, which has a young, student population and a historic city center, Noordwijk aan Zee on the coast and Zandvoort, which is a popular beach destination.
Activities
There are a number of activities you can enjoy at Keukenhof. There are plenty of guided tours, lectures, or photography classes you could take. You can also take a boat tour of the bulb fields, and cycling is popular in the area. Bicycle tours are a fun way to explore the area as well. There's even a Keukenhof cycling route that covers about 35 kilometers. If you're traveling with a larger group, reservations are recommended for any of these activities.
Shopping is popular as well. If you're looking for some interesting souvenirs then flower bulbs are the obvious choice. There are five approved vendors who can sell bulbs for export. You are able to select your bulbs prior to shipping, but you must confirm that the bulbs can be shipped to your home country. There are also a number of souvenir shops around town that sell all kinds of items and keepsakes.
Food and Dining
Keukenhof Park has five different restaurants you can choose from. They all overlook the park and offer self service food such as sandwiches, coffee, and tea. For a more thorough sit down meal you can dine in Lisse, with most of the restaurant options located along Heereweg and the nearby streets. A popular option is De Vier Seizoenen, which serves French food. It offers a three course menu for just over thirty euros. Il Mulino has good, traditional Italian food and friendly service. Pannenkoeken restaurant Vrouw Holle is one of the typical pancake restaurants that are common in the Netherlands. You can choose between sweet and savory pancakes and the location is pleasant, on an old farm. There are also salads, soups and several main dishes available.
Transportation
It's easy to walk around Lisse, as it is quite small. You can walk from the town center to the Keukenhof with no real problems. If you do have a car or bike, it is also relatively easy to drive or bike around town. Bikes are available for rent as well.
If you're staying out of town, there are several buses that head to Lisse. Keukenhof is located between Haarlem and Leiden along the N208. From Amsterdam Centre you can take the red Sternet bus 197 to Schiphol Airport and then change to bus 58. From Leiden Central Station you can take bus 54 from platform 1 and from the Hague Central Station you can take bus 89 on weekdays. On the weekend you'll have to take a train to Leiden Central Station and change to bus 54 there.
Related:
Looking for a party? Find a
hostel in Amsterdam
,
London
, or
Paris
.
Traveling alone to
Brussels
?
Train and Bus Prices
The best prices for buses and trains in Netherlands
can be found on Omio
(formerly
GoEuro
). They let you search across all train, bus, and plane routes throughout the region.