Delft On a Budget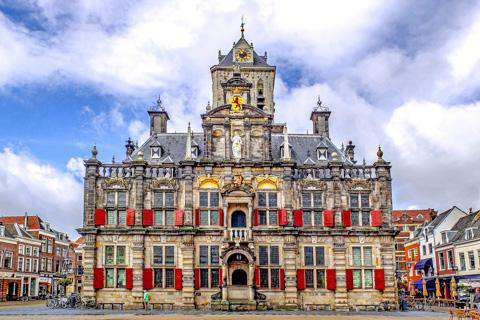 Delft is a wonderful, traditional town in the Netherlands that has historical architecture, numerous canals, bicyclists, and the popular, locally produced blue and white ceramics. The city itself is moderately sized and can easily be explored as a day trip. Alternatively, it's large enough to serve as a base if you wish to explore other parts of the region. Most people head to Amsterdam and then leave the Netherlands, but Delft offers an interesting alternative for those hoping to experience the Dutch culture on a more personal scale.
Sights
There is no shortage of historical sights around Delft and some of the more popular sights include the New Church, De Prinsenhof, the Old Church, Vermeer Centrum Delft, the Synagogue, the Royal Delft Factory, De Candelaer, the windmill, and the botanical gardens.
The New Church was built in 1496 and has an impressive view of the city. It's also the second highest church tower after the Dom church of Utrecht. The Old Church was built in 1246 and it has a very impressive and detailed interior. At the Vermeer Centrum you'll learn about the 17th century painter, Johannes Vermeer. The Synagogue was built in 1862 and now has a permanent exhibit to remember the Jewish victims of World War II. The windmill is interesting to see and can be visited if the blue flag is flying.
Neighborhoods
You'll likely to spend most of your time in the Centre of town. This area is most comparable to Amsterdam with its historical architecture and interesting canals. There are several suburbs outside of the Centre. Tanthof is a popular residential area for families, as is Hof van Delft. Vrijenban is to the north of the Centre and Buitenhof has a young population. Other nearby towns include Pijnacker, Delfgauw and Nootdorp.
Activities
Many people come to Delft to buy the world famous ceramic pottery. You can find antique shops around town that sell the most traditional versions. Some other popular shopping areas around Delft include Vrouwjuttenland, Choorstraat, Hippolytusbuurt, and Bastiaansplein.
Other interesting activities include various walking tours around town, taking a canal boat tour, visiting the Delft Library, or walking through many of the area's parks.
There are many festivals in town including Mooi Weer Spelen with its street theater, Taptoe, which is a parade of marching bands, the music festival Westerpop, and Varend corso, when boats decorated with flowers are on display.
Food and Dining
Restaurants are plentiful around town and the more affordable options are usually along the back streets further removed from the more popular town center. There's also a market in town on Thursdays and Saturdays when you can pick up some fresh produce, cheeses, or breads to enjoy. Two popular favorites are the freshly made syrup covered waffles and the battered and deep fried fish, both of which are quite delicious.
Transportation
The two most obvious ways to explore Delft are on foot or by bicycle. The town center is small and compact and can easily be walked across in about ten minutes. Many of the streets are pedestrian only, but taxis are allowed access to them. Do keep your wits about you at night when taxis are known to speed through the area. Also be sure and make room for locals biking through doing their daily chores.
The Netherlands is famous around the world for its large number of bikers and Delft is no exception. The flat terrain makes it ideal for cycling and many people choose bicycles as the typical means of travel. You can rent a bike at the Delft train station. They will require a deposit as well as some form of identification. If you're traveling in a group it is better to call ahead and reserve bicycles to ensure that they have enough available.
Driving in town is generally not recommended as there are many pedestrian only areas. There are two parking areas on the edge of the city center, but they are expensive. It's possible to park for free in the university area but you will have about a 15 minute walk to the center of town. Spaces are usually available on the weekends.
Related:
Looking for a party? Find a
hostel in Amsterdam
,
London
, or
Paris
.
Traveling alone to
Brussels
?
Train and Bus Prices
The best prices for buses and trains in Netherlands
can be found on Omio
(formerly
GoEuro
). They let you search across all train, bus, and plane routes throughout the region.