Lofoten Islands On a Budget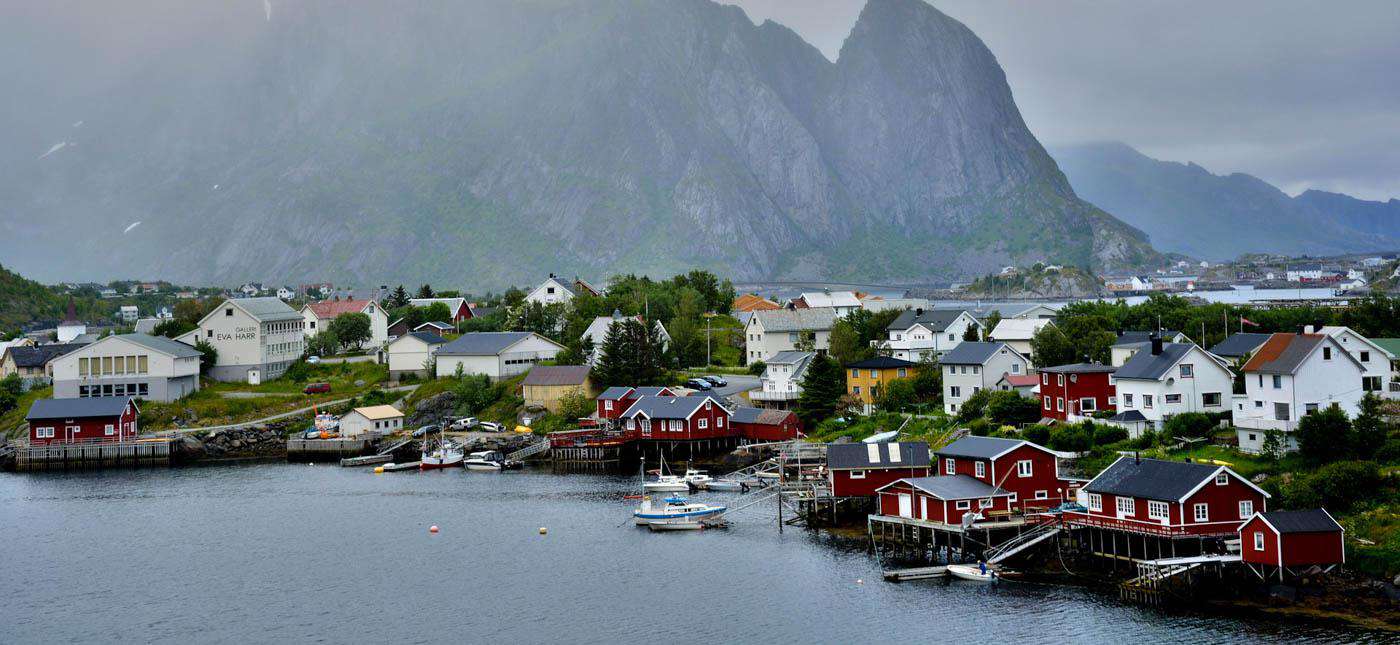 Lofoten Islands is an archipelago and traditional district in Norway. Lofoten is known for excellent fishing, spectacular nature attractions such as the northern lights and the midnight sun, and small villages off the beaten track. The Lofoten Islands are draped across the turbulent waters of the Norwegian Sea, far above the Arctic Circle. Kayak between the islands, go fishing for the catch of your life, or look for sea eagles soaring in the sky. If you are seeking unforgettable nature experiences, Lofoten will definitely not let you down.
Sights
The various wilderness outposts of the area offer an untrammeled landscape of majestic mountains, deep fjords, squawking seabird colonies and long, surf-swept beaches. Between late May and mid July you can experience the midnight sun, while the northern lights can be viewed from September to mid April.
The midnight sun, the day that never ends, is a popular reason for many tourists to visit Lofoten. The earth is rotating at a tilted axis relative to the sun, and during the summer months the North Pole is angled towards our star. That's why, for several weeks, the sun never sets above the Arctic Circle. Like a prolonged sunset and sunrise all at once, the midnight sun colors heaven and earth in a reddish yellow light.
The northern lights are why many visitors make the journey to Lofoten in the colder months.
Winter in the Lofoten Islands
comes in thousands of colors that present a visual enjoyment of contrasts, hues and tones. The experience is even stronger at night, when the flickering northern lights in the sky are reflected in the sea.
The Region
Reine is one of the main towns in the Lofoten islands. It has been a commercial center since 1743. Today tourism is important, and despite its remote location, many thousands of people visit annually. The village is situated on a promontory just off the European route E10 highway, which passes through the village.
Another popular town, Kabelvag, was founded as Vagan in the early 12th century by King Oystein Magnusson, who built a church and a fishermen's hostel there. According to Heimskringla, there was something resembling a town there several centuries earlier - the first known town in North Norway, known as Vagar. The
Lofoten Museum
, as well as the
Lofoten Aquarium
and the Espolin Gallery, are all located in Kabelvag. It is Lofotens oldest fishing village with great food and small shops.
Activities
Due to the area's diverse landscape, you can go hiking, skiing, fishing, ocean rafting or scuba diving. Lofoten is also one of Norway's best sites for surfing, and one of the world's northernmost.
Lofoten has a strong connection to the Viking Age, and at
Lofotr Viking Museum
you can experience the Viking Age as it really was. At Borg, archaeologists have discovered the largest Viking longhouse ever found from this era. The building is 83 meters long and has been reconstructed as a living museum.
Take a boat trip to the trollfjorden. The rich wildlife in the Lofoten Islands have fascinated visitors for centuries, if you are lucky, you can see both eagles and seals, and a great variation of bird life on a trip to the Trollfjord.
Go for a round of golf at a golf course beautifully located by the ocean, facing the north and the midnight sun. The golf clubhouse has a cafe, bar, pro shop, golf equipment hire facilities and meeting rooms. Apartments and cabins are available for hire. The club has golf courses and activities for groups and individuals throughout the season. The season runs from April to October.
Food and Dining
Lofoton has some great options in dining, especially for seafood lovers. Here are a couple ideas for restaurant options. Fiskekrogen, an ambitious restaurant in Henningsvaer, serves a mix of updated classics (fish soup and cod tongues) and refined new Norwegian (whale carpaccio and perfectly grilled lamb). In Sakrisoy, Anita's Sjomatsells- a fried cod sandwiches topped with shrimp or salmon. This roadside stand doubles as a gourmet general store stocked with local chocolates and cheeses, cod pate, and stock fish jerky.
Transportation
Lofoten Islands Car Rental Prices
Compare prices across all major rental companies:
There are frequent and regular flights from all the major cities in Norway to Bodo Airport, and there are several ways to get to the Lofoten Islands from Bodo. There are daily trains all year between Stockholm, Kiruna and Narvik. From there, you can catch buses to other destinations in the archipelago. There are also trains from Oslo, via Trondheim and Fauske to Bodo. There are public buses every day from Narvik, Bodo and Harstad to Svolvær. There are daily scheduled express passenger boats operating all year between Bodo, Svolvaer and Vaeroy.
There are car ferries from Bodo to several places in Lofoten, and between some of the islands themselves. If you choose to go by car, there are several options of getting to and from Lofoten. If you arrive from north, there is now a boat-free connection between the mainland and Lofoten, thanks to a new road-system in the area. For local transit, The E10 (King Olav V's road) is the main road connecting the Lofoten archipelago from west to east. Travelling by public transport requires some planning, especially if you want to go anywhere off the E10, so check the timetables carefully.
Related
Traveling alone to
Moscow
,
St Petersburg
,
Stockholm
or
Riga
and need a hostel?
Looking for a
party in Copenhagen
or
Tallinn
?
Looking for
budget hostels in Scandinavia
?
Train and Bus Prices
The best prices for buses and trains in Norway
can be found on Omio
(formerly
GoEuro
). They let you search across all train, bus, and plane routes throughout Europe.