Cluj-Napoca / Kolozsvar On a Budget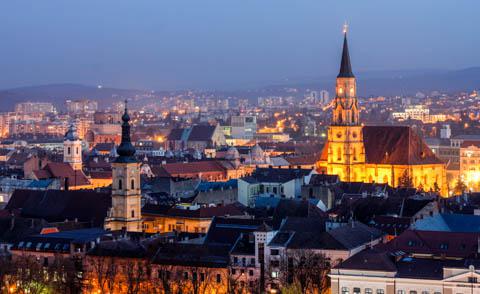 Located in northeast Romania, Cluj-Napoca is the capital of the Transylvania region and one of the nation's most-visited cities. Many visitors come to experience the modern Transylvanian university culture, admire historic churches and other landmarks, see fortress ruins, and visit museums.
Sights
Most of the city's historic landmarks can be found centrally in Union Square. Saint Michael's Church is one such masterpiece, built at the end of the 14th century in the Gothic style with a Neo-Gothic tower, the tallest in Romania, which was added later during the 19th century. In front of the church is another landmark - the equestrian statue of Matthias Corvinus, erected in honor of the locally born King of Hungary. There is also an impressive Romanian Orthodox Cathedral located in Avram Iancu Square, built in a style which combines Renaissance and Byzantine architecture. Other structures in this square include the Cluj-Napoca National Theatre, The Palace of Justice, and the Avram Iancu Statue.
On the outskirts of the old town, another popular attraction is the Cetatuia hill (or Fortress Hill), which holds the ruins of a former stronghold. At the top of the hill there is now a restaurant and hotel with spectacular views of the city below.
As an important cultural center, Cluj-Napoca also has many and museums, some of which include the
National Museum of Transylvanian History
, the Ethnographic Museum, the Cluj-Napoca Art Museum, the Pharmacy Museum, and the Water Museum. Babes-Bolyai University additionally has a number of exhibition spaces like the University Museum, the Museum of Mineralogy, the Museum of Paleontology and Stratigraphy, the Museum of Speleology, the Botanical Museum, and the Zoological Museum.
Neighborhoods
Union Square, known as Piata Unirii in Romanian, is Cluj's largest and most important square, serving as a great example of the wide range of architectural styles in the town. Buildings in this vicinity are a unique mix of the Gothic, Renaissance, Neoclassical, and Baroque styles. The square also contains sites which include Banffy Palace, St. Michael's Church, the Pharmacy Museum, National Art Museum, and Hotel Continental. Smaller streets around the main square can take visitors into beautiful inner courts, old houses, and isolated Churches. There is also a local market located behind the Complex Commercial Mihai Viteazul shopping center, offering a wide variety of foods and fresh produce. Being a university town, Cluj-Napoca also has a lot of affordable restaurants and a very happening nightlife.
Activities
The best way to experience Cluj-Napoca is to explore the city center on foot, admiring each historic landmark and taking in the intricate details of another time and place. Each structure serves as a glimpse into the past with its architecture, while the culture of the city offers much to encounter with sounds, sights, and flavors.
If you're looking for something fun to do, make sure you visit the amazing
Salina Turda theme park
. This underground amusement park was created from an underground salt mine. Inside you will find a Ferris wheel, boats in an underground lake, putt-putt, bowling, and a variety of other activities that are all situated in a bizarre but interesting environment.
For those who want a break from the bustle, the city also has a Central Park which has a casino and lake where visitors can rent rowboats and hydrobicycles to use on the water. The Botanical garden is another nice escape, complete with a small Japanese garden, greenhouses for tropical plants, a small water course through its middle, and a tower with views of the gardens below.
If you want to get out of the town and explore the countryside, plenty of great options await. Don't miss the beautiful
Apuseni Mountains where you'll find plenty to do
, including hiking, exploring waterfalls, visiting caves, and learning about the region's culture at various museums. Plenty of other small towns can be found in this part of Romania where you can taste the local cuisine and meet friendly people, too.
Food and Dining
Cluj has some of the best dining in Romania as far as variety and quality goes. Restaurants will serve anything from traditional Romanian and Hungarian cuisine to Chinese, Japanese, Mexican, Middle Eastern, American, and other international flavors. There is something for all tastes and budgets. As far as Romanian food goes, it takes its influence from a number of the surrounding cultures. Some of these include meatballs from the Turks (used in a soup called perisoare), musaca or moussaka from the Greeks (an eggplant or potato-based dish usually with ground meat), and snitel or wiener schnitzel from the Austrians (a thin veal cutlet that has been breaded and fried). One of the most common meals is a kind of polenta called mamaliga eaten on its own or as a side, while pork serves as the main meat in Romanian cuisine. Other specialties include gulas (goulash), fish or lamb dishes, cheese made from cow's or sheep's milk, and pastries like clatite (crêpes), papanasi (Romanian doughnuts), and cozonac (a kind of sweet bread).
Transportation
By plane, fly into the International Airport of Cluj-Napoca. Airlines operate to and from destinations including Bucharest, Munich, London, Vienna, Milano, Bologna, Bari, Rome, Venice, Paris, Brussels, Bratislava, Eindhoven, Barcelona, Valencia, Madrid, Zaragoza, Geneva, Basel, Malmo, Stockholm, Billund, Nuremberg, Cologne, Dortmund, and Tel Aviv. The airport has connections to downtown Cluj-Napoca via car rentals, taxi, limo service, and public transportation.
There are also train connections to most Romanian cities, including fast InterCity routes to Oradea, Arad, Timisoara, Brasov, Sighisoara, Ploiesti, and Bucharest.
Related
Looking for a party? Check out
Party Hostels in Prague
,
Party Hostels in Athens
, and
Party Hostels in Budapest
Train and Bus Prices
The best prices for buses and trains in Romania
can be found on Omio
(formerly
GoEuro
). They let you search across all train, bus, and plane routes throughout the region.