Timisoara / Temesvar On a Budget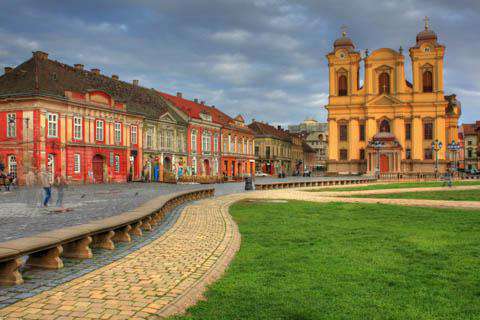 A very cosmopolitan city, Timisoara has become the main social, economic, and cultural center in western Romania. It is sometimes called little Vienna due to its impressive architecture from the Austria Empire era and abundance of museums.
Sights
Timisoara is a city of courtyards, most of the significant sites being concentrated in these open squares. Victory Square or Opera Square, for example, is the site of the Metropolitan Orthodox Cathedral, the Opera House, the City Hall, the Philharmonic, the Banat Museum, and some beautiful palaces which were built at the end of the 19th century and the beginning of the 20th century. Union Square is another center of activity with plenty of options for dining and sight-seeing with cafes, bars, and restaurants, as well as sights like the Catholic Dome, the Baroque Palace (which is now a beautiful art gallery), and the Serbian Church. Between Victory and Union squares, there is also a smaller area called Liberty Square with old structures like the City Hall and St. Nepomuk's Statue.
Outside of squares and architecture, Timisoara also has a number of beautiful parks. The most famous is perhaps the Botanical Park, near Union Square. Some others include Rose Park and Central Park located near Victory Square behind the Cathedral, as well as Children's Park. There is also a small zoo located in the vicinity of the Village Museum where visitors can learn about Romanian traditions. Other museums include a Museum of the Revolution, Museum of the Communist Consumer, a number of Art Museums, and a Museum of the Orthodox Metropolitan Cathedral.
Neighborhoods
The old city consists of many historic areas, some of which include Cetate, Iosefin, Elisabetin, and Fabric. Cetate, translating to "fortress," is centrally located, and home to the 13th century Timisoara Fortress around which the present-day city was built. Iosefin was originally designed as a village of German colonists on the left side of the Bega Canal made up of houses with lush gardens. Today it is exhibits beautiful old-world architecture in its buildings and churches. Elisabetin is a historic neighborhood, located in the center-south part of town, established after the Ottomans departed in the early 1700s, but not really developing until after a plague in 1837. And finally Fabric, named for its many factories, is historically known as a multicultural neighborhood-one of its most famous factories being the first beer factory in 1718 which still exists today. Beyond these main historic districts, one of the most popular squares in the city is Union Square (or Piata Unirii), which features beautiful historic structures as well as restaurants catering to visitors.
Activities
The best way to experience Timisoara is to explore the sights on foot, moving from square to square admiring old-world architecture and learning about the city's art, history, and culture at the local museums. Visitors can wander at their own pace, rent bikes, or join tour groups for a more guided look at the city and its history. Its many parks and pedestrians squares also offer settings to sit and watch the bustle of Timisoara while relaxing at a bar or cafe.
Food and Dining
Being a cosmopolitan city, Timisoara will have a range of options for all tastes and budgets with a particular abundance of cuisine influenced by Italian, Serbian, Hungarian, German, Turkish, and Arabic flavors. As far as Romanian food goes, it takes its influence from a number of the surrounding cultures. Some of these include meatballs from the Turks (used in a soup called perisoare), musaca or moussaka from the Greeks (an eggplant or potato-based dish usually with ground meat), and snitel or wiener schnitzel from the Austrians (a thin veal cutlet that has been breaded and fried). One of the most common meals is a kind of polenta called mamaliga eaten on its own or as a side, while pork serves as the main meat in Romanian cuisine. Other specialties include gulas (goulash), fish or lamb dishes, cheese made from cow's or sheep's milk, and pastries like clatite (crepes), papanasi (Romanian doughnuts), and cozonac (a kind of sweet bread).
Transportation
Timisoara is served by Romania's third-largest airport, Traian Vuia International Airport, located about 10 kilometers away from the city center. TAROM has daily flights to Bucharest, Lufthansa has daily flights to Munich, and Wizz Air has fairly regular flights to Barcelona, Bergamo, Brussels Charleroi, Dortmund, Eindhoven, Forli, Frankfurt Hahn, London Luton, Madrid, Memmingen, Paris, Rome Fiumincio, Treviso, and Valencia. Connections to and from many other European destinations can be made by Lufthansa via Munich.
Long distance buses are also available, as well as direct trains daily from Budapest (4 hour trip), Vienna (8 hours), and Munich (15 hours).
Train and Bus Prices
The best prices for buses and trains in Romania
can be found on Omio
(formerly
GoEuro
). They let you search across all train, bus, and plane routes throughout the region.