Romania On a Budget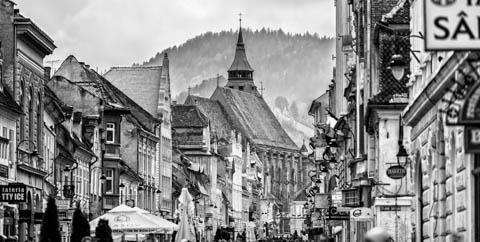 Romania is located in the northern part of the Balkan Peninsula and the western shore of the Black Sea. The country's natural beauty includes scenic mountains and untouched countryside. There is also a rich cultural history and an impressive capital city. The vast size of the country gives visitors plenty of opportunities to explore and still discover some untouched beauty. Cities are quite diverse. Some reflect Romania's recent modernization and introduction into the European Union, while others still hold on to the past.
Romania can be divided into 9 different regions. These include Transylvania, Banat, Oltenia, Southern Bukovina, Maramures, Crisana, Dobrogea, Moldavia and Muntenia. The most famous region, Transylvania is noted for its medieval castles and towns, dark forests and snow covered mountains. The region is developing, however, and the cities are young and vibrant with large shopping centers and impressive economic development. Banat is one of the most economically developed regions in the country and it has beautiful cities and villages. Oltenia is known for its monasteries, caves and health resorts, while Southern Bukovina is where you will find Romania's most famous Painted Monasteries. Wooden churches and old villages dot the landscape in Maramures. Most travelers overland enter through Crisana which shares a border with Hungary. There are beach resorts along the Black Sea in Dobrogea and Moldavia has historic cities and medieval fortresses. The capital city of Bucharest is found in the region of Munteia as are mountain resorts and the Prahova Valley.
At A Glance
Romania's large size and somewhat difficult infrastructure make it inefficient and difficult for travelers to get around. Although the transportation system continues to improve, roads are still inefficient. Train travel has improved dramatically due to some recent upgrades to the system, but ongoing projects on certain tracks continue to slow trains down. It is best to research the current situation before you begin planning your trip.


The Orthodox Church plays a significant role in Romania's culture. It is one of the most religious countries in Europe, and your visit will likely include some churchs and monasteries. Another unique experience is to visit an Orthodox Mass. It is not uncommon to show up for only a portion of the service. Make sure you are dressed appropriately and show respect to the worshippers. Do note that you can not participate in communion unless you are baptized Orthodox. By attending mass you can truly experience a part of the Romanian culture and have a unique experience away from the tourist attractions.


If you're interested in doing some local shopping a great way to do this is to visit a weekly fair (referred to as a targ, balci or obor). They are usually held on a Sunday and are a great way to see an authentic part of Romania. Almost anything is available for sale including live animals, clothes, vegetables, and perhaps even farm equipment such as tractors. There is often music, dancing and food stalls as well.


Wine making in Romania dates back more than 2000 years. The best wineries in the country are Murfatlar, Cotnari, Dragasani, Bohotin and Bucium among others. The quality is generally high but the prices are low so it's a great place to sample a few wines or purchase some to bring home.


Brewing beer is also popular in Romania. It remains cheap compared to the rest of Europe but the best options are those in the glass bottles or cans. Imported beers are much more expensive than Romanian beers and many international brands are brewed in Romania under a license so they taste very different than elsewhere in Western Europe.
Related:
Traveling alone to
Prague
or
Budapest
?
Looking for a party and need a
hostel in Prague
or
Budapest
?
Find a
Contiki tour
to Europe.
Top Tourist Attractions
Painted Monasteries of Bucovina:
This is one of the most scenic and impressive sights in Romania. The exterior walls are exquisitely decorated with 15th and 16th century frescoes. The site is a truly unique destination for anybody interested in religion, history, art or architecture.
Peles Castle:
Peles Castle is a Neo-Renaissance castle that is located northwest of the town of Sinaia. It is about 135 kilometers from Bucharest in the Carpathian Mountains. The complex has three monuments including the Peles Castle, the Pelisor Chateau, and Foisor Huntin. It was situated on a medieval route that linked Transylvania and Wallachia.
Bran Castle:
This castle is near Bran and Brasov. It's a noted landmark of Romania on the border between Transylvania and Wallachia. This is often referred to as "Dracula's Castle" although there is no real evidence that Stoker knew of the castle. Today it serves as a museum for tourists. There is an art and furniture collection by Queen Marie and an open air museum park that has traditional Romanian peasant structures.
Popular Foods
Romanian food is an interesting mix of Oriental, Austrian and French flavors, all with a local twist. Street food is generally available throughout the country as are excellent pastries. It is not hard to find traditional Romanian food, and unless you're in a larger city, international food may be more difficult to come by.
Bulz:
This traditional Romanian dish is made with roasted polenta that has been filled with several different kinds of cheeses, bacon and sour cream. It is often served with an egg as well.
Salata Boef:
This dish, a beef salad, is usually served during special occasions. It can actually be made with beef, chicken, or even vegetarian. The meat and root vegetables are prepared with mayonnaise and garnished with pickled vegetables. It is often topped with tomatoes and parsley.
Tochitura:
This traditional dish is a stew like meal that is made with beef and pork and a tomato sauce. It can be prepared with traditional sausages as well. It is usually served with polenta and fried eggs.