Mamaia On a Budget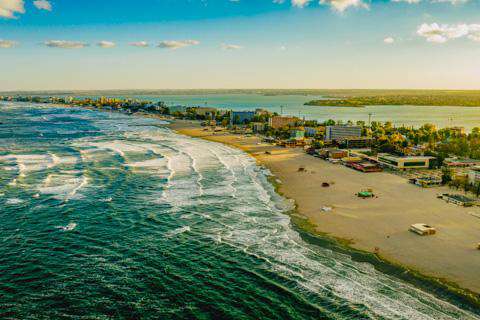 The most popular beach resort in Romania, Mamaia sits on an 8-kilometer wisp of land between Lake Siutghiol and the Black Sea. With plenty of hotels, restaurants, nightclubs, and an aqua park, the resort area is a party-goer's destination with endless opportunities for fun in the sun and nighttime merriment.
Sights
Those visiting Mamaia generally come for two reasons: its white sandy beaches and happening nightlife. The place embodies an atmosphere of play all day and party all night. The beach season is at its best between mid-May and late September, when average daytime temperatures are 25 to 30 degrees Celsius (or 78 to 86 degrees Fahrenheit). The water usually stays warm until late autumn. The nightlife is also at its peak during the summer season due to the flux of holidaymakers.
For those who wish to see some of the sights of the surrounding area, Constanta to the south is home to the National History and Archaeology Museum as well as important landmarks like Ovid's Square, the Genoese Lighthouse, the St. Peter & Paul Orthodox Cathedral, the House with Lions, and the Roman Mosaics.
Other attractions in the region include traditional villages, vineyards, ancient monuments, and the Danube Delta-the best preserved delta in Europe.
Neighborhoods
Mamaia's isthmus itself is packed with more than 60 hotels and tourist complexes, with some opportunities for camping on its northern end. Additionally, the strip has an infinite amount of restaurants, cafes, bars, and nightclubs to accommodate visitors on holiday. On Mamaia's southern end, is the city of Constanta, another destination for tourists as well as the largest seaport in Romania and on the Black Sea. It is worth exploring for its archaeological treasures and the charming atmosphere of the old town center. With historical monuments, ancient ruins, a casino, museums and shops, and close proximity to beach resorts, Constanta has become another focal point for tourism on the Black Sea coast.
Activities
The main activities for those vacationing in Mamaia reside along the waterfront. Its entire shore is lined with white sandy beaches perfect for sunbathing or taking a dip in the Black Sea. Other waterside activities include things like sailing, water skiing, swimming, wind surfing, scuba diving, paragliding, and water biking. There is also a water park called Aqua Magic which features a number of themed pools, water slides like Kamikaze and Turboslide, a water playground, a lazy river, aquatic bar, and a stage for activities, as well as many other water rides for all ages.
In the evenings, the resort`s nightlife offers many options for everyone. There are cafes and restaurants, terraces and taverns, bars and pubs, along with plenty of luxurious clubs that stay open until dawn.
Food and Dining
Being a popular holiday resort, Mamaia and the neighboring Constanta will have a range of dining options for all tastes and budgets. Restaurants will serve anything from traditional Romanian cuisine to international flavors, as well as recognizable fast food chains from around the world. As far as Romanian food goes, it takes its influence from a number of the surrounding cultures. Some of these include meatballs from the Turks (used in a soup called perisoare), musaca or moussaka from the Greeks (an eggplant or potato-based dish usually with ground meat), and snitel or wiener schnitzel from the Austrians (a thin veal cutlet that has been breaded and fried). One of the most common meals is a kind of polenta called mamaliga eaten on its own or as a side, while pork serves as the main meat in Romanian cuisine. Other specialties include gulas (goulash), fish or lamb dishes, cheese made from cow's or sheep's milk, and pastries like clatite (crepes), papanasi (Romanian doughnuts), and cozonac (a kind of sweet bread).
Transportation
By plane, the nearest airport is Mihail Kogalniceanu International Airport located just to the south in Constanta. Visitors can also arrive by high-speed train from Bucharest. The airport serving this city is Henri Coanda International Airport in Otopeni, about 18 kilometers north of Bucharest's downtown.
One of the most popular ways of transport through the Mamaia area is by cable car where travelers can also enjoy the view. Another means of transportation through Constanta with connections to Mamaia is the RATC (or Regia Autonoma De Transport in Comun Constanta).
There is also the Constanta City Tour-an urban transportation unit that runs from the Train Station of Constanta to Mamaia. It has 7 stops, each one with a touristic attraction. This route travels about 30 kilometers and the complete circuit takes about 2 hours.