Fantastic hostel overall. Competent and friendly staff from Ally at check-in to Anna leading the afternoon tour. This hostel one branch gets it. Daily activities gives you a chance to immerse yourself with the hostel staff and guests if you choose but if you want to simply do your own thing and have a nice rest and accommodation, this place is top-notch in its facility as well. Almost new beds and daily cleaned rooms and toilets. Would recommend this to anyone 10/10! - Sherard
What sets them apart?
This hostel is all about its sense of community. The staff and volunteers and genuinely nice people and the activities, group meals, and atmosphere help everyone have a good time.
Hostel Personality
Who's staying here?
This hostel is really for any age traveller, as long as you're looking for a fun and social environment. The volunteers help everyone feel included and part of the community.
Insider Tip
Some rooms are in a separate building across the street. Make sure you're staying in the main building if possible.
Hostel One Catedral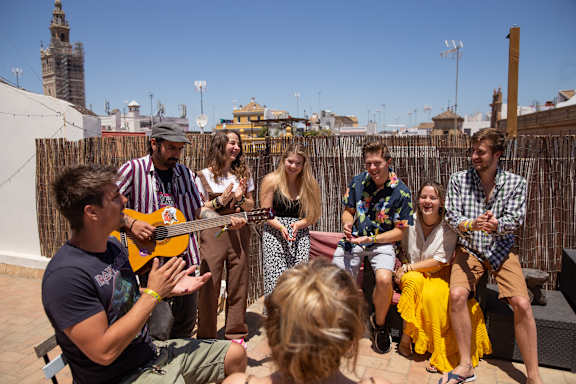 Hostel One Catedral is all about providing a sense of community. The volunteers are travellers themselves, and they're genuinely interested in getting to know you and making sure your stay is great. There are daily activities available to guests, like free group dinners, walking tours, pub crawls, and more. Guests often gather for dinner and a few beers. Then they play a few games before heading out on the town together.
Whether you're travelling alone or with a group of friends, this is the place to go if you want to meet other travellers and have a good time.
The Facilities
Dorms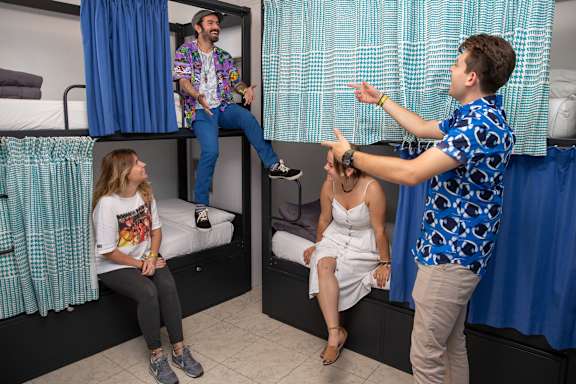 This hostel offers a wide range of dorm rooms that sleep four, six, eight, or ten people. The rooms are relatively large and there's security lockers available to guests. They even provide a lock. The rooms are kept clean but the can get a bit hot at times. The beds offer a decent amount of privacy with their own curtains to block out the light. Each bed also has it's own reading light and outlet to charge devices.
Private Rooms
If you want the perks of staying in a hostel without the hassle of sharing a room, check out one of the private rooms. They're similar to a basic hotel room and you can choose between a room with an en-suite bathroom or a shared bathroom, depending on your travel style and budget. This is a great option for couples who like the affordability of a hostel but still want some space to themselves.
Bathrooms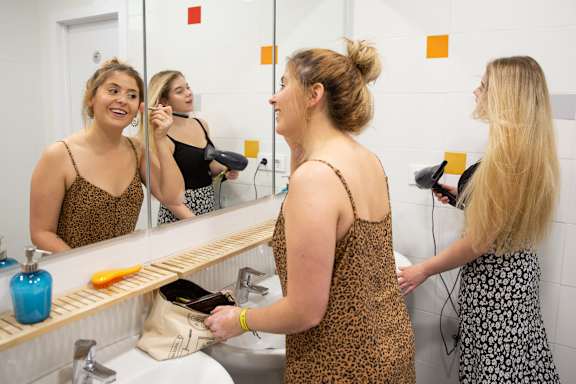 A few dorms and private rooms have en-suite bathrooms but most use shared bathrooms. The bathrooms are clean, but they're a bit small with small showers, so they can be a bit challenging to navigate.
Bar
Start your night at the hostel's bar, where you can grab a drink with friends after the free dinner. Many guests pass some time here before heading out on the town for the pub crawl. It's the perfect place to play some drinking games or just sit back and chat about your travels.
Common Areas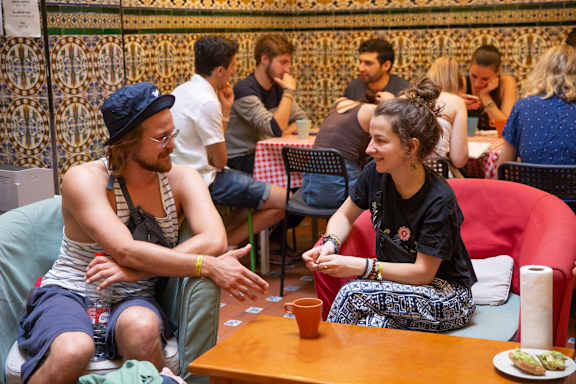 There are two other comfortable common areas where you can relax with a good book in a comfortable chair. There's also tables available so you can enjoy a meal you prepare yourself in the shared kitchen. Like most shared spaces in any hostel, the kitchen can get a bit of a worn look, but it's still a good place to cook up some food.
Outdoor Space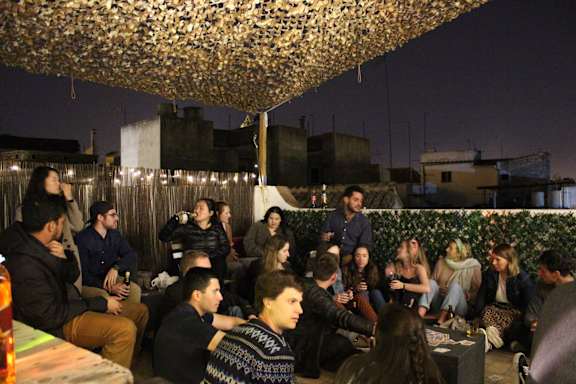 Head up to the roof top terrace for spectacular views and a cool setting. This is the place to hang out with a cold drink after a busy day exploring the city. The atmosphere is fun and chill and the temperature is often pleasant, so don't miss out on the fun of meeting other guests.
The Location
Santa Cruz
What's Nearby?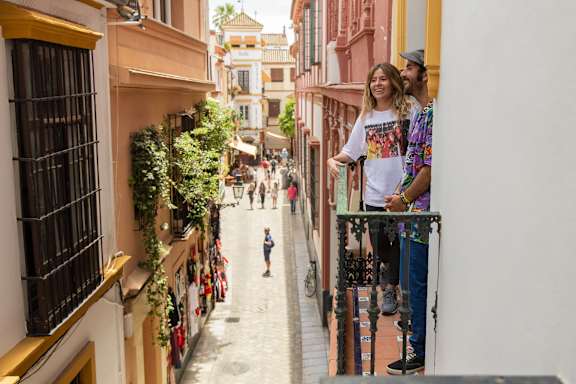 Hostel One Catedral couldn't be better located. It's just a minute from the Seville Cathedral and the Alcazar. It's surrounding by quaint, winding streets and all you have to do is wander around to find a great local tapas bar or restaurant.
Nearby Transportation
You can tak the EA bus from Seville Airport to reach the hostel. It's about a 40 minute rid to Prado de San Sebastian and from there you can catch a bus to Avenida Carlos V.
Activities
Hostel One Catedral is all about the activities. The volunteers organize and run these activities and they're always a good time (and usually free!). The pub crawls are popular and excellent. The game nights are lively and the group dinners and filling and fun. During the day you can learn all about Seville with an informative and interesting walking tour.
Amenities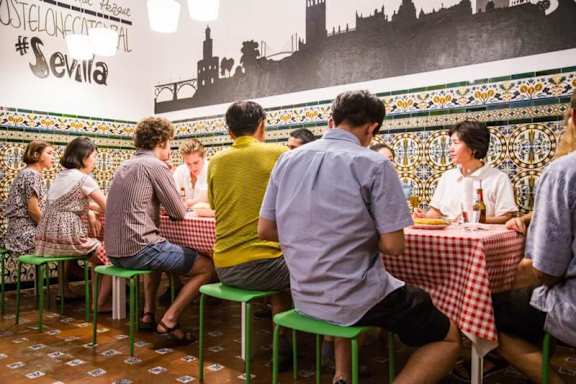 This hostel has all of the standard amenities including luggage storage, a book exchange and security lockers. There's a shared kitchen available where you can prepare your own meals as well as laundry facilities if you need to wash some clothes. There's a FREE dinner every night. They don't have a full breakfast but there is a morning snack available with nutella cookies.
Staff
The volunteers at Hostel One Catedral really make the experience. This hostel is all about a sense of community and the volunteers organize and run all kinds of events and activities for guests. They're fun and often you'll find them chatting with guests instead of behind the desk. This is all part of the experience.
Heads Up
Guests have complained that the security could be better at the hostel. It's a social hostel and can get a bit rowdy and loud at times.
Hostel One Catedral
Do you have a favorite hostel that you would like to review? Let us know!