I enjoyed my stay at Kitsch Art Hostel and would definitely stay there again in the future! It was only minutes away from La Giralda as well as other restaurants and attractions. It's reasonably priced and clean. My friend and I stayed in a 4-bed shared room for two nights and overall had a great experience. - Anonymous
What sets them apart?
This hostel is all about location and affordability. If a cheap price in a central location is what you're looking for, then you'll find it here. The decor is also bright and fun.
Hostel Personality
Who's staying here?
The cheap price attracts younger travellers who want affordability. Backpackers, gap year travellers, and anyone who wants to be in central Seville will appreciate this place.
Insider Tip
Make sure you bring a padlock for the security locker.
Sevilla Kitsch Hostel Art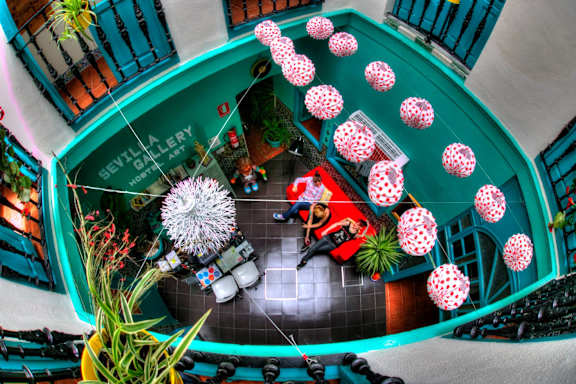 Sevilla Kitsch Hostel offers guests fun and bright decorations in a central location. The hostel is near many of the city's best sights and attractions, so accessibility is not a problem. The price is also very affordable, particularly given the hostel's central location. The dorms have security lockers and colorful decorations. The rooftop has a nice view, and the hostel staff is helpful.
The Facilities
Dorms
The dorms sleep four, six, or eight people. Most rooms are co-ed but there are also six bed female only rooms as well. Some rooms have en-suite bathrooms while others use shared bathrooms.
This hostel is all about the decorations. The colors throughout are bright and fun, and the decor in the rooms is no exception.
Private Rooms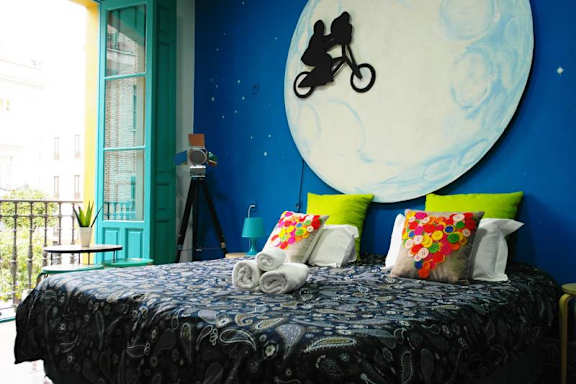 If you want a little more space and privacy, check out a private room. Some rooms have balconies, but others do not. These double rooms are typical of what you'd find in a basic hotel, but the fun decorations continue and you can be assured a room with bright colors and a colorful setting.
Bathrooms
Some rooms have en-suite bathrooms while others use shared bathrooms. The bathrooms are typical of what you'd find in a budget hostel. Some of them have drainage problems, but they're generally clean and reliable.
Common Areas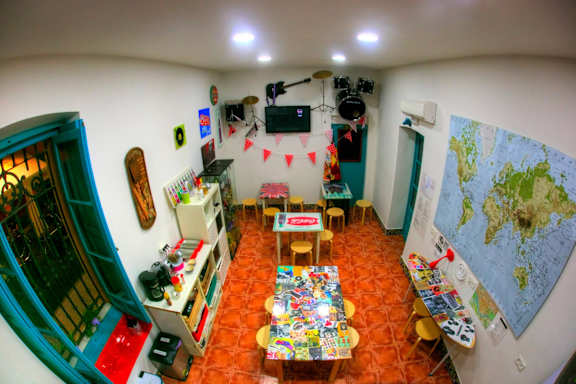 Sevilla Kitsch Hostel Art has a colorful lounge area where guests can relax on a sofa or chat with other guests. There's also a rooftop terrace that has nice views of the city. They occasionally have live music in the lounge as well.
The Location
Santa Cruz
What's Nearby?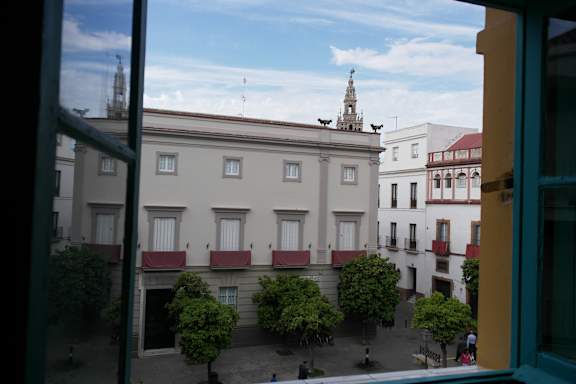 This hostel is all about location. It's located in Seville's Jewish Quarter, and it is near many interesting galleries and restaurants. It's located on a cobblestone street and is a relaxing 15 minute stroll from Plaza de Espana. La Giralda Bell Tower is only a couple minutes away and Plaza de Armas is less than a mile away.
Nearby Transportation
The airport is about 45 to 50 minutes away by public transportation. To reach the hostel from the airport, take the EA bus to Prado de San Sebastian, then it's about a ten minute walk to the building. If you're arriving by train, the Santa Justa Train Station is about a 25 minute trip away. Take the 21 bus to Menendez Pelayo and then you're a ten minute walk from the hostel.
Activities
This hostel hosts group dinners occasionally on the terrace. There are also walking tours available and occasionally there is live music in the lounge or on the terrace.
Amenities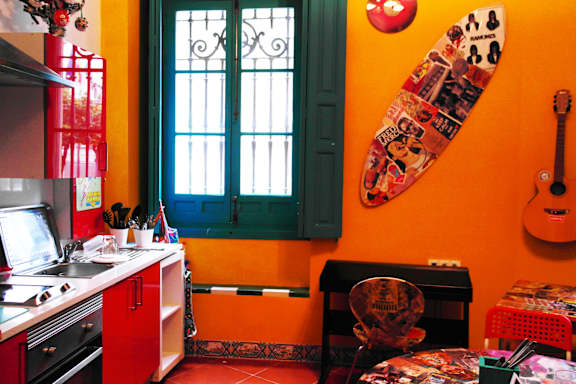 This hostel has all of the standard amenities including luggage storage, travel information, and a strong wi-fi system. There's also a book exchange for guests, PlayStation, and a shared kitchen where you can prepare meals.
Staff
The staff here are helpful and can answer any questions you may have. The reception area isn't open 24 hours a day, but they are helpful during the hours they are staffed.
Heads Up
Some guests feel this hostel could be cleaner and the staff a bit friendlier. It's centrally located, and the noise is a problem for some guests as well. Several guests have complained that the air conditioning doesn't work well either.
Sevilla Kitsch Hostel Art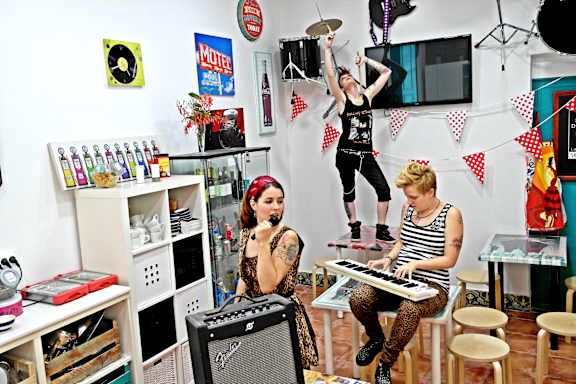 Do you have a favorite hostel that you would like to review? Let us know!