With exotic beaches, ancient monasteries, floating markets, gleaming nightlife and beautiful culture, Bangkok is every traveler's dream! Solo, family, adventure, or romance - no matter what your vacation preference is, there is a lot to experience and explore in
Thailand
. And your
vacation to Thailand
becomes even more special if everything comes in your budget. To make that happen, we have carefully curated a list of what to see, where to eat and where to stay in Bangkok - everything on a budget.
Let's start the list of top things to do in Bangkok:
The Grand Palace
Dating back to the 18th century, The Grand Palace was built by King Rama I. At present, it serves as the official residence of the current monarch which is used for ceremonies. This palace building is dotted with several temples. Of all of them, the most renowned shrine located within the Grand Palace is Wat Pra Keo. It houses an Emerald Buddha Statue that traces its history from the 15th century.
Timings: 8:30 AM to 3:30 PM, Daily.
Price: 500 Baht Approx.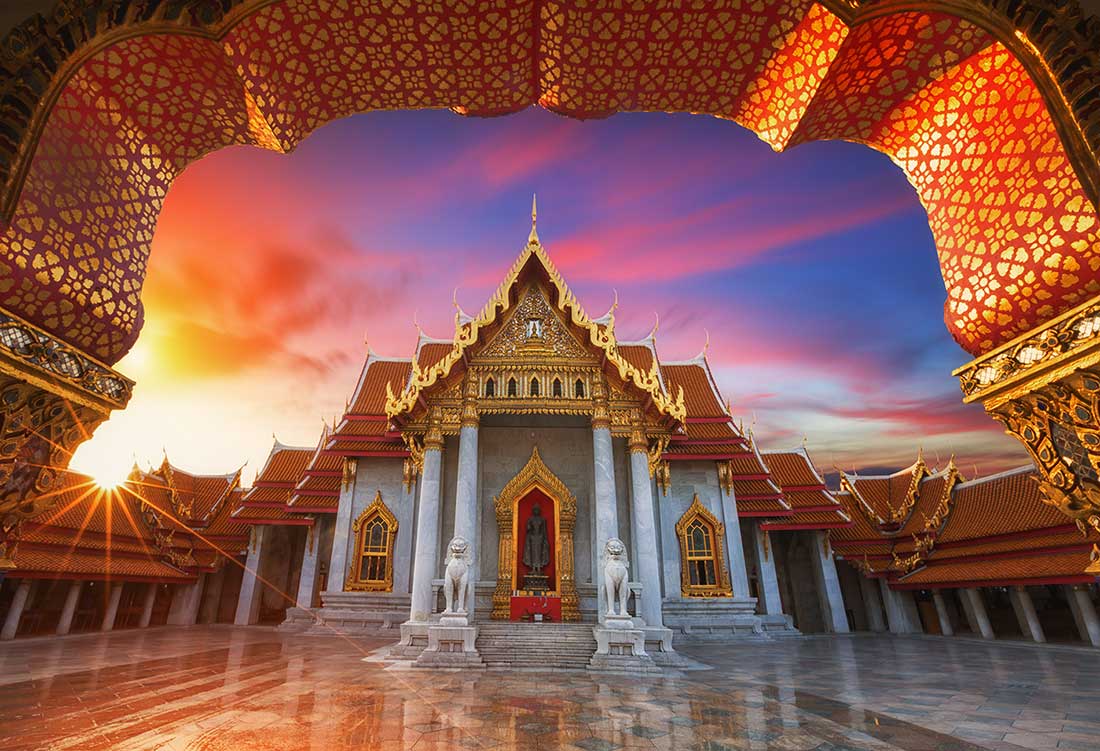 Wat Arun
Wat Arun is another budget=friendly place that must be included in your Bangkok itinerary. It is a gorgeous temple that lies on the edge of River Chao Phraya, right opposite to the Grand Palace. Such is the significance of this temple that you'll also find it on the Thai money. The temple has a main spire from which you can relish the 360-degree views of the entire city - indeed, a treat for the shutterbugs. The temple becomes a must-visit during sunrises and sunsets.
Timings: 8:30 AM to 5:00 PM, Daily.
Price: 50 Baht Approx.
Wat Pho
After a long tiring day of touring Bangkok, Wat Pho should be your final stopover to unwind yourself. Wat Pho is situated near the Grand Palace. This place is known for two things: one, a larger than life golden reclining statue of Lord Buddha and second, a massage school. You can relax here while taking a massage session here, or you can just spend some time adoring the beautiful effigy of Buddha.
Timings: 8:00 AM to 6:30 PM, Daily.
Price: 100 Baht Approx.
Chinatown
If you wish to do something different once the sun falls asleep, apart from the vibrant
nightlife of Bangkok
(for which the city is famous), you can choose to spend some time in Chinatown. This is the perfect place to shop and eat. Such is the charm of this area that you can spend an entire day here in Chinatown. There is so much to experience and explore; it is packed with eatery stalls, plus many shops selling various items. Besides, the area remains thronged with thousands of people making this place even more exciting. There is also a large flower market in Chinatown which is worth visiting.
The Jim Thompson House
This was the house of a former American spy and a silk merchant in Thailand named Jim Thompson. He built this traditional Thai home during the 1950's. He disappeared mysteriously in 1967 from Malaysia. At present, his home serves as a popular attraction and one of the most
important monuments in Bangkok
. A visit to this place is a treat to eyes as the wooden interior and the traditional Thai architecture of The Jim Thompson House is unique itself.
Timings: 9:00 AM to 5:00 PM, Daily
Price: 150 Baht Approx.
Khao San Road
Khao San Road is probably the most famous attraction for budget tourists. It is basically a backpacker street in Bangkok. In fact, all travel paths seem to cut through this street. But more than that, this place is a hideout for many travelers because here you can find numerous shops, bars, restaurants, street food stalls, and other needs that a traveler might have. Whatever you opt to do here, everything is usualy within a budget traveler's price range.
Terminal 21
Even on your budget trip, if you have spare a day to spend a bit extra then you should head to Terminal 21. This popular mall in Bangkok gives you ample opportunities to shop, eat and enjoy yourself. As the name itself suggests its relation with aviation, the mall is airport-themed. Each floor delineates the different regions of the world. For tourists, it houses a movie theatre, food courts, shops, and restaurants. And we should mention that the mall gives you free WiFi, too.
Time: 9:00 AM to 9:00 PM, Daily.
Where to Eat
For every food lover, the city of Bangkok offers some of the world's best international and Thai food. The variety of food here is something that you hardly get anywhere else. From Italian to Mexican to even Japanese, you can eat like a king.
Bella Napoli
Bella Napoli is one of the best Italian restaurants in the city. From Pizza to Pasta, they serve some of the best Italian delicacies on to your table. If you tire of Asian food on your trip, this is the place to go.
Address: 3/1 Sukhumvit soi 31, Bangkok, Thailand
Price Range: 342 Baht to 684 Baht
Daniel Thaiger Burger
If you are looking for something international to eat such as a burger, then Daniel Thaiger Burger is the place where you should go. At this food joint, you will find the best burgers in Bangkok, and at a great price, too. They use fresh beef (not frozen) that makes them stand out amongst other burger joints in the city. Their signature Thaiger Burger costs around 115 baht.
Address: Sukhumvit Soi 30/1, Bangkok, Thailand
Price Range: 300 Baht to 400 Baht
Shoshana Restaurant
Another restaurant to visit to help some of your trip cost is Shoshana Restaurant. If your taste preference somewhere lie around Middle Eastern and Israeli Food, then this is the perfect place for an amazing lunch or dinner. Apart from that, they also serve Thai cuisine, Asian, and Mediterranean dishes.
Address: 86 Chakapong Rd., Talat yod, Phra Nakhon, Bangkok 10200, Thailand.
Price Range: 270 Baht to 400 Baht
Tapas Cafe
For Spanish cuisine, Tapas Cafe is the stopover. They serve some of the best Spanish Tapas in the city. Also, they also have Mediterranean and European delicacies.
Address: 78, 80 Silom Soi 4, Bangkok 10500, Thailand.
Price Range: 300 Baht to 400 Baht
Where to Stay
When it comes to choosing accommodation on your budget Bangkok trip, make sure you do a lot of research to get the best hotel or hostel deals. And for cheap accommodation in Bangkok, you can
search at Khao San Road
and Silom Road that best localities for budget places. Khao San is one of the major tourist centers in the city which is known for a festive vibe with many street food joints, bars, and restaurants. On the other hand, Silom is a financial and business hub. The area has malls, night markets, and shops. The very famous Patpong is also located in the Silom area. If you choose to stay in Silom, then
Sunflower Place Silom
and
Smile Society
are some of the ideal budget places that can be your place to relax. Also, check out this
list of the best party hostels in Bangkok
or this list of the
best hostels in Bangkok for backpackers
.