Koh Tao On a Budget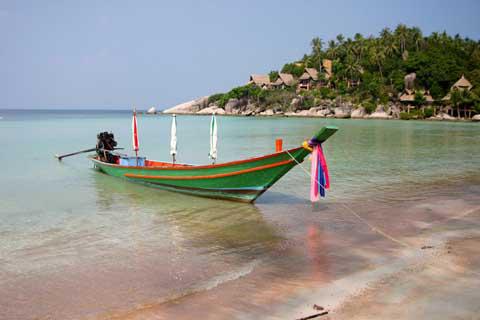 With a name that literally means, "Turtle Island," Koh Tao, Thailand is the type of vacation spot divers dream of. There is the faintest current and a buffet of dive sites and shops.
This tiny island hosts hundreds of thousands of visitors a year, but take not that there are no garbage disposal facilities. Everything that can't be burnt needs to be taken from the island. Avoid plastic bags, and don't dump your trash in the open landscape (then again, why would you?) because there are no departments for road clean up. Water and electricity on the island are scarce, so use them wisely.
Keep in mind that monsoon season from November to January so you may be faced with constant rain for days at a time in those months.
Sights
The entire island of Koh Tao is a sight to see. Take a bike and just tour the island for a day. Ko Nang Yuan, Freedom Beach, Mango Bay and Tanote Bay are just a few areas that provide amazing scenery. Really, though, for the best experiences, get off the bike and take a walk. Roads can't reach most of the spectacular views. Follow a path to John Suwan Mountain Viewpoint in the south, or Fraggle Rock in the north.
If all you want is to see some sandy shoreline, there are plenty of beaches to lounge on. The largest beach on the island is Sairee Beach. Located on the west side of the island, Sairee Beach is full of dive schools, resorts, restaurants and bars. The southern and central sections of this island are the place to be for the Koh Tao nightlife.
The main spot of Koh Tao is where the ferry will arrive. This is the Mae Head beach. There are plenty of shops, but keep in mind that this is one of the most expensive areas on the island.
Chalok Bay is where to go if you're looking to lay down a towel and chill. There are several resorts and restaurants but way less than Sairee Beach. If this still isn't isolated enough for you, there's Tanote Bay. There are no towns or villages on this beach, and only four resorts. Keep in mind, though, there aren't any ATMs here and you want to watch your step. The sane is coarse and there is broken glass in most places from people drinking while sitting on the rocks. It's still a beautiful place for relaxation and reflection.
Neighborhoods
The west coast of the island gently wraps around a large bay. The southern end of this bay is the ferry pier, where most travelers arrive. Heading north up the bay is a beautiful beach with many small hotels and resorts. The narrow roads providing access to these places are full of shops and restaurants for travelers.
The eastern side of the island is home to some smaller bays with a variety of additional accommodations.
Activities
The biggest draw to Koh Tao is the scuba diving. It's relatively inexpensive, easy, fun, and there are plenty of friendly critters waiting under those waters. You'll get to see turtles, stingrays, barracudas, reef sharks and countless smaller fish. Don't let the word "shark" scare you off. These sites are safe as the sharks are quite small. In recent years the large influx of tourists seeking the inexpensive scuba certification schools has led to a degradation of the coral reefs around the island, but the diving is still better than in most places in the world.
Koh Tao welcomes more than just divers, though. This beautiful island can provide a dream vacation for anyone who loves a good time on the water. Take your boat and explores the coves and bays of untouched mountain ridges. Scale those gorgeous mountains, and then do a daring cliff dive. Go wake boarding, work on your mini golf game or take a relaxing moment to get a massage.
Food and Dining
Koh Tao is full of all the specialties of Thai dining you could ask for. Seafood – especially barbecued fish- are on the menu almost anywhere you go. While many people living here are from all over the world, there are also other cuisines offered around the island.
If you're really interested in Thai food, ask your hotel about cooking lessons. They are frequently available in many of the resorts around Koh Tao.
Transportation
There is no car rental in Koh Tao, but you can rent a motorbike, ATV, or four-wheel drive. Bear in mind, the roads in Koh Tao are easily in the running for some of the most dangerous in the country. There are concrete roads that are worn into dirt roads - that lead to forty-five degree inclines. There are accidents on an almost-daily basis. Stick to the motorbikes and ATVs. If you absolutely must go by car, it's probably best to let the locals handle the roads and take you where you're going. Remember, taxis can be really expensive. It might be more cost-effective to rent that motorbike.
Related:
Partying in
Chiang Mai
or other parts of
Thailand
?
Going to the
Full Moon Party in Koh Phangan
?
Hitting the beach in
Koh Samui
?