Koh Samui On a Budget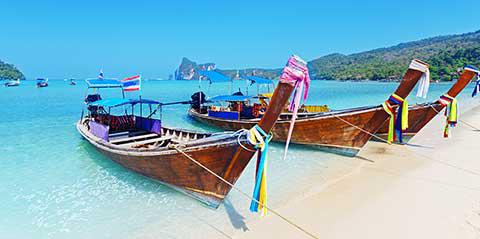 The largest island on the east coast of southern Thailand, Ko Samui (or Koh Samui) sees a good number of visitors every year who come for its lush rainforest, beautiful shores, and undersea wildlife. The size of the island is still small enough to allow visitors to circumnavigate it with a taxi or motorbike in a day, while hikers and outdoor enthusiasts can find plenty of inland activities in the hills and jungle.
Sights
The beaches are the primary source of entertainment on Koh Samui, as the water is clear and the sand is terrific. Various beaches can be found on the island, some crowded and some remote. Chaweng and Lamai are the most popular and crowded, catering towards younger backpackers. Nearby restaurants and shops offer food and services to the multitudes of foreign travelers. If you're looking for something quieter, look for Mae Nam or Choengman beaches on the north side.
A number of small temples (wats) and other religious structures can be found around the island, but many opt to do their historical and cultural tours in Bangkok or elsewhere in the country.
The island is also home to an aquarium, a tiger zoo, and a butterfly and insect museum. Monkey shows and an elephant camp are also located in the Bophut Beach area.
Neighborhoods
Although the main pier for ferries is on the west side of the island at Nathon beach, the main town is at the northeastern part of the island on a rough peninsula.
Just south of the main town, on the eastern shore is Chaweng Beach, the busiest and most crowded. South of Chaweng is Lamai, the next busiest beach area(the towns somewhat merge together). This section of the island is very developed and contains western restaurants such as pizza and Irish pubs to cater to tourists and partygoers. Expect a crowd.
Choeng Mon Beach is at the end of the northeastern peninsula, and also has easy access to hotels and shops.
Along the northern shore, leading west and away from the town, are Bophut Beach, Mae Nam beach (known to be quieter), and other stretches of developed shoreline at the base of various hills.
Nathon and Lipa Noi beaches cover the main part of the eastern side, and these stretches are also quite developed, but not as crowded as in the east. The southwestern corner and southern beaches are also developed and relatively quiet, with various resorts and amenities.
The interior of the island, although containing some roads, is mostly undeveloped. Most of the interior is parkland, although a few hotels and resorts can be found for those looking for a quiet retreat in the jungle with a view.
Activities
Scuba diving and other water sports such as snorkeling and boat trips are very popular due to the high number of smaller islands and reefs surrounding Koh Samui. Diving in nearby Ang Thong National Marine Sanctuary, although often crowded, is considered world class due to the clear, warm waters. Diving or snorkeling just off of Koh Samui is not a good due to murky waters. Dive shops and dive tour companies can be found around many of the touristy areas near beaches or in town.
Snorkeling and boat tours (for drinking, partying, or dining) are also common. Hostels and tour companies around town offer hiking and other outdoor trips into the hills and jungle as well.
Food and Dining
Note that many restaurants use a dual-pricing system for locals and foreigners, so don't be surprised if your bill is higher than expected.
Food options from all over the world are available, for better or worse, to cater to the needs of tourists. It can be challenging to find truly authentic Thai cuisine on the island. Seafood is quite popular for obvious reasons.
Transportation
Visitors can arrive via the airport or by public ferry, most of which dock at Nathon pier.
Taxicabs are available almost everywhere on the island and frequent the main towns. Upon arrival at Nathon pier, drivers looking for passengers often hound visitors just off of the ferry boats. These drivers will often display fake "standard prices" signs. Ignore these and negotiate fiercely.
Public buses come in the form of songthaews, which are covered pick-up trucks. They are much cheaper than taxis and act as either buses or shared taxis. If you simply hop on and then press the buzzer when you want to get off, the rate is fairly cheap, depending on your distance traveled. Note that on many of these, foreigner prices are much higher than the locals if you wish to attempt a negotiation.
Motorbikes are available for rent, but use common sense, obey the rules of the road, and drive safely. Many mortorbike rental companies will want you to leave your passport, which is generally not recommended. If you run into a problem, you're very stuck.
Bicycles are also available for rent, and are a good way to either get around the towns or explore a little further afield.
Cars can be rented to explore the island as well, and international companies such as Budget and Avis are around for those looking for a reputable company.
Related:
Partying in
Chiang Mai
or other parts of
Thailand
?
Going to the
Full Moon Party in Koh Phangan
?
Hitting the beach in
Koh Samui
?