Koh Pha Ngan On a Budget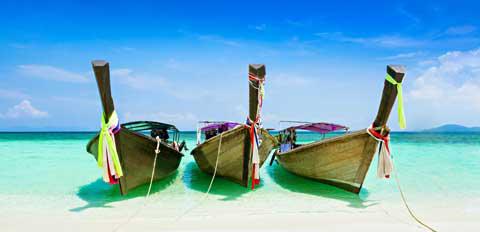 Ko Phangan (or Pha Ngan) is best known for its full moon parties, attracting backpackers and budget travelers the world over for all-night parties on the beach. The clear, blue water, beautiful beaches, and tropical atmosphere bring the tourists to the island, and the low prices, diverse activities, and abundant amenities keep them here.
The Full Moon Party (and other related nightlife) is not the only activity on the island, however. Hiking, boating and watersports, diving and snorkeling, Thai boxing, and elephant riding are all available on this larger-than-expected island.
Sights
he beaches are the main attraction, and they are plentiful.
The Than Sadet-Ko Pha Ngan National Park (free) offers hiking, waterfalls, some scenic viewpoints, relatively deserted beaches, and plenty of jungle forest full of palm trees.
Other parks with lookouts, waterfalls, and natural scenery can also be found elsewhere on the island (outside of the main national park). Phaeng waterfall is quite popular, as is Domesila viewpoint.
Wat Khao Tam temple and its viewpoint also make for a nice walk.
Neighborhoods
The main town of the island is Thong Sala, on the western side where the coast turns toward the south. The interior of the island is mostly undeveloped, contains several national parks, and a few small hotels and resorts. Most of the traveler amenities surround Thong Sala on the western and southern shore, although some other resort and hotel areas are on the northeastern shore.
Haad Rin beaches and the Full Moon Party are located at the far end of the southern beach, at the southeastern tip of the island.
From the southeast, moving up the east coast, are a handful of smaller beaches offering relatively quieter settings.
North of Thong Sala on the west coast are more developed areas surrounding a few small bays and the larger Wok Tum bay and beach.
Activities
The official Full Moon party takes place during the full moon at Haad Rin beach. However, almost every night at this beach and its nearby bars, restaurants, and hotels are parties of some type or another. As the name implies, it is much more popular at the proper time of the moon's illumination, but other related parties take place on the half moon and other seemingly random but important times of the lunar cycle. Basically, there's always a party, it's just a matter of how crowded.
Party-goers are warned to wear proper shoes on the beach due to high amounts of broken class and trash, and leave valuables behind. Petty theft and pickpockets are common.
Reservations for accommodation are highly recommended if you plan to stay during the time of the Full Moon Party, as many hotels and hostels fill all of their rooms.
Watersports are naturally quite popular, including Scuba diving, snorkeling, and boating. Ko Maa, off the northwest coast is a small island and offers great snorkeling spots. Other highly reviewed snorkeling locations include Haad Khom beach and Haad Yao. Kayaks can be rented at most beaches or in town, and boat excursions for snorkelers or drinking cruises are also available.
Food and Dining
A variety of cuisines from all over the world can be found on Ko Phangan, much to the disappointment of those looking for authentic Thai meals. If real Thai is what you're after, look for where the locals eat or try the food carts in Thong Sala at the night market. Not only can you find some real food, but it's also cheap here.
Other cuisines include Chinese (quite common around the island), Mexican, Italian, pizza, burgers, Indian, Korean, Mediterranean, and more.
It should go without saying that bars and alcohol are plentiful on an island that is famous for partying.
Transportation
Thailand Bus and Train Prices
The best prices for buses and trains in Thailand
can be found on 12Go
. They let you search across all bus, train, and airline routes throughout Asia.
The ferry arrives and departs at the pier in front of Thong Sala, the main town on the island (on the western coast).
Unofficial taxis are available for general transportation, but these are not regulated, potentially risky, and require some discreet transactions if in crowded areas. These can be cars, motorcycles, or motorbikes.
The official taxis and "buses" are the songhaews (pick-up trucks or small vans), which take passengers on either set routes or to requested destinations.
No matter what type of vehicle you hire, always negotiate and confirm the price in advance.
Often a cheaper alternative in the long run is to rent a motorbike. If you plan to stay multiple days or longer, this will end up being cheaper if you plan to travel around a good bit.
Related:
Partying in
Chiang Mai
or other parts of
Thailand
?
Going to the
Full Moon Party in Koh Phangan
?
Hitting the beach in
Koh Samui
?