Ayutthaya On a Budget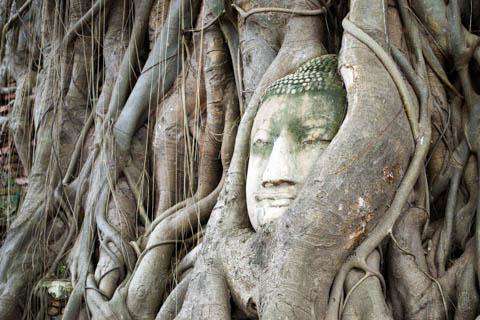 Once the largest city in the world, Ayutthaya, is the example of an ancient capital within a modern city. Located in the central plains of Thailand, this spot is ideally located between China, India and the Malay Archipelago creating the perfect place for trade in Asia. Eighteenth century maps from Holland and France show golden palaces, large ceremony spots and trading vessels from all over the world. Suddenly, in 1767, Ayutthaya experienced a tragic fall from grace with a Burmese invasion burning much of the city to the ground.
Today, there are small glimpses of the majestic city that once was. The prang towers, giant monasteries and stone temples are what remain. Officially recognized in 1991 as an UNESCO World Heritage Site, the ruins of Ayutthaya are an easy day's travel from Bangkok.
Sights
By stepping into the former temples of this once prominent city, you're met with some incredible sights. As they are mostly in ruins, there is no dress code. There are several temples to explore. Here are just a few:
The largest temple in Ayutthaya is the Wat Phra Si Sanphet. It was once used for royal religious ceremonies, and its iconic, restored chedis are found on the grounds of the former royal palace.
The Viharn Phra Mongkol Bopit is home to a large, bronze cast Buddha. It once lived outside the Grand Palace, but was later moved to its current location at the temple. During the second fall of Ayutthaya, this temple and Buddha were badly damaged, but today's temple has been restored.
For more stunning Buddha pieces, take a trip to the Wat Phra Mahathat temple. Though it was once thoroughly raided by the Burmese, many icons have withstood everything thrown at them. The leaning prangs are a symbol of the resilience and strength of Ayutthaya. Without a doubt, however, the most interesting part of this temple is a row of headless Buddha statues, and a tree that has grown around the head of a Buddha. Remember, if you are hoping to take photos with the Buddha, kneel down to show your respect for this sacred, religious symbol.
To put all of this into context, make sure you take a trip to the Ayutthaya Historical Study Center. This museum displays the history of the city, the population's history with other cultures and the art and life of Ayutthaya.
Activities
A lovely way to spend the day is by browsing the stalls of the Chao Phrom Market. Right near the Pasak River, this market offers food, clothes and mostly day-to-day necessities. While the shopping is more for locals, the food is for everyone. Find a new, cheap coat and have some delicious lunch with your authentic Thai experience.
For a real treat, though, join the nonprofit
Elephantstay
program at the Royal Elephant Kraal and Village for the chance to work and play with elephants. Stay on the premises for a chance to make a difference to some old elephants.
Food and Dining
While you'll likely find delicious Thai food at any of the local restaurants, there is a more interesting place to dine. There are two main night markets. Vendors tend to set up stalls and begin selling at 4:30 pm and continue until 9:30. These markets are perfect for saving money while still getting to sample everything. There are mostly Thai foods like noodles, papaya or Pad Thai, but you can likely find other foods from around the globe. Your biggest obstacle, as is with everywhere in Ayutthaya, is the language barrier. As for advice form your hotel staff about the foods and what to order.
Transportation
Thailand Bus and Train Prices
The best prices for buses and trains in Thailand
can be found on 12Go
. They let you search across all bus, train, and airline routes throughout Asia.
The easiest and most enjoyable way to get around the ruins of Ayutthaya is by bicycle. Even if you aren't in top-top shape, the path to the site isn't very difficult . Some people, on the other hand, prefer the motorbike. No matter what you ride, just be sure you're cautious of the fast-paced Thai traffic.
Another option is to get around by tuk-tuk – a motorized three-wheeled vehicle. The tuk-tuks in Ayutthaya are larger than those is Bangkok so your group of six can easily fit. Have a map ready to point out your destination to the driver and they will quote a price for you right away. If your group is larger, consider hiring a mini-bus.
Related:
Partying in
Chiang Mai
or other parts of
Thailand
?
Going to the
Full Moon Party in Koh Phangan
?
Hitting the beach in
Koh Samui
?