Couples love the beautiful setting, challenging skiing, and quaint town that Aspen, Colorado is famous for. People usually think of Aspen as one single town, but in reality it has four different ski areas, and each of them are unique. The area is collectively referred to as
Aspen Snowmass
, but separately the areas are called Aspen Mountain (or Ajax), Aspen Highlands, Buttermilk, and Snowmass. As you probably already know, Aspen is one of the premier ski areas in Colorado and the U.S. as a whole. But it's also a great place to visit in the warmer months, as visitors can find plenty of hiking and other outdoor activities, too.
For a couple looking for a place to stay in Aspen or Snowmass, look no further
, as we have listed the most affordable and best vacation rentals available. Many of these places can be easily booked on AirBnB for a great price. With a variety of options available, from studios to condos with several bedrooms, Aspen has something for everyone's level of luxury and price range.
Aspen Mountain (Ajax)
The town of Aspen sits at the base of Aspen Mountain (also called Ajax). This mountain is one of the more challenging ski areas in Aspen, but it's also popular with couples because of its proximity to the town of Aspen. Aspen has a number of world class restaurants, shopping, and other entertainment options that couples can enjoy. For couples that want to be near all of the action, then this is the place to stay. There's a diversity of accommodation options to choose from as well. Below are some of our favorite rental properties for couples.
Base of Aspen Mountain
Couples love this condo for its convenient and quiet location right by the lift, along with its comfortable setting and nice furnishings. The kitchen is well equipped if you plan to cook, or it's walking distance to a wide range of restaurants. Parking is convenient, and once you arrive there's no need to drive.
Pretty Condo in Central Aspen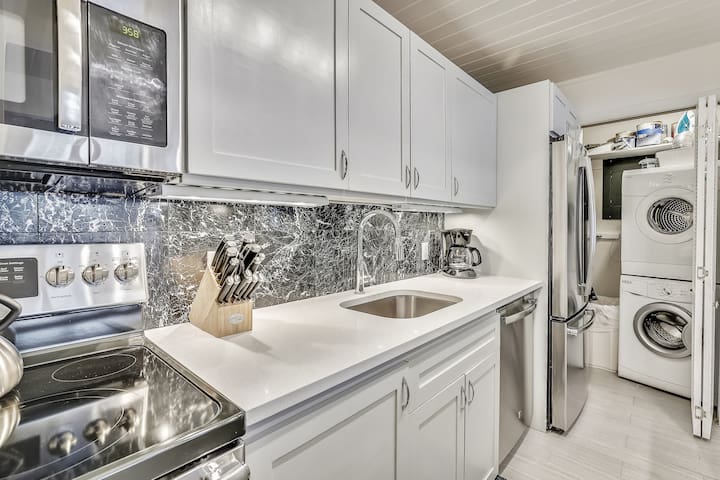 This vacation rental is great for couples who are willing to spend a bit more for more space and nice amenities. It's run by a very reputable management company so you can be assured quick and professional responses. There's also a nice community space with grills, a firepit, and more.
The kitchen of this condo is top-notch! Not only is it fully-equipped, it also has high end appliances and a modern, luxury design. The bathrooms are similar, and anyone would be comfortable here. Laundry, Wi-Fi, and other amenities are included.
Studio Condo in Aspen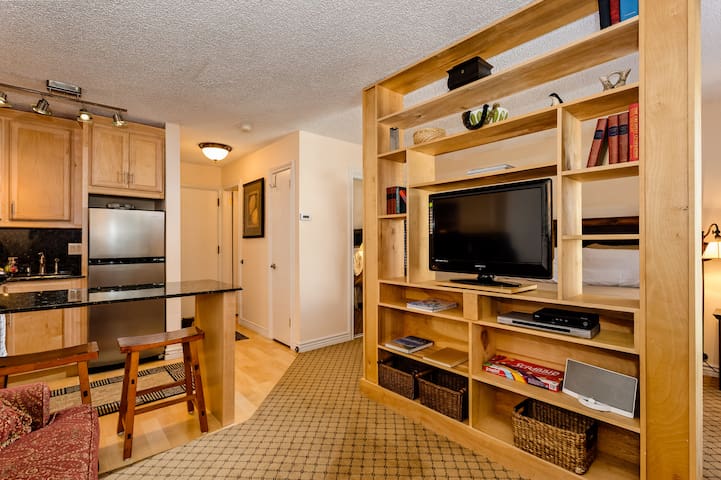 Here is a condo with a
great value
in the heart of Aspen. It's a budget-friendly option that is walking distance to many restaurants, shops, and more.
Downtown Historical Charm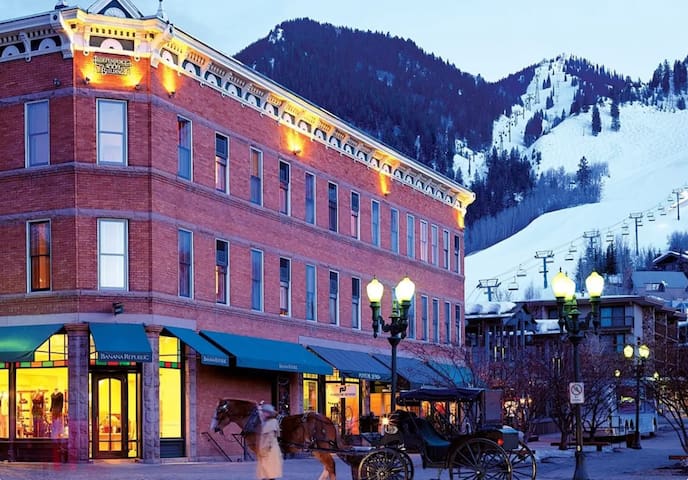 This apartment is all about location. It's just half a block from the gondola in the best location in Aspen. The building has historic charm and the hot tub and cute furnishings make it a great spot for a romantic getaway. This is a studio room in a historic hotel with modern upgrades, nice amenities, on-site restaurants (plus all of the dining options nearby), and plenty of great service.
Aspen Highlands
Aspen Highlands is 5 kilometers to the west of Aspen Mountain and is connected to the town by a shuttle bus service. The mountain is famous for its challenging run, and while it was once the area's best kept secret, it has grown in popularity in recent years. Aspen Highland appeals to the adventurous couples who are experienced skiers. It is most famous for the Highland Boal, which offers, arguably, some of the most intense skiing in the state.
It can be more challenging to find accommodation near this mountain so the options are less varied than in the town of Aspen.
Ritz Carlton Club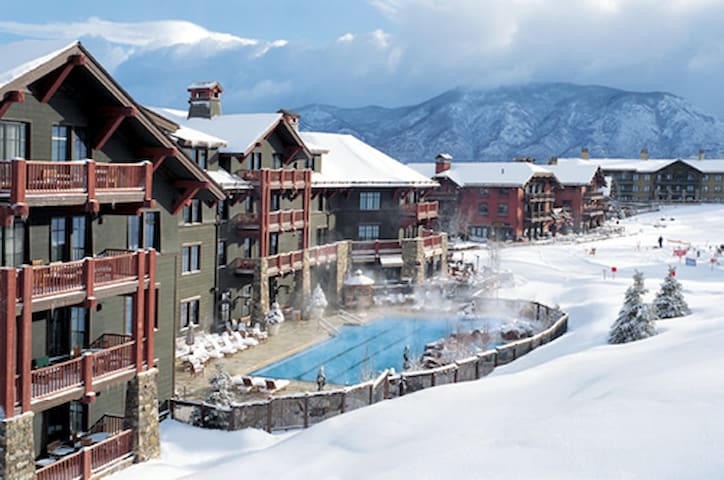 Many couples enjoy staying at the Ritz Carlton Club. Although it's pricey, it's well worth the money for couples who want to enjoy a touch of luxury. With it's spa and pools, it really does offer the best romantic escape.
Buttermilk
Just past Aspen Highlands is Buttermilk. This is the only resort in Aspen that doesn't have a notable village at its base. It's made famous as the long running host of the X Games, but the area has plenty for experienced and beginning skiers alike. There is a free shuttle that connects the area to the rest of Aspen.
Buttermilk Studio
This rental property at the base of Buttermilk Ski Resort is perfect for couples who are still beginning skiers because it's right next to the bunny slopes (with easy access to everything else). The pool, patio, and comfortable setting make it a great value for couples headed to Aspen. This particular room is at the Inn at Aspen and is a luxury hotel room without a full kitchen. An on-site bar and restaurant can be found here, along with plenty of other dining options within easy reach.
Snowmass
Snowmass is larger than the other three ski resorts put together, but it's also about 16 kilometers to the west of the town of Aspen. Because of its diverse terrain, it really offers something for everyone, regardless of their skill level. This makes it a great destination for couples who want a diversity of ski options.
Because it's so large, couples can enjoy a number of other activities aside from skiing. There's snow tubing, the Breathtaker Alpine Coaster, and more. This really is the place for everyone.
The area includes 94 trails, as well as the largest vertical descent of any resort in North America.
Here we've found the best vacation rentals and condos for couples in Snowmass.
Mountain Views
2 Bedrooms, Full Kitchen, Pool
Here is a great vacation rental in Snowmass with a large community pool, a hot tub, a well equipped kitchen, and a great location that's perfect for couples that want to enjoy everything that Snowmass has to offer.
Easy Ski Access
This 2 bedroom property has a large living room and a nice balcony that guests enjoy. It's right by the bus stop and there are great views of the slopes.
Happy Travels!
For more information on accommodation in Aspen, check out
Places to Stay in Aspen Snowmass for Families
,
Aspen Snowmass: Places to Stay for Groups of Friends
,
Crested Butte's Best Places to Stay for Families: Affordable Airbnbs
,
The Best Airbnb Cabins and Condos for Groups in Crested Butte
, and
The Best Places to Stay for Couples in Crested Butte: Affordable Airbnb Vacation Rentals
.