Aspen On a Budget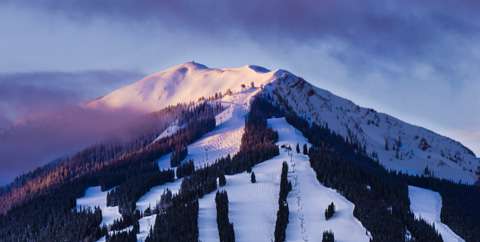 Aspen is a famous, and notably expensive travel destination. The town is one of the country's most famous and recognizable ski destinations, and prices can climb high during the ski season. Although still expensive, you can often find better deals during the summer months or shoulder seasons. For visitors who want to enjoy the area's hiking, natural beauty, and charm, these are the times to visit.
But for many, Aspen is a ski destination. It's known for its challenging slopes and diverse terrain. There are many lessons available for beginners or intermediates, so don't be afraid of the challenging reputation that Aspen is known for. There really is something for everyone.
Sights
Aspen is all about skiing, but the town and surrounding natural beauty is a destination in and of itself. There are a number of natural protected areas in the region with great hiking and beautiful landscapes. Several places worth visiting include John Denver Sanctuary, which has a refreshing creek, Maroon Bells, which is one of the most photographed landscapes in the area, and Independence Pass, which takes you by the Continental Divide.
Neighborhoods
Most people think of Aspen as one town and destination, but there are actually four ski resorts in the area - Aspen Mountain (or Ajax), Snowmass, Aspen Highlands, and Buttermilk. Most people refer to the entire area as Aspen Snowmass.
The Town of Aspen sits at the foot of Aspen Mountain. About five kilometers away are Aspen Highlands and Buttermilk and Snowmass is about 16 kilometers to the west of the town. Snowmass is larger than the other three resorts combined and it offers a wide variety of skiing and a village at its base. Buttermilk is the only ski area that doesn't have a village at its base. Aspen Highlands is considered to be one of the more challenging ski areas.
Activities
Skiing is the obvious activity of choice for visitors to Aspen, but that doesn't mean there aren't plenty of other things to enjoy. Hiking is popular, particularly during the warmer months and there are countless trails in the area. Other popular activities include mountain biking, golf, white water rafting, festivals and concerts, and touring historic mines.
Food and Dining
As a world class ski destination, you can expect world class dining in Aspen. The area has a wide range of restaurants to choose from that serve diverse types of cuisines. Restaurants range from casual sandwich shops to fine dining at its best. There are also grocery stores in town so budget travelers enjoy picking up supplies and preparing their own meals.
Transportation
Aspen has a comprehensive free shuttle system that travels between the different ski resorts. It's a great way to get around efficiently and conveniently. The service also runs to other nearby communities.
The town of Aspen is very walkable and many visitors enjoy exploring the area on foot. There are also bike trails throughout and a great bike-sharing program with 16 stations and 200 bikes spread throughout the area.