Most people think of Aspen as a single town, but there are actually four distinct ski areas in Aspen. The area is collectively referred to as Aspen Snowmass, but the separate areas are called Aspen Mountain (or Ajax), Aspen Highlands, Buttermilk, and Snowmass. The diversity in the area makes it a great destination for friends with varying interests and skill levels.
And all of these areas have great places to stay at affordable prices for your next ski trip with a group of friends. So if you're looking for a vacation rental or a condo, here are some of the best options.
Aspen Mountain (Ajax)
The town of Aspen is located right at the base of Aspen Mountain (sometimes called Ajax). Groups often enjoy staying in town because of its charm, accessibility, and the wide range of restaurants and shops that are nearby. You'll also find the widest range of accommodation in and near the town of Aspen so this is a great option for groups. If you want to be near all of the action, then this is the place to stay. Prices can be a little higher, but for many groups, this is the best area to stay in.
Below are just a couple of our favorite properties.
Downtown Aspen Oasis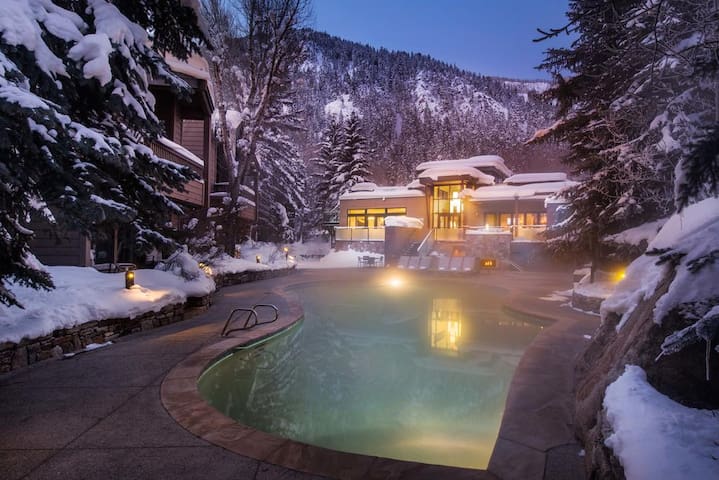 2 Bedrooms, 6 Guests, Kitchen
This affordable and comfortable two bedroom condo is a great option for groups of friends. It's very modern with a nice kitchen, luxurious bathrooms, and the coplex has a heated pool, too!
The modern kitchen is fully-equipped with everything you would need. The kitchen flows out into the open-concept dining and living room space - this is a great way for everyone in your group to have fun together over a meal or wine. In the corner you'll find a cozy fireplace. The bedrooms are also elegant yet casual and comfortable. Of course, the bathrooms are kept extremely clean - and they also have modern finishes. The balcony is a great place to take in the mountain air, as is the pool, hot tubs, and other garden areas.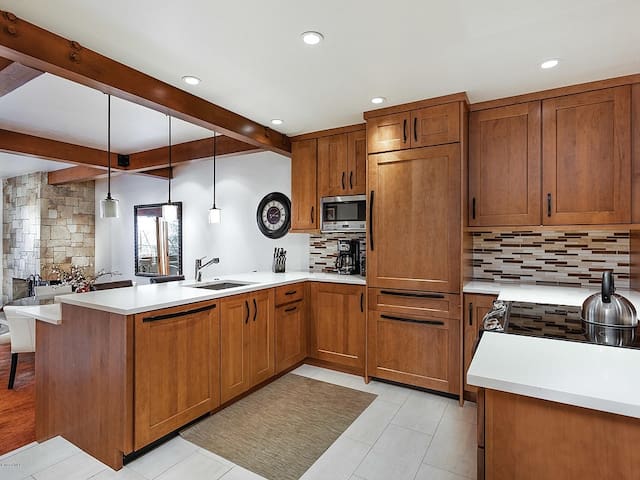 Contemporary Condo in Snowmass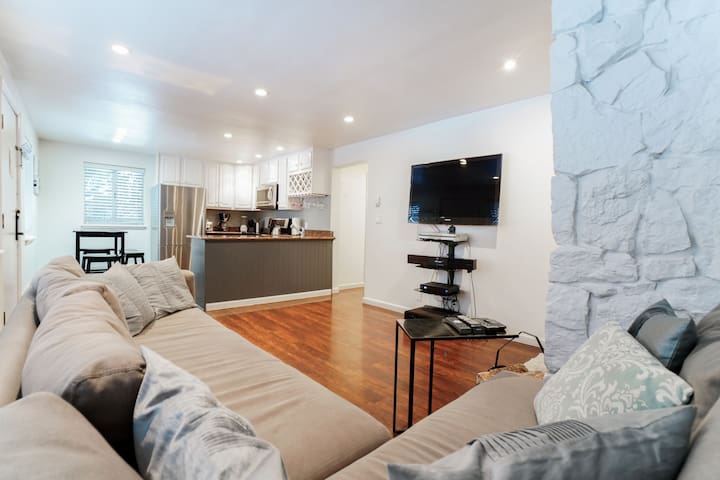 2 Bedrooms, 4 Guests, Kitchen
This clean and modern apartment is close to everything and a great value for the money. It's a two bedroom condo that's great for small groups of friends. It has modern conveniences, a luxury kitchen, a fireplace, laundry, wi-fi, and more.
Aspen Highlands
Aspen Highlands is 5 kilometers to the west of Aspen Mountain, but it's conveniently connected to the other areas by a free shuttle service. While it was once considered the hidden gem of the area, Aspen Highlands is no longer the well kept secret that it once was. It's famous for its challenging run and is perfect for groups that are adventurous and experienced skiers. The area is most famous for the Highland Boal, which offers, arguable, some of the most intense skiing in the state.
The area has a few great properties that can accommodate groups, but it doesn't have the large diversity of options that you find in the town of Aspen. For many groups though, this is the perfect place to stay.
The vacation rentals and condos below are some of our favorites.
Ritz Residence 3BR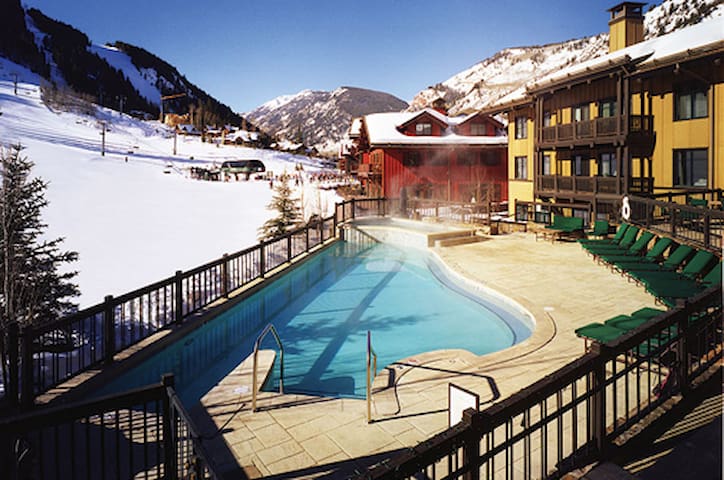 3 Bedrooms, 8 Guests, Kitchen
This 3 bedroom vacation rental at the Ritz-Carlton Club offers luxury accommodation and state of the art amenities. For groups that want to visit Aspen in style, this is the place to stay. The heated outdoor pool, hot tub, and restaurants are great for friends that want convenience and fun.
Aspen Highlands 4BR
With
4 bedrooms
, this property is great for groups of friends who want to be walking distance to Aspen Highlands. There's a nice deck and a clean space that's great for friends.
Buttermilk
Buttermilk is another ski resort in the area. It's just past Aspen Highlands and is the only resort of the group that doesn't have a notable village at its base. Buttermilk is recognizable as the long running host of the X Games, but the area still offers plenty for beginners. The area is also well connected to the rest of Aspen with the free shuttle bus service.
Woodbridge 2BR
This 2 bedroom property is a good option for friends. It has a well stocked kitchen and is near skiing and hiking trails.
Snowmass
Groups really enjoy Snowmass because it is larger than the other three ski resorts put together. It's also about 16 kilometers to the west of the town of Aspen. The area has diverse terrain, so it's perfect for groups with different interests and skill levels. There is also no shortage of other activities in the area that groups can enjoy including snow tubing and amusement rides. This really is the place for everyone.
The area includes 94 trails, as well as the largest vertical descent of any resort in North America.
Below are some great properties for groups of friends headed to Snowmass.
Snowmass 3BR
3 Bedrooms, Kitchen, Pool
Here is a fantastic 3 bedroom condo with plenty of space for groups, a double level deck, and a grill that you can use to prepare meals. The dining table is large enough to seat a group and the space can comfortably accommodate several couples.
Rocky Mountain Retreat
This property is big enough that it can accommodate larger groups of friends. It's in a convenient location, has separate bedrooms, and also has shared space where groups can comfortably hang out over a glass of wine after skiing or hiking.
Easy Ski Access
2 Bedrooms, 6 Guests, Kitchen
This 2 bedroom property has a large living room and a nice balcony that guests enjoy. It's right by the bus stop and there are great views of the slopes.
Luxurious Snowmass Condo
3 Bedrooms, 8 Guests, Kitchen
Finally, here is one more condo that is quite luxurious and within easy reach to everything you want to do in Snowmass. It has a very spacious and comfortable living room and dining area that flows into the modern and fully-equipped kitchen. The upper loft area has one of the bedrooms, plus 2 other bedrooms are on separate levels. The bathrooms are modern, clean, and luxurious, too. Laundry, covered parking, a deck with a grill, wi-fi, and other amenities are included. You also have access to the condo building's pool, hot tub, and other spaces.
And it's also
affordable
! Check out the photos.
Happy Travels!
If you're interested in more accommodation options in Aspen, you should also see
Places to Stay in Aspen Snowmass for Families
,
Aspen Snowmass Places to Stay for Couples
,
Crested Butte's Best Places to Stay for Families: Affordable Airbnbs
,
The Best Airbnb Cabins and Condos for Groups in Crested Butte
, and
The Best Places to Stay for Couples in Crested Butte: Affordable Airbnb Vacation Rentals
.