Crested Butte, Colorado, is a world-class ski and snowboarding area set in a gorgeous mountain scene surrounded by national forest park land. The mountain itself has a unique shape that can be recognized from a far distance. When you see it, get excited, because you're about to have a great time. The entire area is a popular destination for groups of friends, ladies on a girls' weekend getaway, a group of guys on a bachelor trip, or even groups of couples traveling together. This is because there's plenty of nightlife as well as activities year-round such as skiing, hiking, kayaking, and more.
If you're traveling to Crested Butte with a group of friends, you probably need more space. So, we've researched the best cabins and condos that are perfect for groups needing more space, a kitchen, laundry, and other amenities.
We've divided this article into two sections: Crested Butte and Mt. Crested Butte. Crested Butte is the town, and
Mt.
Crested Butte is the ski resort area where you'll find
Crested Butte Mountain Resort
and the ski slopes. Groups of friends often enjoy staying closer to the ski resort where there are a number of larger vacation rental options. However, sometimes staying at a place in the town can be plenty of fun as you're close to bars, restaurants, and other activities, too. After all, it's just a few minutes by car between the two areas.
Crested Butte - the Town
Crested Butte is a charming town with a historic downtown area and Victorian buildings. The town has a number of great restaurants, bars, and galleries, as well as a decent nightlife scene. This is the place to stay for groups that want to be near shopping, entertainment, and activities. There's also a bus that will take you to the skiing area.
Crested Butte Chalet
4 Bedrooms/3 Bathrooms, Hot Tub & Patio
This fun home is both historical and comfortable, and is a great option for groups of up to 8 people. It's conveniently located right in the heart of downtown Crested Butte and is near many great restaurants and shops. It's also close to the free shuttle service that travels to the ski resort.
The property offers a lot of fun amenities including a steam room, a gas fireplace, an impressive kitchen, and an outdoor hot tub. There's a private patio with furniture and several nice views from the house as well.
First Street Guesthouse
3 Bedrooms/1.5 Bathrooms, Nice Outdoor Space
This 3 bedroom house is located very close to Elk Avenue and can sleep up to 6 people. It's a nice option for small groups who want to be near restaurants, hiking, and everything the area has to offer. It's in a quiet residential neighborhood and it has a small yard where your group can hang out when the weather is nice.
The home is nicely decorated with a classic mountain style that is comfortable and relaxed. There are impressive views from the upper level and the kitchen has an open feel.
The Jokerville
This 3 bedroom home can sleep up to 10 guests. The master bedroom is on the third floor while the 2 other bedrooms are on the first floor, so this layout is great for groups that don't mind being divided across several floors. The master bedroom has several beds, so this property is a nice option for several families traveling together.
The house is just a half block from town and it's very close to the grocery store, movie theater, and a number of restaurants. Nearby there are a number of parks and hiking trails as well.
Quiet Townhome
This 3 bedroom townhome can sleep up to 7 people (or 8 with the foldaway bed). It's located on a quiet street about 2 blocks from Elk Avenue and offers a peaceful setting for groups who want convenience and comfort. The shuttle bus also stops nearby.
The property has a spacious and open floor plan, vaulted ceilings, and a nice kitchen and dining area that groups enjoy. The living room opens to a deck and the house enjoys plenty of natural light.
Mt. Crested Butte - the Ski Resort
Crested Butte Mountain Resort is located in Mt. Crested Butte, which is about 3 miles from Crested Butte. This is a great area for groups, because there are a number of larger condos and vacation rentals that allow groups to spread out comfortably. This is also right by the area's popular skiing, which many groups appreciate. There are a range of accommodation options in the area with everything from larger hotels to condos that are close to skiing and include kitchens, more space, and a lot of privacy.
3 Bedroom Condo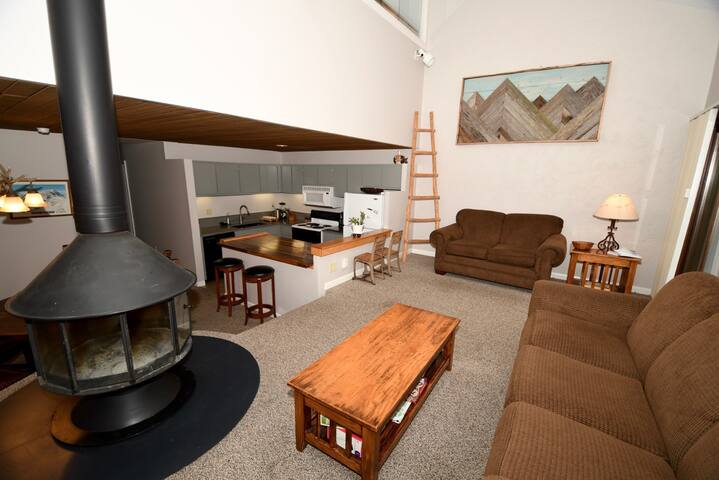 This three bedroom condo is split into three levels and can sleep up to 8 people. There's a kitchen that groups can use to prepare meals and the complex has a hot tub. The condo is located in the Snowcrest building which is right by the mountain and is just steps away from both Silver Queen and Red Lady lifts. There's also access to the mountain village via a private footbridge.
Convenient 2 Bedroom Condo
This 2 bedroom condo is just steps from the ski and mountain bike lifts and has easy access to restaurants, shops, and the free shuttle to town. The condo is a nice option for small groups of up to 6 people.
The unit offers lots of natural light and a balcony with views of the mountains. The complex has a hot tub that guests can use.
Crested Butte Townhouse Retreat
This 2 bedroom condo is another great option for small groups of up to 6 people. There are 3 separate balconies that offer impressive views of the area. Inside you'll find a wood burning fireplace, a full kitchen that's great for cooking, and nice furnishings. The condo offers convenient access to the free town shuttle. The area has many great hiking and biking trails, and plenty of natural beauty that you can enjoy.
3 Bedroom House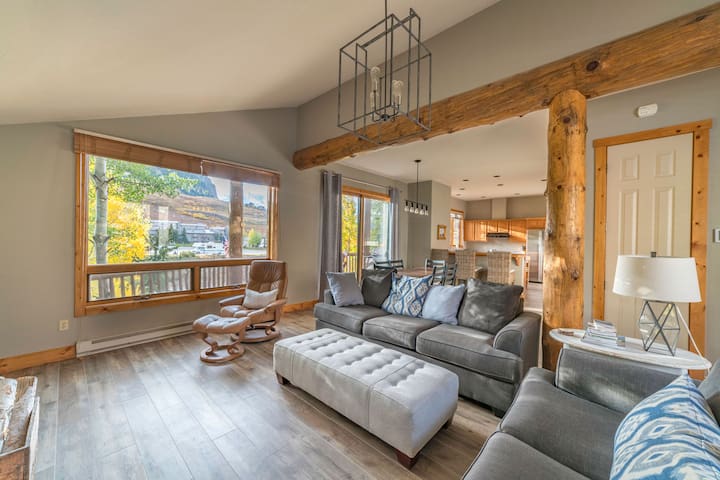 Located in the middle of Mount Crested Butte, this house is less than a 5 minute walk from the main base area. It's also along the free shuttle bus route that travels to town.
The property has 3 bedrooms and can sleep up to 10 guests. It's a large space (almost 2,000 square feet) and there's a large deck that offers views of the slopes. There's also a full kitchen where groups can prepare their own meals. The kitchen includes all of the things you may need like a coffee maker, crock pot, and more.
Happy Travels!
Make sure you also see
Crested Butte's Best Places to Stay for Families: Affordable Airbnbs
and
The Best Places to Stay for Couples in Crested Butte: Affordable Airbnb Vacation Rentals
if you're interested in more places to stay in Crested Butte.