When visitors think of Aspen, they usually think of a single town and one destination, but in reality Aspen has four different ski areas that visitors can choose between. The area is collectively referred to as
Aspen Snowmass
, but separately they are called Aspen Mountain (or Ajax), Aspen Highlands, Buttermilk, and Snowmass.
Aspen is a fantastic destination for families because of all of the great activities for people of all ages. It's not just about skiing, as families can find kids activities, tubing, hiking, and more. If you're a family looking for a place to stay in Aspen Snowmass, we have put together this list of the best vacation rentals on Airbnb for families. So whether you're looking for a cabin, a condo, something close to shops and restaurants, or a ski-in ski-out property, then you can find it here.
Aspen Mountain (Ajax)
The town of Aspen sits at the base of Aspen Mountain (also called Ajax). This is one of the more challenging mountains to ski in the area and is also very popular because of its fame and proximity to town. You'll find the largest choice of accommodation in and near the town of Aspen so this is a great option for families. It's convenient to be walking distance to restaurants, shops, and entertainment and the area is also filled with character that families enjoy. If you want to be near all of the action, then this is the place to stay.
Below are just a couple of our favorite properties.
Aspen Core 2BR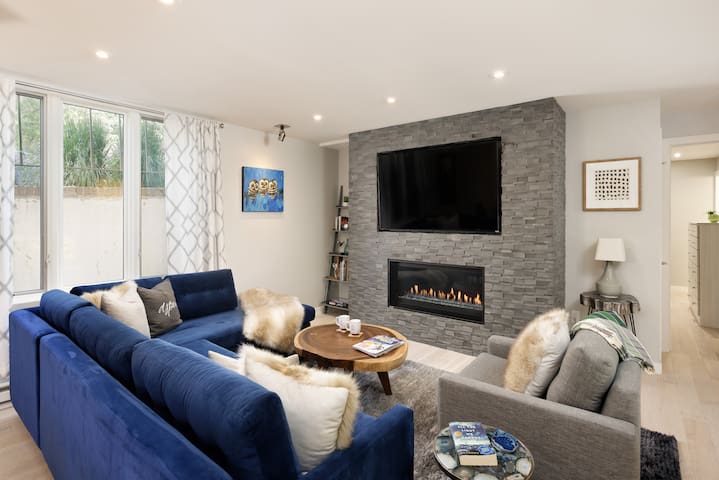 This property couldn't be better for a family that wants to be near everything but in a quiet space. It's just a short walk to shops, restaurants, the gondola, and more. It's well furnished - there's even a pack n play that you can use - and pet-friendly.
Downtown Aspen Oasis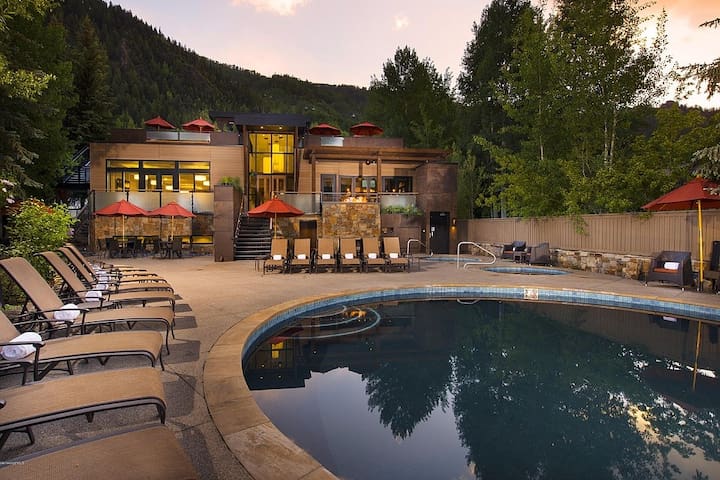 2 Bedrooms, Kitchen, Pool
For families that want luxury, this condo is the place. It has countless amenities that you can enjoy including a pool, hot tub, tennis courts, fitness center, and even a cafe. It's a corner unit that offers more space than average and the fireplace is a great touch after a long day on the slopes.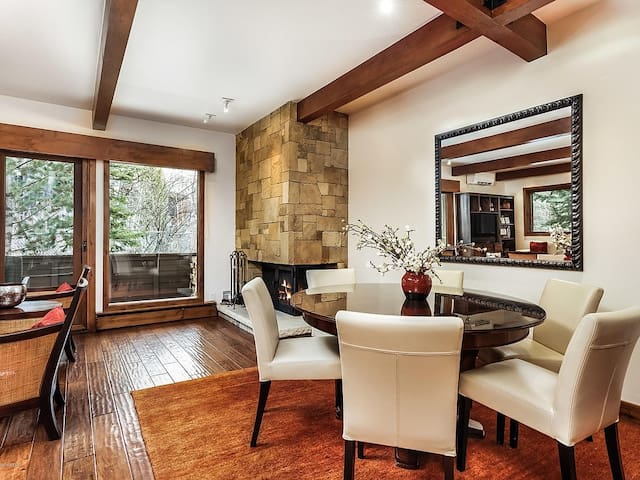 Luxury 2BR
This nicely furnished condo is a great option for smaller families who want to be near everything. It's just a couple of minutes walk from the grocery store, the gondola, and a number of great restaurants.
Deluxe Aspen Condo
With its large kitchen table, outdoor grill, and stylish decor, this property is perfect for families that want to spend some quality time together. It's right across the street from the grocery store and walking distance to anything you could need.
Snowmass
Snowmass is larger than the other three ski resorts put together, but it's also about 16 kilometers to the west of the town of Aspen. Because of its diverse terrain, it really offers something for everyone, regardless of their skill level. This makes it a great destination for families who want to please all members of their group.
Snowmass also has a number of great activities for families nearby including tubing, the Breathtaker Alpine Coaster, and the Treehouse Kids Adventure Center. This really is the place for everyone.
The area includes 94 trails, as well as the largest vertical descent of any resort in North America.
The properties below are some of our favorites for families traveling together.
Rocky Mountain Retreat
3 Bedrooms, 8 Guests, Kitchen
This property is large enough that it can comfortably accommodate larger families and groups. It has a great view, a pool, a hot tub, and a gas fireplace that make it a fun mountain retreat for any group looking to escape together.
Snowmass 3BR Condo
3 Bedrooms, 7 Guests, Kitchen
Another large property that's perfect for a larger family, this 3 bedroom, 2 story condo has a nice balcony and a convenient location. It's right by the shuttle that take you to the Snowmass ski lifts so it's just a short 5 minute trip. The kitchen is terrific, the rooms are spacious, and the complex also has a pool.
Contemporary Condo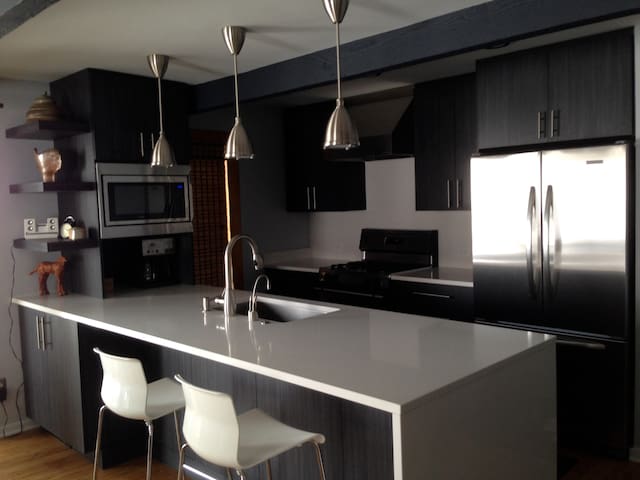 This property is perfect for a family of 4. It's on a quiet corner and is right by the shuttle that travels to the Snowmass ski lifts. The space is clean, convenient, and well stocked.
Great Views
2 Bedrooms, 8 Guests, Kitchen
Here is a place that is another beautiful option for families. It's location is convenient, there are great amenities like a pool, fireplace, and grill, and the space is clean, comfortable, and large enough for a small family.
Aspen Highlands
Aspen Highlands is 5 kilometers to the west of Aspen Mountain. It's connected to the town by shuttle bus service and is famous for its challenging run. What was once a hidden secret in the area is now growing in popularity. Aspen Highland appeals to the adventurous and experienced and is most famous for the Highland Boal, which offers, arguably, some of the most intense skiing in the state.
For families that want to stay near Aspen Highland, there are a few great properties available. The area doesn't have the wide diversity of accommodation options that are found in the town of Aspen, but for groups looking for a hidden gem, this is a great area. The properties below are some of our favorites.
Walk to Aspen Highlands - 4BR
4 Bedrooms, 8 Guests, Kitchen
This beautiful 4 bedroom townhouse is right by the ski lifts. Guests love the large deck, impressive views, and comfortable space that is great for families. The living room has a nice fireplace, while the kitchen is fully-equipped and very modern. The bathrooms are also luxurious, and the bedrooms have large, comfortable beds.
Ritz Residence 3BR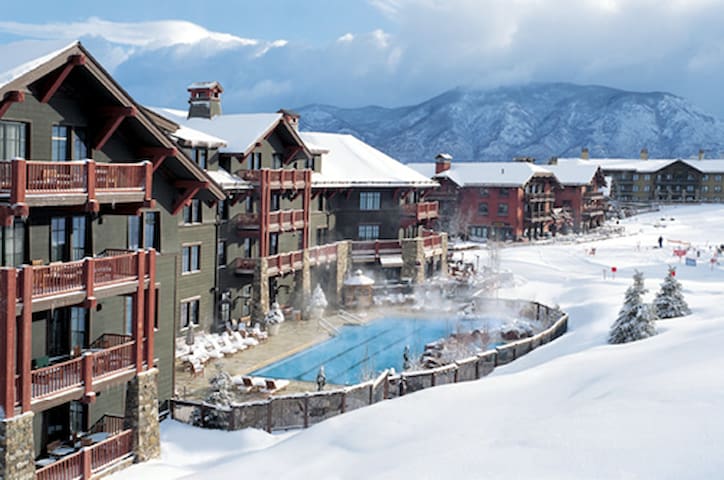 3 Bedrooms, 8 Guests, Kitchen
This great condo is part of the Ritz-Carlton Club and it offers a luxury setting where families can enjoy skiing, relaxing, and spending time together in a comfortable setting. With a pool and other fantastic amenities, anyone would be comfortable here. The kitchen and indoor spaces are terrific, too.
Buttermilk
Buttermilk is the fourth ski resort in the area. It's just past Aspen Highlands and is the only resort of the group that doesn't have a notable village at its base. Buttermilk is recognizable as the long running host of the X Games, but the area still offers plenty for beginners. If you're looking for a change of scenery head here. It's conveniently connected to the rest of Aspen by free shuttle bus.
Studio - Inn at Aspen
This property is fun for a smaller family, especially because it's affordable. There's an outdoor pool that looks out on the ski lifts. The room is comfortable and clean and the property is perfectly located. It has a small fridge
Woodbridge 2BR
2 Bedrooms, 6 Guests, Kitchen
Here is another great condo for families. It has a well stocked kitchen and is near skiing and hiking trails.
Happy Travels!
Make sure you also see
Aspen Snowmass: Places to Stay for Groups of Friends
,
Aspen Snowmass Places to Stay for Couples
,
Crested Butte's Best Places to Stay for Families: Affordable Airbnbs
,
The Best Airbnb Cabins and Condos for Groups in Crested Butte
, and
The Best Places to Stay for Couples in Crested Butte: Affordable Airbnb Vacation Rentals
if you're interested in more places to stay in Aspen.