Boynton Beach and Ocean Ridge is a terrific area just north of Fort Lauderdale for a beach vacation. This area has a gorgeous stretch of beach along with plenty of great restaurants and an active nightlife scene. The marina area right by the intracoastal waterway has a number of great places to grab a meal, have a bite to eat, or hire a boat for a fishing charter or rent a jet ski for some summer fun.
A variety of affordable beach condo vacation rentals can be found in Boynton Beach. We've researched the best so that you can add these places to your short list. So, if you're traveling as a couple, smaller family, or a group of friends looking for a great place to stay in Boynton for a beach vacation, we've got you covered. (If you're looking for a larger beach house, check out our article
about Boynton Beach Houses here
.)
Casa Costa Resort Beach Condos
The condos themselves are mostly 1-bedroom units which are individually owned and rented out. Therefore, each condo is unique and some are appointed with more luxury than others. However, all have full kitchens, modern bathrooms, nice balconies, and plenty of amenities such as laundry and Wi-Fi. Prices range anywhere from $80 to $200 per night, depending on dates, the specific unit, and other factors.
Affordable Luxury 1-Bedroom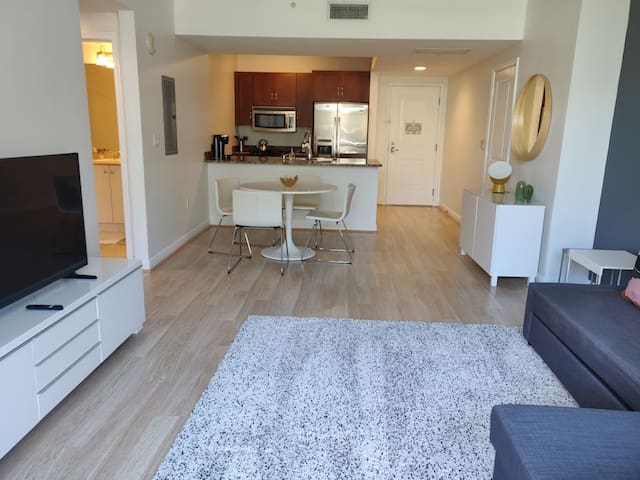 This particular unit is modern and comfortable with a nice TV and comfortable bed. The balcony is large but it doesn't have the best view, which is why this one is more affordable than others.
1-Bedroom East View - The Sand Dollar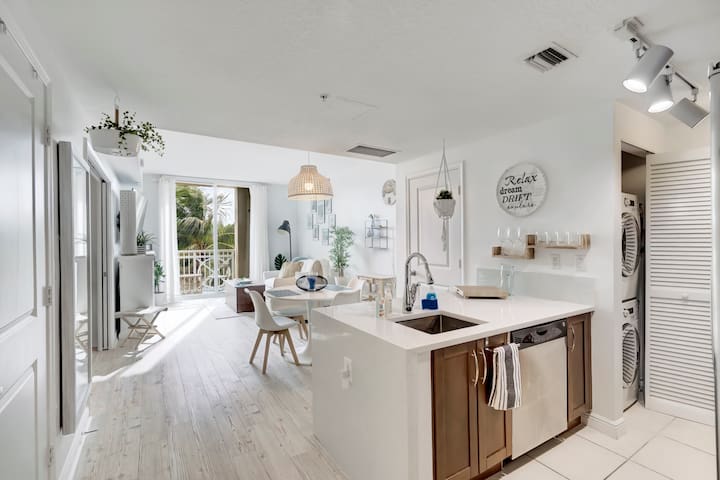 This well-decorated condo has an upgraded kitchen and a view looking out into the tropical gardens around the lagoon. It's one of the better units even though it's on a lower floor. You'll have two TV's here as well.
1-Bedroom in Style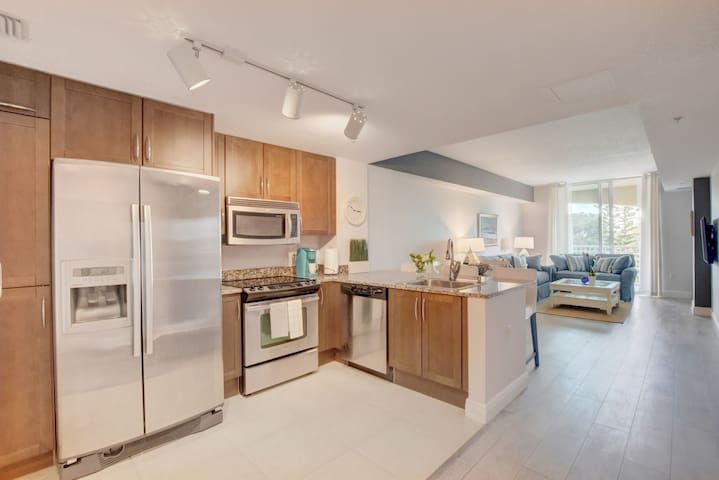 This unit is well-appointed and has a large balcony overlooking a quiet neighborhood.
More at Casa Costa
You can also find more available vacation rentals at Casa Costa on
VRBO.com here
.
Around Boynton Beach
Plenty of great places to stay can be found around town, especially near the intracoastal waterway's marina.
Coastal Comfort & Convenience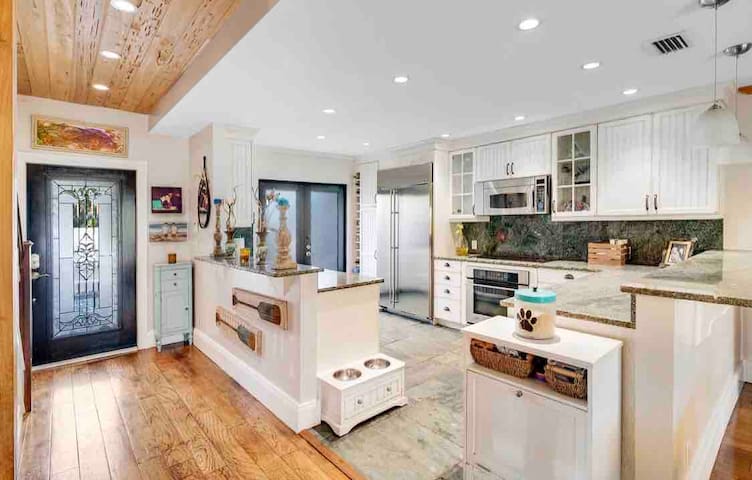 This amazing and renovated 2-bedroom townhouse has everything you could need and more. Not only is it in a great location right by the intracoastal waterway along with shops and restaurants, but it's also relaxing with plenty of space. The large kitchen is modern and high-end, with everything you need to cook. With an open-concept layout, the kitchen flows out into the comfortable living room. Upstairs you'll find the bedrooms which are well appointed and spacious. Each has its own bathroom, and they are also new, luxurious, well designed, and clean. The back balcony offers a nice spot to relax and enjoy the Florida weather. This vacation rental's building also has a swimming pool, a large deck area, and docks on the canal. Check out the photos!
Affordable Private Getaway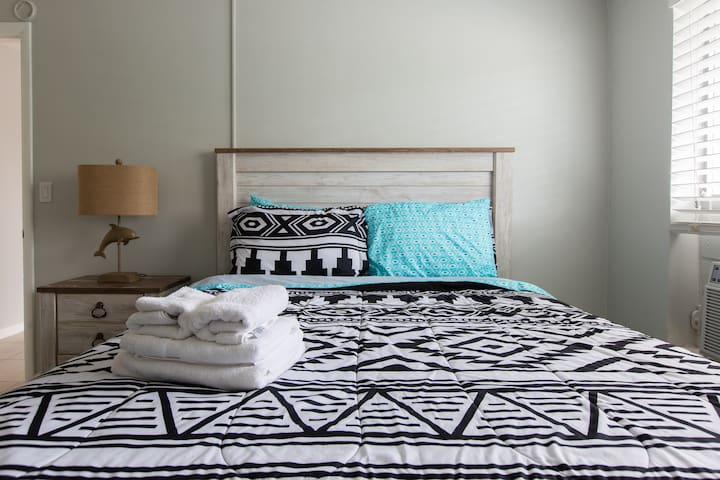 This simple but comfortable 1-bedroom condo is within walking distance to the beach and not far from all of the shops and restaurants in town. The fully-equipped kitchen has everything you need to cook your meals, or bring in take-out or leftovers from the multiple nearby restaurants. It's close to the Banana Boat and Two Georges, or you can just stroll across the bridge down to the beach.
Seaview Apartments at the Beach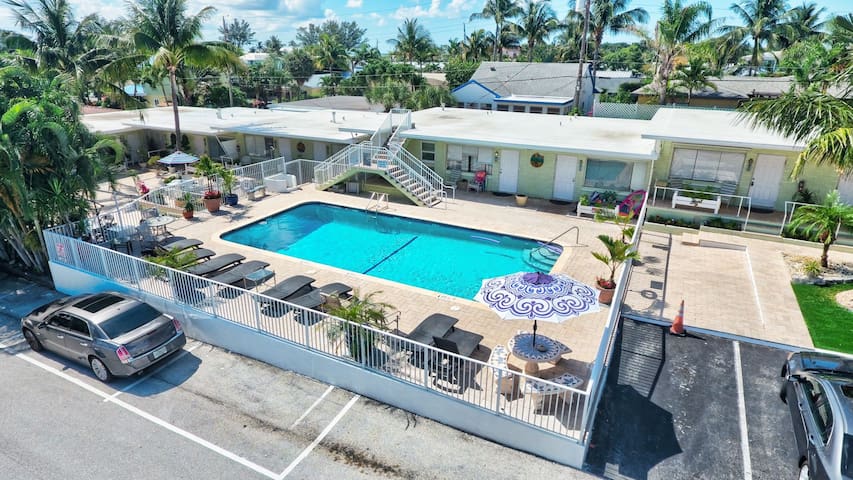 If you're looking for a more affordable option near the beach, the
Seaview
is a small boutique-style place to stay which might be perfect for you. It's just 600 feet (200m) from the beach down the quiet lane, and also not far from the nearby shops and restaurants.
The building has a relaxing pool, outdoor BBQ grill, and seating area, too. With various apartments on offer from a studio up to 2 bedrooms, one of these vacation rentals could be great for a family, a couple, or a small group of friends looking to relax at the beach without breaking the bank.
Seaview Apartments 2BR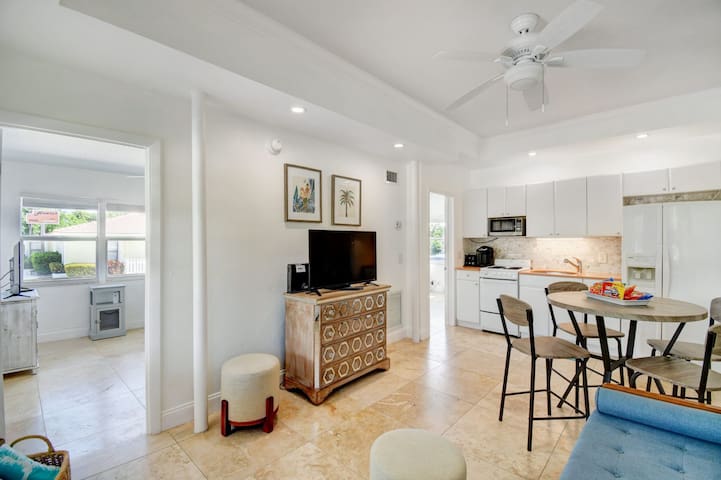 With a fully-equipped kitchen in an open-concept layout, this 2-bedroom vacation rental also has a modern bathroom and comfortable beds. It's perfect for a family or a few friends traveling together.
Seaview Apartments 1BR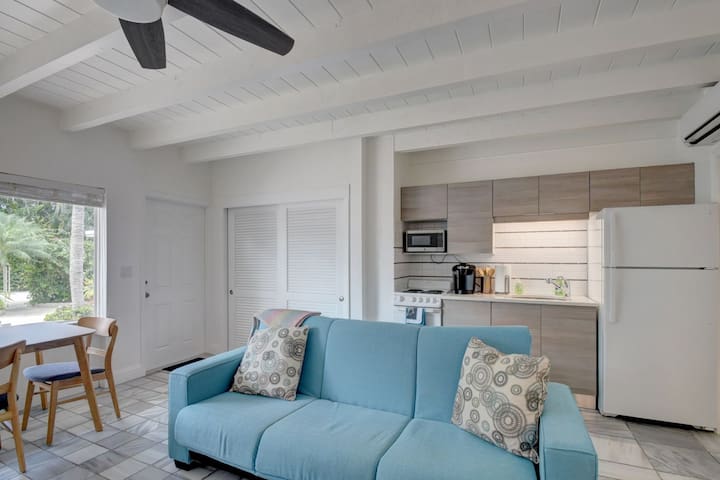 The 1-bedroom apartment has a kitchen, modern and clean bathroom, and a comfortable bed. The decor is relaxing yet modern and beachy. This place would be great for a small family or a couple.
Seaview Apartments Studio
Perfect for a couple, the studio apartment has a bedroom that shares space with a living room (sofa & TV included). The small kitchen off to the side is fully-equipped and has everything you need to cook your own meals. The bathroom is cute and modern, too. Despite it's smaller size, it's perfect for a couple as it has more space than a typical hotel room.
Happy Travels!