Fort Lauderdale On a Budget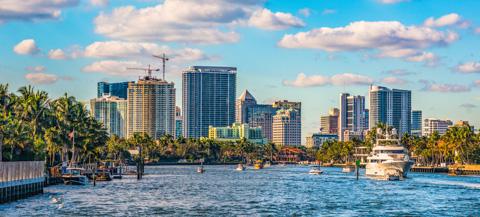 Fort Lauderdale is located on the Atlantic coast of Florida, not far from Miami, and is famous for its beaches and boating culture. An elaborate system of canals runs through the city, adding to the charm and coastal lifestyle. Plenty of restaurants, shops, watersports, and other things to do can be found here in addition to the beautiful beaches. The city is family-friendly and also caters to older travelers as well as younger generations. While it's not an inexpensive place to visit, the prices are on par with other cities in southeastern Florida. The beach is lined with high-rise condos and hotels that tend to be expensive, while a few blocks back from the shore you'll find plenty of nice houses along with shops, restaurants, and fun activities for all ages. And since Fort Lauderdale is part of the Miami metro area, you can easily get to all of the other beach areas, cities, and activities in the nearby metropolitan areas as well.
Sights
Fort Lauderdale is really about the beach. The most popular beach area is referred to as "The Strip" and is located where A1A runs along the beach between Las Olas Blvd north to Sunrise Blvd. This area has many bars and clubs that attract an upscale crowd.
Aside from the beach, there are a handful of museums around the city. These include the Museum of Art, the Musesum of Discovery and Science, Old Fort Lauderdale Village and Museum, and the Antique Car Museum.
Neighborhoods
Areas of interest for tourists in Fort Lauderdale include The Strip, Downtown, Las Olas Blvd, and Wilton Manors. The Strip is the most popular section of beach that is located where the A1A runs along the beach between Las Olas Blvd north to Sunrise Blvd. The downtown area has grown dramatically in the past decade and now has many hotels and condos. There are many boutiques, art galleries and restaurants in the area. Las Olas Boulevard is in the entertainment district and has many upscale shops and restaurants. Wilton Manors is a popular area for gays and lesbians. It has many hotels, restaurants and nightclubs and is just two miles north of the downtown area.
Activities
Activities in Fort Lauderdale include shopping, sports, biking, hanging out on the beach, clubbing, golfing, scuba diving, snorkeling and deep sea fishing. You can also take overnight excursions to the Florida Keys or the Bahamas, and the Everglades are not far away.
Food and Dining
There is an endless supply of good restaurants in Fort Lauderdale. The most popular areas to eat are Las Olas Blvd, Olde Town Fort Lauderdale and the Beach. You'll find a mix of local eateries and American chain restaurants. Budget options around town include delis, cafes, sub shops, and ethnic cuisine. Thai food, hamburgers, Chinese and seafood are all common. Many restaurants offer outdoor seating so that you can take advantage of the pleasant temperatures.
If you want to grab a drink, there are plenty of places with character and style. Popular options include Tarpon Bend, Voodoo Lounge, Elbo Room, Shooters, Grady's Bar and Boom.
Transportation
On the east side of Fort Lauderdale you'll find canals that cross between the downtown area and the beach. The canals must be crossed on bridges, so having a good map is essential. In general, the easiest way to travel around town is with a car. There are many car rental agencies around town and at the airport, although it is cheaper to rent your car from somewhere other than the airport. Taxis are available but they can be quite expensive. Public transportation is available in the form of bus or trolley. The county bus system connects the entire metropolitan area but is slow and inconvenient. You should not rely on the buses as your sole form of transit. The Trolley system connects Fort Lauderdale's downtown, beach and convention center areas. It also links the downtown to the Broward Blvd Tri-Rail Station. The most scenic route is the Sun-Trolley or the 11 bus which runs along Las Olas Blvd and A1A.
Tri-Rail is the commuter train that runs parallel to I-95. It connects Miami, Fort Lauderdale and West Palm Beach as well as the major airports and Miami's Metrorail. The trains can often be very late with infrequent service.
Water Bus is a unique option that has 11 stopping points in east Fort Lauderdale along the Intracoastal Waterway and New River. It connects hotels, shopping, restaurants, beaches and more.
Related:
Looking for a
party hostel in Hawaii
or
Miami
? Traveling alone to
LA
or
New Orleans
? Want a budget hostel in
NYC
?