The 9 Best Airbnb Vacation Rentals in Pompano Beach, Florida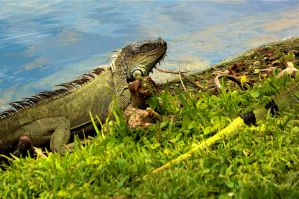 Pompano Beach, located just north of Fort Lauderdale, is a beautiful and relaxing beach town in southern Florida. With plenty of activities in addition to the gorgeous stretch of coastline, visitors come back to this area year after year for their beach vacations. And why wouldn't they? All of the attractions speak for themselves. Scuba diving and snorkeling are very popular, as the water is warm and some wrecks are not too far from the shore. Fishing is also popular, as is live music at several of the local nightlife spots. If you're hungry, you'll find world-class restaurants just a short distance from the beach, too. Golf, antique shopping, the butterfly park and nature parks, playgrounds, art galleries, and more await visitors of all ages.
If you're looking for a vacation rental in Pompano Beach, we have you covered. We have researched the best airbnb condos by the beach in Pompano Beach for your next trip. All of these places have kitchens, more space than a hotel room, and are either on the beach or very close to it. And also, many of these places to stay in Pompano Beach are quite affordable which is also a nice perk.
Where are the best places to stay in Pompano Beach?
Contents: 3BR Luxury Pool House | Luxe Hideaway - 3BR Pool House | Waterfront 1BR Condo | 2BR Condo Across from Beach | 1BR Condo Across From Beach | Affordable Private Studio | 2BR Condo Across from Beach | Ocean View Paradise Studio | Relaxing 1BR Beach Unit (Affordable)
A gorgeous pool sits in the back of this luxurious and modern 3-bedroom house located just a block back from the beach. The modern and spacious kitchen has upgraded appliances and a beautiful layout, and is open to the living room so you can keep everyone involved. The bedrooms and bathrooms are also nicely appointed and have their own touches of luxury. A screened porch in the back opens up onto the pool deck. This is a great family-friendly house for a family, as it offers 3 bedrooms with enough room for 6 guests. Check out the photos! Wi-Fi, laundry, board games, beach toys, and other niceties are included.
If you're looking for a luxurious pool house in Pompano Beach, this is it. The house has 3 bedrooms with room for up to 6 people. The spacious living room has a nice TV and large windows which slide open to the pool out back, creating that indoor-outdoor living space that the Florida weather is perfect for. The kitchen is right off of the living room and is elegant, spacious, and has everything you would need to cook. Or, head out to the nearby restaurants, shops, and bars for your meals. The master bedroom has a king sized bed and a luxurious bathroom. The other bedrooms are also spacious and comfortable. Located close to the beach, this is the perfect home for a family or a group of friends looking for the ultimate place to stay.
Located on the intracoastal waterway, and only one block from the beach, this 1-bedroom condo has room for 2 people which is perfect for a couple. The views from the windows out into the canals are gorgeous. This vacation rental has a full kitchen, spacious living room, and comfortable bedroom with a modern bathroom. The building offers a swimming pool and is close to shops, restaurants, playgrounds, parks, and more.
This small but comfortable 1-bedroom condo sits right by the beach. Offering a full kitchen, relaxing living room, clean bathroom, and other niceties, this is the perfect spot for a couple or a small family with 1 child. The building also has a pool and lounge areas, too. It's fairly affordable and also sits near restaurants and shops.
This modern and fairly new 1-bedroom condo is located right by the beach. The full kitchen will let you cook all of your meals, while the open-concept living room has a large TV and a dining area. The bedroom features a king sized bed, along with a great bathroom. Laundry, Wi-Fi, and other niceties are all part of the package, too. The building has a pool, hot tub, and a nice view of the canal. You can also use the BBQ grills. A short walkway leads to the private beach with plenty of sand, sun, and surf.
This small studio is in a hotel-style building near the beach. It offers a comfortable bedroom, small fully-equipped kitchen, clean and modern bathroom, and plenty of other niceties. With room for 2 people, this is the perfect affordable place to stay for a couple in Pompano Beach. Located just a few blocks back from the water, you're close to everything including shops, restaurants, and bars.
Located just across the street from the beach, this affordable and colorful 2-bedroom apartment has plenty of great perks. The kitchen has all of the modern appliances you need to cook all of your meals, and the bathrooms are kept clean and modern. Also, the sofa in the living room pulls out into a bed so that another 2 guests can have room to stay, making this the perfect place for a family or small group of friends. The building also has a swimming pool and some nice outdoor spaces, too.
Perfect for a couple, here's a studio apartment right on the beach. Holy cow, the view is perfect! It offers a full kitchen, modern bathroom, large bed, a swimming pool, and more. Wi-Fi, laundry, free parking, and other niceties are included.
This small 1-bedroom bungalow offers a full kitchen and a comfortable bed just a block from the beach. The bedroom has a king sized bed, and the sofa in the living room pulls out into another bed. This is a good spot for a small family as it's affordable, close to the beach and restaurants, and is in a quiet area.
Some photos are courtesy of airbnb.com.
Share This Article