The 7 Best Family-Friendly Airbnb Vacation Rental Houses in Boynton Beach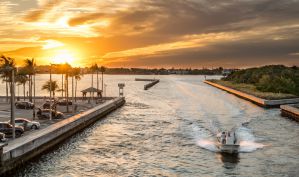 Boynton Beach is a great destination for families, because it has plenty of kid-friendly activities. Not only is the beach terrific and always fun, but not far away are plenty of family-friendly shops, restaurants, and activities near the marina and further into downtown. Visit the Schoolhouse Children's Museum if you have little ones, or check out the Loxahatchee Wildlife Refuge if you're into nature. Golf, tennis, swimming, jet skis, fishing charters, and other things to do are abundant, too.
If you're looking for a family-friendly place to stay, we've researched the best Airbnb vacation rental houses for families at Boynton Beach. Many of these great houses have swimming pools, and all have kitchens, extra bedrooms, and some outdoor spaces so your kids can roam. Maybe you'll even get some peace and quiet, too.
What are the best houses to rent for families in Boynton Beach?
Contents: My Happy Place | Jungle Pool Getaway | Bel Air Beach House | Bob's Beach House | Ocean Ridge Cottage at the Beach | Boynton Palace 5BR | Stylish Pool House
Here's a great ranch-style
3-bedroom
house with a
pool
in the back. This is a great find, as inside you'll be surprised with an open and spacious kitchen and living room area. The kitchen is updated and has nice appliances and new fixtures. The bedrooms and bathrooms are all clean and comfortable, and one of the bedrooms has twin beds for the kids and colorful walls. Watch the kids swim and play while you relax under the veranda in the comfortable chairs. A BBQ grill and an outdoor dining table are out back as well. It's not far from the beach and the marina and shops and restaurants, too.
Your wild children should have a jungle to play in, so here's the perfect house for them. The jungle has a pool, by the way. Inside this
3-bedroom
house you'll find a very modern and updated kitchen, spacious living room, large sliding doors that open up to the pool out back, and luxury bathrooms. The bedrooms are nicely appointed and very comfortable. Family-friendly amenities are included such as a crib, laundry, and other niceties. Parking, Wi-Fi, cable TV, and more are all part of the package. Set in a quiet neighborhood, it's a short drive to the public beaches and the shops and restaurants nearby.
This
4-bedroom
house has style, luxury, plenty of room for a big family or group of friends, and an absolutely amazing location. Situated just a few houses back from the sand and waves, it's hard to get any close to the water. Inside you'll find a fantastically decorated and well appointed home with nice furniture, a bright and light atmosphere, and a modern kitchen with new appliances. You'll be able to cook all of your meals for the whole gang here, or head out to the nearby shops and restaurants. The covered patio out back has a large table so you can dine in the warm Florida weather, too. The bedrooms are clean and cozy, and the bathrooms are updated, modern, and luxurious. The 3rd bedroom has bunk beds which are great for kids. You'll also find an outdoor shower, plenty of parking, and a large laundry room with new machines. A playground is nearby, too. Add this one to your short list!
This is a small 2-bedroom cottage with plenty of charm that is perfect for a family on a beach vacation. Not only is it just steps from the beach, but it also is next to a deli and a few other shops so you can grab some food. The patio has a BBQ grill, hammock, and makes for a nice relaxing place for a cup of coffee in the morning. Inside is a fully-equipped kitchen that is surprisingly modern, a comfortable living room, a cozy master, an upgraded master bath, and a second bedroom with bunk beds for the kids. The second bathroom is also clean and modern. A work space with a desk is also off of the living room. Wi-Fi, laundry, parking, and other niceties are included.
This quaint and relaxing 2-bedroom cottage is just a few steps from the beach. It's on the southern end of Boynton so you can enjoy the restaurants of Boynton or Delray beach whenever you like as they are both so close. Inside you'll find a new and updated kitchen with nice appliances, along with modern furniture that is comfortable and clean. The bathroom is also newly redone so you can relax in luxury. This is a gem of a place.
Palace is a good word to describe this
5-bedroom
luxury home as it has plenty of great features. Starting with the pool out back, the kids will have a blast and the adults can relax in the nice lounge chairs. Or, play foosball, play putt-putt on the green, sit in the hot tub, or eat a meal. Inside is a modern kitchen, spacious living room, huge master bedroom suite, and bunk beds for the kids. Located in a quiet neighborhood, you're a short drive from dining, shopping, or the beaches.
This higher-end vacation rental home has a great pool in the back, a modern luxury kitchen, and fantastic decor and features throughout. It's close to the Boynton Beach Mall and is a bit further away from the beach than most other places, but it's a terrific house close to restaurants, shops, and other activities in town.
Some photos are courtesy of airbnb.com.
Share This Article