The 11 Best Airbnb Vacation Rentals in Deerfield Beach, Florida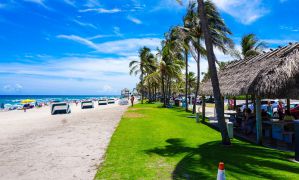 The coastal town of Deerfield Beach is just north of Fort Lauderdale and just south of Boca Raton. Nestled into this area you'll find a fairly quiet and relaxing beach town full of great restaurants, fun family-friendly activities, a gorgeous stretch of coastline, and plenty of affordable and high-quality places to stay. While visiting, check out the nearby playgrounds and public parks, including the beach parks as well as Quiet Waters park and the other state parks for a more natural setting. Or, wander around the art galleries and shops in the center of town. Don't forget about all of the great restaurants, both upscale and casual. You can have a romantic date night, or a casual kid-friendly meal, whichever suits your travel style.
If you're looking for a place to stay in Deerfield Beach, we have assembled the best airbnb vacation rentals for your next trip. All of these places offer kitchens, great locations, and nice amenities. Some of these condos and houses have extra space if you have a larger family or group, while some of these vacation rentals are great for couples as they are smaller, romantic, and more affordable. No matter how large or small your group is, several of these places should fit your needs as these are all the best places to stay in Deerfield Beach at an affordable price.
Where are the best places to stay in Deerfield Beach, Florida?
Contents: 3BR Beach, Dock, Pool House | 4BR Heated Pool House | 1BR Affordable Beach Condo | 1BR Beach Apartment | Small Luxury Condo | Private Beach Getaway | Private Beach Getaway - Guest Suite | Beachside Studio Cabana | 2BR Beachside Resort Villa | Pineapple Cove Private Oasis | HGTV Design Star Home
The location of this amazing 3-bedroom house is only the beginning. Just 2 blocks from the beach, this house sits on the intracoastal waterway canal and has a dock for your boat, kayaks, or for fishing. Plenty of restaurants and shops are nearby, too. The swimming pool is also fantastic, as is the tiki hut and other outdoor space.
Inside you'll find a spacious, modern, and renovated kitchen with everything you need to cook your own meals. A coffee maker and other niceties are also included. The master bedroom has a large bed, as does a second bedroom. The third has a set of twin beds which are good for adults or kids, making this house great for families or groups of friends, and up to 8 people can stay here comfortably. The master bathroom and other bathrooms are very well appointed and quite luxurious. Wi-Fi, laundry, and more. Check out the photos!
This gorgeous 4-bedroom house makes the perfect luxury vacation rental for families or groups of friends. With a convenient location not far from the beach and within easy access to everything around it, such as restaurants and shops, you'll be close to Fort Lauderdale, Boca Raton, and other areas of town. Out back is a beautiful heated swimming pool and an amazing outdoor living space with a seating area, dining table, and more. Then stroll out to the tropical garden area surrounding the pool for even more relaxation. The open concept layout of the kitchen, dining, and living room space will have you planning your own home redesign, too. The beautiful kitchen is fully-equipped and luxurious with everything you need to make your own meals. The bathrooms are just as modern and well-appointed as the kitchen, too. The bedrooms are comfortable, and laundry and wi-fi are included, too.
Here's an affordable beach condo just a block from the beach in a small hotel-style building (The Deerfield Buccaneer) with a nice pool and a terrific location. This 1-bedroom condo has been renovated and features a fully-equipped and modern kitchen along with a comfortable bedroom, clean and modern bathroom, and a great design with plenty of light. And for all of this, the price is affordable, too. Check out the photos. Wi-Fi, laundry, free parking, and more are all part of the package.
Here's another 1-bedroom vacation rental at the Buccaneer, which has a terrific location right by the beach and close to shops and restaurants. This particular condo has a nice open concept floorplan that has been renovated with a nice, light atmosphere and a fully-equipped kitchen. It's great for a small family or a couple looking for a beach getaway.
If you're a couple looking for romance, this unique studio condo is the perfect place. It starts with the round circular king-sized bed. The large and luxurious bathroom has a large rain shower along with a soaking tub. A kitchen and dining table are also in the condo so you can cook your meals or bring back takeout from the numerous nearby restaurants. The comfortable and modern space has plenty of romantic charm and modern comforts even though it has a compact space. With tons of great reviews, you'll be in good hands here, too.
If you're looking for a larger space with a long list of perks, this is the house for you. With 4-bedrooms and a large pool, a family or a large group (up to 10 people) would be very comfortable here. Inside you'll find gorgeous bedrooms, a spacious living room, a fantastic kitchen with all of the appliances you could need to cook, and clean, modern bathrooms. The screened porch is also a nice place to hang as it opens up to the pool out back.
The location is terrific as you're close to shops, restaurants, bars, and other activities. It's just a short drive to the beach, around half a mile. Check out the photos and add this one to your short list!
A separate guest apartment (space for 3 people) is attached to the previously mentioned house and can be rented separately. It's a studio apartment with a full kitchen, nice TV, large bed, and modern bathroom. You'll have access to the fantastic pool and other outdoor spaces.
This studio condo has a full kitchen, large bed, and a modern bathroom. It's perfect for a couple and cozy and romantic. Located right by the beach and close to the pier at Deerfield Beach, you'll be close to all of the nearby shops and restaurants, too. A large TV, Wi-Fi, and other niceties are all part of the package.
Here's a great 2-bedroom, 2-bathroom vacation rental that is part of a beach resort. The resort has a great pool and a terrific location right by the beach. Inside the villa-style condo you'll find a modern fully-equipped kitchen with nice appliances that opens into a comfortable living and dining area. The bedrooms and bathroom are also nicely appointed with comfortable furniture and modern fixtures. The resort has access to the beach and the intracoastal waterway, and offers more amenities such as laundry, games, free parking and more.
For a family or a group of friends looking for a private vacation rental home, this 2-bedroom house has room for up to 6 people. The pool in the back will let you relax in style, or hang out under the tiki hut. The inside is gorgeous and immaculate with a mid-century modern style. The living room space has a large TV and flows nicely into the dining area. The fully-equipped kitchen is stunning, and also has everything you need to cook all of your own meals. Or, bring back leftovers from the nearby restaurants. The bathrooms are just as well appointed as the kitchen. The bedrooms are also fantastically done and very cozy with plenty of room to spread out. Located just 2 miles from the beach, plenty of activities, shops, and other things to do can be found nearby.
Featured on HGTV, this beautiful 3-bedroom vacation rental has a wonderful pool out back along with a modern and stylish interior. Featuring a great kitchen with everything you need, plus some comfortable seating in the living room around the main TV, anyone would find this house relaxing. The master has a large bed while the 2nd bedroom has a bunk bed which is nice for kids. Laundry, parking, Wi-Fi, a BBQ grill, hot tub, and other amenities are included, too.
Some photos are courtesy of airbnb.com.
Share This Article