The 9 Best Airbnb Vacation Rentals in Delray Beach, Florida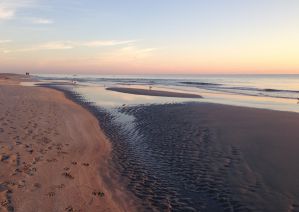 Delray Beach is a terrific destination for families, couples, or friends looking for a beach getaway. With plenty of great restaurants and shops not far from the beach, you can have the best of both worlds by spending your time at the beach during the day and enjoying the nightlife in the evening at the center of town along Atlantic Avenue.
If you're looking for a place to stay in Delray Beach, we have researched the best Airbnb vacation rentals near the beach and in the center of town for your next trip. All of these places have more space than what you can find at a hotel, and most have kitchens, too. Some even have swimming pools, and many are within a short walk to the shore.
Where are the best places to stay in Delray Beach?
Contents: Cozy 2BR Beach House | Beach House with Pool | La Vida Delray | Atlantic Avenue Condo | Beach View Apartment | The Shady Lady | 2BR Beach Condo at The Grove | The Grove Studio | Renovated & Cute Beach Studio
This cute
2-bedroom
beach house is only a 3-minute walk to the beach and features a full kitchen so you can cook all of your meals. Or, head out to the many nearby restaurants, bars, and shops to enjoy the town. The bedrooms and living room are all nicely appointed with tasteful and comfortable furniture so you can relax and unwind. The appliances in the updated kitchen are all new, and the bathroom is also modern and clean. Around the exterior of the house is a beautiful garden with some outdoor seating and dining spots so you can enjoy the fresh Florida weather. Add this one to your short list!
Here's another beautiful and cute 2-bedroom house with a
pool
in the back, and it's perfect for a family or small group of friends. It's located not far from the beach, and you can walk to it. You can also walk to nearby restaurants, shops, cafes, and a bakery. The house itself is fantastic with nice, comfortable furniture that has been updated. The overall vibe of the house is great, as it's been well designed. The fully-equipped kitchen has everything you need, and the bathroom is also new and updated, too. Out back you'll find the pool surrounded by tropical palm trees along with a sitting area in the veranda which is just perfect. And don't forget about the outdoor shower! Check out the photos, as this house is gorgeous!
If you're seeking luxury, this
1-bedroom
condo has it all. From the modern and fully stocked kitchen to the sleek bathroom to the open-concept layout and the large TV, anyone would be happy here. The bedroom is spacious yet cozy, and the overall location is also terrific. You can walk to all of the restaurants, bars, and shops in the main center of Delray, and you can also walk or bike to the beach. This building has 4 units which all share a pool in the center courtyard along with some outdoor seating and lounge areas. Laundry, free parking, Wi-Fi, and other amenities are included too. This is a great find and is perfect for a couple or a small family.
Here's a modern
2-bedroom, 2-bathroom
condo one block from Atlantic Avenue in a perfect location. You're just a few minutes on foot from the beach, and just a few minutes walking to all of the nearby shops and restaurants, too. The vacation rental has a modern feel with good furniture, a great kitchen will everything you need to cook, an open-concept floor plan, comfortable beds, and clean, modern bathrooms. The fairly small building also has a BBQ grill and some outdoor lounge areas. As mentioned before, the location is absolutely terrific and can't be beat; check out the map.
If you want to be right at the beach, this
1-bedroom
apartment is just 1 block away and sits on Atlantic Avenue so you're right in the heart of the town. The modern vacation rental has a full kitchen, a cute decor, modern bathroom, and comfortable furniture. Laundry, parking, Wi-Fi, and other niceties are included. This is a great find at an affordable price.
This gorgeous little Key West style house sits in a quiet neighborhood several blocks from all of the restaurants and shops in Delray. While it's not right on the beach, you can get there with a short drive or a long walk. The house has
2-bedrooms
, a full kitchen with an open layout to the living room, and a clean bathroom. Previous guests have said it feels like home. The outdoor areas have some beautiful old trees and a nice seating area, too.
There's a reason that condos at the beach are popular places to stay, and this place checks all of those boxes. This
2-bedroom
, 2-bath condo at
The Grove
is just a block from the beach and is also within walking distance to the main shopping and dining areas at the center of town. The condo has a shared pool and plenty of outdoor space for kids to run and play, making it a good option for families. The vacation rental has a fully-equipped retro-style kitchen, clean and modern bathrooms, cozy bedrooms, and a spacious living room with a nice TV.
Also located at
The Grove
(swimming pool, gardens, parking, etc.), this studio apartment has a king sized bed, clean and modern bathroom, and a fully-equipped kitchen to cook all of your meals. It's great for a couple traveling on a budget. The location is perfect, as it's just a stone's throw from the beach as well as within walking distance to restaurants, bars, nightlife, shops, activities, and more. Check it out if you think location is more important than the size of the place, as it could be just right for you.
Just one block from the beach and one block from Atlantic Ave sits this great studio condo perfect for a couple. Recently renovated, the fully-equipped kitchen is modern and clean, and so is the bathroom. You'll also have laundry, plenty of storage, Wi-Fi, parking, and other niceties. The complex also has a pool you can use.
Some photos are courtesy of airbnb.com.
Share This Article