The Best Airbnb Cabins and Houses for Groups at Camelback Mountain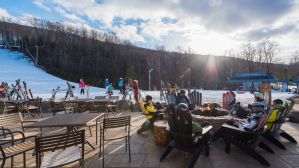 Camelback Ski Resort is one of the best ski spots in the eastern United States. And with even more activities than just skiing, it's no surprise that visitors flock here in the winter as well as in the warmer months. Another reason for Camelback's popularity is the location. As it's only 2 hours driving distance from both New York City and Philadelphia, the Poconos are a terrific destination if you want to escape into the mountains for skiing, hiking, swimming, and more. It makes for a great weekend ski trip with a group of friends. When you combine all of the skiing and other activities with the nearby bars and restaurants, it's a recipe for everyone to have a great time.
So, as you will see, Camelback Mountain is a great place to visit if you're looking for a party weekend, or perhaps a girls' weekend getaway, a bachelor or bachelorette party, or even a couples' retreat with a group of friends to get away from the kids for a weekend.
Skiing and snowboarding
are obviously popular attractions. With around 40 ski slopes, you'll find plenty of room to explore. Naturally, you can rent equipment and take lessons here, too. And don't forget about
snow tubing
, which is also open in the evenings with fun lights to make everything glow.
Of course, we have to mention the
water parks
, which might sound like they are just for kids, but adults like them too. The indoor water park is a super-fun complex where you'll find amazing slides with tubes, rafts, and more. And in the warmer months, the outdoor water park has slides coming down the hills. The list goes on with a zip-line, lazy river, mountain coasters, flow riders, and so on.
Speaking of the warmer months, visitors can also find plenty of great
hiking, mountain biking, and horseback riding
activities in the area. Camelback Mountain sits just next to Big Pocono State Park and other conservation areas. So, you can have a terrific escape into the forest and mountains for a refreshing group outing.
If you're
looking for a place to stay for your group of friends
at Camelback Mountain, we're about to set you up! We've researched the best airbnb cabins, condos, and mountain houses that are perfect for a larger group that needs more space. When you have a group, a hotel doesn't cut it, so you need the extra bedrooms, a kitchen, and plenty of room for everyone to hang out. All of the places we've listed below include multiple bedrooms, fully-equipped kitchens, Wi-Fi, TV's, laundry, and more. Some even have game rooms, ski-in/ski-out locations, and hot tubs. So, let's get to it - check these places out.
Where are the best places to stay for a group of friends at Camelback Mountain
Contents: Beautiful Mountain View Home | Charming Townhouse | Super Modern House | Paradise - Camelback | Wiki Cabin | 3BR: 3 Minute Walk | 4BR, 2800sqft | Boujee on a Budget
Camelback Mountain
,
Pennsylvania
USA
The huge list of fantastic amenities makes this
5 bedroom
house a terrific choice for a group of friends on a trip together, as it has room for up to
12 people
. The list begins with a large hot tub inside a screened porch. Next to the porch, you'll find the spacious deck with a grill and plenty of outdoor seating with a fire pit. On the bottom floor of the house is a game room with a pool table. The living room and kitchen are laid out with an open concept floor plan with a nice fireplace, large dining table, and plenty of relaxing seating for the whole group. The kitchen is clean, modern, and fully-equipped with plenty of room to cook for everyone. Some of the other bedrooms have large beds. The modern, clean bathrooms are also comfortable. Laundry, a large mudroom for ski gear, garage parking, Wi-Fi, and more are included. Check out the photos!
Camelback Mountain
,
Pennsylvania
USA
With
3 bedrooms
and room for up to
8 people
, this townhouse has a ski-in ski-out location. The spacious kitchen opens up into the living room and dining areas so that you can feel connected to everyone in your group while cooking. The fully-equipped kitchen is modern, clean, and relatively new. An old wood stove fireplace is the centerpiece of the comfortable living room. The deck is also a nice spot to enjoy the mountain atmosphere. Upstairs and downstairs you'll find the comfortable bedrooms with modern and updated bathrooms. The townhome's complex has an indoor pool, hot tub, and easy access to the ski slopes and water parks. This is an ideal spot for a group of friends, and the
price is a great value
, too.
Camelback Mountain
,
Pennsylvania
USA
If you want to stay somewhere special, this amazing and modern house is something you have to see to believe. With
3 bedrooms
, it has room for up to
8 people
. The location is amazing and the amenities are high-end. Check out the photos! The furniture and overall design will make this a place to remember. You get a pool table, an ultra-modern kitchen, luxurious bathrooms with rain showers, a
sauna
, and more. Access to the complex's swimming pool, tennis courts, gym, and more is also included. It's just a few minutes from the ski slopes, water parks, shops, restaurants, bars, and everything else at the resort. This is a house designed for an entertainment atmosphere, so if you bring a group of friends, everyone will surely have a great time.
Camelback Mountain
,
Pennsylvania
USA
This appropriately named townhouse has
3 bedrooms
, a full kitchen, and a terrific location. With room for up to 10 people, your entire group will be very comfortable here. You could cook all of your meals in the modern, upgraded kitchen. Or, head out to the nearby restaurants and bars that are just a few minutes away (as are the ski slopes and water parks).
The living room has a dining room table that can easily convert into a pool table or ping-pong table. The TV also has a PlayStation, and the old wood-burning fireplace will keep everyone warm and cozy.
The bedrooms are comfortable, too. Some have TVs. The bathrooms are also renovated and modern with nicely appointed fixtures. Cleanliness is a priority here as well, so you don't have to worry. Check out the photos!
Camelback Mountain
,
Pennsylvania
USA
With a focus on extra amenities and modern technologies, this
3 bedroom
townhouse has multiple levels and room for up to
8 people
. With multiple TVs plus a theater room with a large projector screen, everyone in your group will love this house. It might be a good option not just for a weekend of fun, but also perhaps a coworkers weekend to have a weekend of business meetings. The large deck has a fire pit and a grill, too. If you plan to cook your meals, you'll find the fully-equipped kitchen to be modern and clean. Video games, a foosball table, and more fun seating options can be found here, too. The bedrooms and bathrooms are comfortable and modern. And the location is amazing, as it's just a few minutes to the ski slopes and water parks, as well as everything in town such as the shops and restaurants.
Camelback Mountain
,
Pennsylvania
USA
This is another comfortable and modern townhouse with
3 bedrooms
and room for up to
12 guests
, along with a fairly affordable price. The spacious first floor has a newly renovated kitchen and comfortable sofas in the living room (with an open concept layout). In the bedrooms, you'll find comfortable and large beds. One of the rooms has 2 sets of bunk beds so that you can fit a lot more friends if you're looking to bring a large group. Modern, renovated bathrooms give you that luxury feel, too. The deck has a grill. Laundry machines, Wi-Fi, and other amenities are also included. The location is also one of the best features of this house, as you're just a short walk to the ski slopes!
Camelback Mountain
,
Pennsylvania
USA
Here is a terrific
4 bedroom
house with space for up to
10 people
. Among the many amenities are a pool table, spacious open concept living room and kitchen, newly renovated bathrooms, a nice deck, and more. You really can't go wrong here, as it's also
affordably priced
for everything that is included. The surrounding complex has a swimming pool, tennis courts, and is close to the water parks, ski slopes, and everything else you could need such as bars, shops, and restaurants. This is the ideal house for a larger group of friends looking for a clean and comfortable place to stay.
Camelback Mountain
,
Pennsylvania
USA
This
2 bedroom
cabin has one of the lowest prices in Camelback, which makes it very appealing. It's slightly further from the resort than many other places, but it's still just a short drive away (10-15 minutes). But you're not sacrificing on amenities, as this house has plenty of room and nice features. The spacious living room and open kitchen has cozy seating. The deck is also large with more outdoor seating spots and a good grill. The kitchen is fully-equipped with everything you need to cook your own meals if you don't want to visit the nearby restaurants and bars. And with sleeping space for up to
10 people
, you can bring everyone in your group. While it's not as luxuriously appointed as some other houses, it's also not old and out of style, as it has nice appliances and good fixtures with a traditional design. This house is truly a great value for anyone looking to stay in the area. Check out the photos and keep in mind that this place gets booked up fast.
Some photos are courtesy of airbnb.com.
Share This Article