Camelback Mountain: The Best Airbnb Cabins and Condos for Couples in the Poconos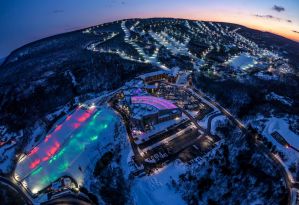 Camelback Mountain is a fun and exciting ski resort area in the heart of the Poconos in Pennsylvania. Because it is only a 2-hour drive from New York City or Philadelphia, the Poconos are a terrific destination if you want to escape into the mountains for skiing, hiking, swimming, or a romantic couples getaway. It makes for a great weekend trip, or you can turn it into a full week because of the huge number of activities that can be found in the area.
Camelback is quite popular with skiers, as it is one of the most popular ski resorts in the eastern United States.
Skiing and snowboarding
are obviously popular attractions, and that's probably why you're looking for a place to stay here (we'll get to that in a minute). With about 40 ski slopes covering more than 160 acres on the mountain, you'll find plenty of room to explore. Naturally, you can rent equipment and take lessons here, too. And don't forget about
snow tubing
which is a casual and easy way to have fun. The tubing lanes are open in the evening, too, with funky lights to make everything glow with a festive vibe.
Of course, we have to mention the
indoor water park
which is open year-round. In this super-fun complex you'll find amazing slides with tubes, rafts, and more. Some of them plunge straight down with a near-vertical drop. A large wave pool and other splash areas add to the fun, along with a huge fort-like structure, a lazy river, hot tubs, and more. Oh, and there's also an
outdoor water park
with even more amazing rides for the warmer months. It has an even larger wave pool, too. The list goes on with a zip-line, lazy river, mountain coasters, flow riders, and so on. Why not turn your couple's weekend into something a little more exciting during the day?
Speaking of the warmer months, visitors can also find plenty of great
hiking, mountain biking, and horseback riding
activities in the area. Big Pocono State Park is right next to Camelback Mountain, along with several other state park and conservation areas. These wilderness parks in the Poconos make for a terrific escape into the forest and mountains for a good reintroduction to nature.
If you're trying to find a place to stay for your
couple's getaway
at Camelback Mountain, we've assembled the best airbnb cabins, condos, and mountain houses that are perfect for your next trip. All of the places we've listed below include fully-equipped kitchens, Wi-Fi, TV's, laundry, and more. They are comfortable, cozy, romantic, warm, and have everything you need to get away from the daily grind. Some even have hot tubs, saunas, ski-in/ski-out locations, and more. So, read on for our recommendations below.
Where are the best places to stay for couples at Camelback Mountain?
Contents: Romantic Getaway 1BR | Boujee on a Budget | Cozy & Quiet 2BR | Spacious Townhouse | Super Modern House
Camelback Mountain
,
Pennsylvania
USA
This terrific
1 bedroom
condo has plenty of natural light and an
affordable price
. As many places at Camelback Resort have multiple bedrooms, this is actually one of the only smaller places available, so it's perfect for a couple looking for a less expensive option. It has a full kitchen, gorgeous views from the windows, a grill, a jacuzzi tub, a fireplace, and other nice amenities. With access to the complex's swimming pool, tennis courts, and gym, you'll have plenty of recreation options for when you're not at the nearby ski slopes or water parks. The location is very convenient because it's just a few minutes from the slopes.
Camelback Mountain
,
Pennsylvania
USA
This
2 bedroom
cabin is one of the cheapest places to stay in Camelback. It's slightly further away from the resort than many other places, but it's still just a short drive away (10-15 minutes). The house not only has lots of room, but also has plenty of great amenities. The spacious living room and kitchen area has cozy seating. The deck is also large with more outdoor seating and a grill. The kitchen is fully-equipped with everything you need to cook your own meals if you don't want to visit the nearby restaurants and bars. While it's not as luxuriously appointed as some other houses, it's also not out of date, as it has nice appliances and good fixtures. This house is truly a great value for anyone looking to stay in the area. Check out the photos and keep in mind that this place gets booked up fast. While it might be a little larger than what a couple needs, the relatively low price makes it a very good option.
Camelback Mountain
,
Pennsylvania
USA
Here's another
affordable
place to stay for anyone looking for a vacation rental or weekend getaway at Camelback. This
2 bedroom
townhouse has multiple rooms in a convenient and comfortable layout. The kitchen is modern, the master bedroom is very comfortable, and the bathrooms are kept clean. The living room is nice with a fireplace and cozy sofas. It also has a
sauna
! The location is also very convenient to the resort's ski slopes and water parks. This is a terrific and affordable option for anyone who doesn't want to spend a fortune in the area.
Camelback Mountain
,
Pennsylvania
USA
This townhouse has one of the
best prices in the area
. Even though
2 bedrooms
might be a bit much for a couple looking for a private place, the lack of smaller condos in the area means that a 2 bedroom at an affordable price might be your only option. The spacious living room has comfortable sofas surrounding a warm fireplace. The fully-equipped kitchen means that you can cook all of your meals if you like. Or, just head out to the nearby restaurants and bars that are just a few minutes away. (Or do both!) The master bedroom is comfortable, and the bathrooms are very clean. It also has a
sauna
, which is a nice touch. The deck is a great place to enjoy the mountain atmosphere, too.
Camelback Mountain
,
Pennsylvania
USA
If you're willing to splurge on something much more expensive, this amazing modern house is something you have to see to believe. Yes, the
3 bedrooms
are perhaps more than a couple needs. But the location is amazing and the amenities are high-end. Check out the photos! You get a pool table, an ultra-modern kitchen, luxurious bathrooms with rain showers, a
sauna
, and more. Access to the complex's swimming pool, tennis courts, gym, and more is also included. It's just a few minutes from the ski slopes, water parks, shops, restaurants, bars, and everything else at the resort.
Some photos are courtesy of airbnb.com.
Share This Article