Camelback Mountain: The Best Vacation Rental Cabins and Condos for Couples in the Poconos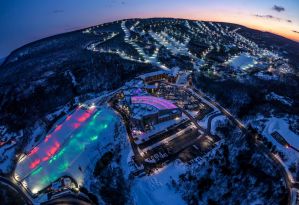 Camelback Mountain is a fun and exciting ski resort area in the heart of the Poconos in Pennsylvania. Because it is only a 2-hour drive from New York City or Philadelphia, the Poconos are a terrific destination if you want to escape into the mountains for skiing, hiking, swimming, or a romantic couples getaway. It makes for a great weekend trip, or you can turn it into a full week because of the huge number of activities that can be found in the area.
Camelback is quite popular with skiers, as it is one of the most popular ski resorts in the eastern United States.
Skiing and snowboarding
are obviously popular attractions, and that's probably why you're looking for a place to stay here (we'll get to that in a minute). With about 40 ski slopes covering more than 160 acres on the mountain, you'll find plenty of room to explore. Naturally, you can rent equipment and take lessons here, too. And don't forget about
snow tubing
which is a casual and easy way to have fun. The tubing lanes are open in the evening, too, with funky lights to make everything glow with a festive vibe.
Of course, we have to mention the
indoor water park
which is open year-round. In this super-fun complex you'll find amazing slides with tubes, rafts, and more. Some of them plunge straight down with a near-vertical drop. A large wave pool and other splash areas add to the fun, along with a huge fort-like structure, a lazy river, hot tubs, and more. Oh, and there's also an
outdoor water park
with even more amazing rides for the warmer months. It has an even larger wave pool, too. The list goes on with a zip-line, lazy river, mountain coasters, flow riders, and so on. Why not turn your couple's weekend into something a little more exciting during the day?
Speaking of the warmer months, visitors can also find plenty of great
hiking, mountain biking, and horseback riding
activities in the area. Big Pocono State Park is right next to Camelback Mountain, along with several other state park and conservation areas. These wilderness parks in the Poconos make for a terrific escape into the forest and mountains for a good reintroduction to nature.
If you're trying to find a place to stay for your
couple's getaway
at Camelback Mountain, we've assembled the best airbnb cabins, condos, and mountain houses that are perfect for your next trip. All of the places we've listed below include fully-equipped kitchens, Wi-Fi, TV's, laundry, and more. They are comfortable, cozy, romantic, warm, and have everything you need to get away from the daily grind. Some even have hot tubs, saunas, ski-in/ski-out locations, and more. So, read on for our recommendations below.
Where are the best places to stay for couples around Camelback Mountain, PA?
Contents: Boutique Cottage Nested in the Woods | Cozy Apartment | Charming Private Lakefront Cottage Perfect For A Quiet Getaway | Lake Front Canoe & Kayak Included | Quiet Retreat at Camelback Mountain Resort
Explore the nearby mountains from this terrific option. If you're looking for a vacation rental not far from Camelback, this 2-bedroom, 1-bathroom house is a great option for a couple. You can relax on the queen-sized bed. There's also a kitchenette with microwave, refrigerator, and stove so you can prepare a light meal. This is also a pet-friendly place to stay.
East Stroudsburg
,
Pennsylvania
With room for 2 people, this is a 1-bedroom apartment that makes for a perfect vacation rental near Camelback and the surrounding mountains of the Poconos. Relax here after a day in the mountains.
As for the interior, this apartment has all of the comforts you need. You'll be able to cook all of your meals in the fully-equipped kitchen with a refrigerator, microwave, and oven. With a nice bedroom, guests can unwind after a busy day. With a queen sized bed, you'll be sleeping soundly. Couples love this place. And more amenities are found here such as a grill, parking, and internet.
Located less than three miles away you'll find Smuggler's Cove and Cook's Corner. Relax here after a day in the mountains. If you're looking for comfort and convenience, this is a great apartment.
Analomink
,
East Stroudsburg
,
Pennsylvania
Enjoy the ultimate ski vacation at this cottage. This 1-bedroom, 1-bathroom cottage is a great vacation rental as it can accommodate 2 guests. This is an amazing couple's getaway that is also affordable. You'll be able to cook all of your meals in the fully-equipped kitchen with a microwave, oven, and refrigerator. You'll enjoy a good night's sleep in the relaxing bedroom. The queen-sized bed is a nice touch. You'll also be able to spread out through the dining area. Included with this property is parking, internet, games, fire pit, and a grill.
This place should be on your list, as it has earned a terrific rating from former guests with hundreds of reviews. With a nice balcony, you can relax and enjoy the weather.
Camelback Ski Area, Camelbeach Mountain Waterpark, Mount Airy Casino, Shawnee Mountain Ski Area, Cook's Corner, and Peppe's Bistro are also very close by. Places like this get booked up quickly.
Make sure you also see The Best Vacation Rental Cabins and Condos for Families at Camelback Mountain and The Best Vacation Rental Ski Cabins for Groups at Camelback Mountain if you're interested in more places to stay in Camelback Mountain.
Near everything the mountains have to offer, this cabin makes a relaxing retreat. Check out the photos! This 2-bedroom, 1-bathroom lakefront cabin has plenty of space for a couple, or even a small family.
You'll find nice furnishings in both bedrooms. Couples appreciate the king-sized bed in the master bedroom. The kitchen is convenient, well stocked, and of course has everything you need to cook all of your own meals. There's also the dining area offering more space to guests. You'll also find amenities such as parking, internet, and a grill.
Located less than five miles away you'll find Camelback Mountain Resort, Camelback Ski Area, Camelbeach Mountain Waterpark, Mount Airy Casino, Aquatopia, and The Crossings Premium Outlets. And you can bring the furry members of the family, as this place is pet-friendly. Add this one to your must-see list!
Camelback Mountain Resort
,
Tannersville
,
Pennsylvania
Guests love this house and it makes a great place to stay for your vacation at Camelback Mountain, as it's located in the resort area. The 2-bedroom vacation rental has more than enough room for a couple, but since most of the properties nearby are for larger families, this one is great for a smaller group or a couple. With a queen-sized bed, you'll sleep comfortably. The microwave, oven, and refrigerator in the kitchen are also a nice convenience if you want to prepare a quick meal or bring some food. There's even more space to hang out in the dining area and living room.
Also on the list for this house is parking and a fire pit. Enjoy the mountain atmosphere. Check out the photos!
Some photos are courtesy of VRBO.com.
Share This Article