Sarasota's beaches offer natural beauty, white sand, excellent restaurants, and a number of great vacation rentals that will make your stay romantic, comfortable, convenient and fun. Below is a list of our favorite places to stay for couples headed to Longboat Key, Venice, Lido Key, Manasota Key, Siesta Key, and Casey Key. All of these places have plenty of great amenities for a couple traveling to Sarasota for a weekend or a week long vacation to get away to the beach.
Jump to:
-
Longboat Key
-
Venice
-
Lido Key
-
Manasota Key
-
Siesta Key
-
Casey Key
Longboat Key
Longboat Key is the most northern key of Sarasota's coastline. It's got about 12 miles of shoreline and has a relaxing vibe with smaller crowds than some of the more southern keys. Couples enjoy vacation rentals because of their space and amenities. Below are just a few from Longtail Key.
Just The Essentials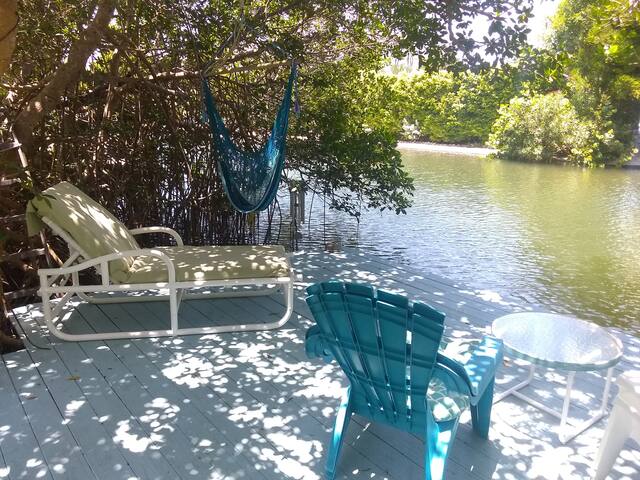 This 1 bedroom unit is truly a tropical paradise. While the inside is simple, the outdoor space is what makes this rental special. There's a dock on the canal, kayaks that guests can use, bikes, and more. You'll see tropical birds and plants and you'll be just a block from a peaceful white sand beach. For couples who want a tropical retreat, this is the place.
There's also a small kitchenette, a gas grill, and a covered patio where you can enjoy drinks.
Longboat Key Club Resort Condo - Suite Serenity
Suite Serenity, which is a studio unit in the Longboat Key Club Resort, has all of the amenities a couple could need. There's an impressive pool, beach equipment, a private balcony, and an excellent location right on the beach. For couples who want to enjoy a resort style vacation, this is a great place. You can enjoy sunset walks on the beach or sip a cold drink from your balcony. You may even see some dolphins swim passed.
Beachfront Resort
This 1 bedroom unit is part of Silver Sands Beach Resort, which has a pool and a beautiful beachside location. There's a private patio where you can sip a drink, and it's just a quick walk to the beach. There's also beach equipment available to guests.
Venice
Venice has a fun downtown area with boardwalks, cafes, and popular beaches. The island also has the longest beach in Sarasota, Caspersen Beach. There are a number of hiking paths and places to enjoy bird watching. Whether you enjoy nature, dining out, or relaxing on the beach, Venice has something for every couple. Below are some of the area's best vacation rentals.
Unique Architectural Icon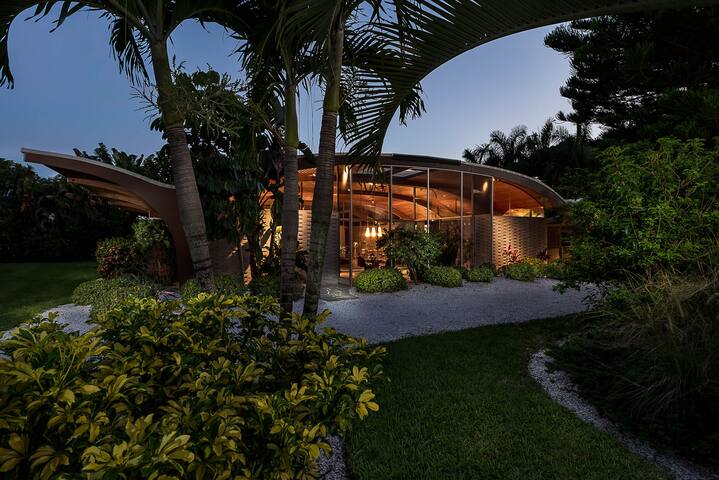 For couples looking for a truly unique experience, this house is a true architectural icon. It was built in 1958 and has a truly impressive inside and out. There's a pool, beautiful furnishings, and a well landscaped yard. It makes for a one of a kind vacation.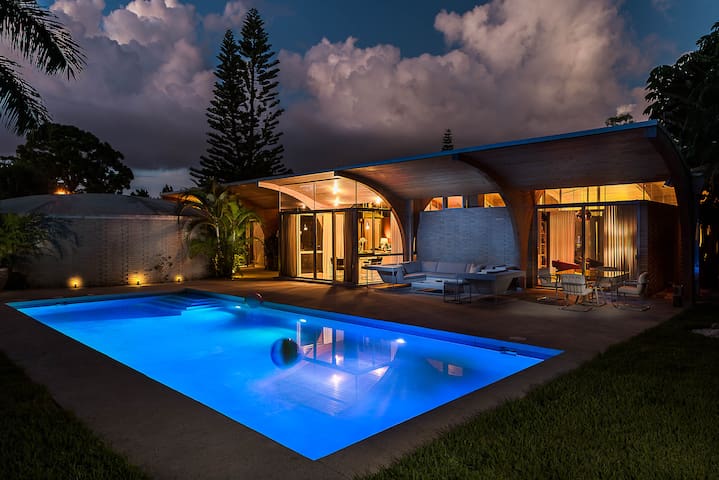 Basic 1 Bedroom Condo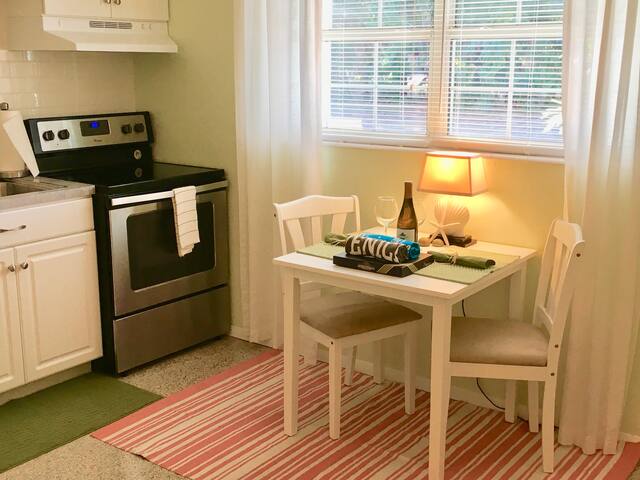 This cozy 1 bedroom is just 4 blocks from the beach. It's furnished with basic furniture, but it offers an affordable and convenient place to stay for couples on Venice Island. It's about a 10 minute walk to the beach and half an hour from the shopping and the restaurants of downtown Venice. If value and bang for your buck matter to you, then this is a good option.
Lido Key
Between Longboat Key and Siesta Key is Lido Key. The island has three beaches - North Lido, Lido Beach, and South Lido. It's a nice spot for couples and there are a number of vacation rentals in the area. Below are some favorites.
Chasing Sunshine at Lido Key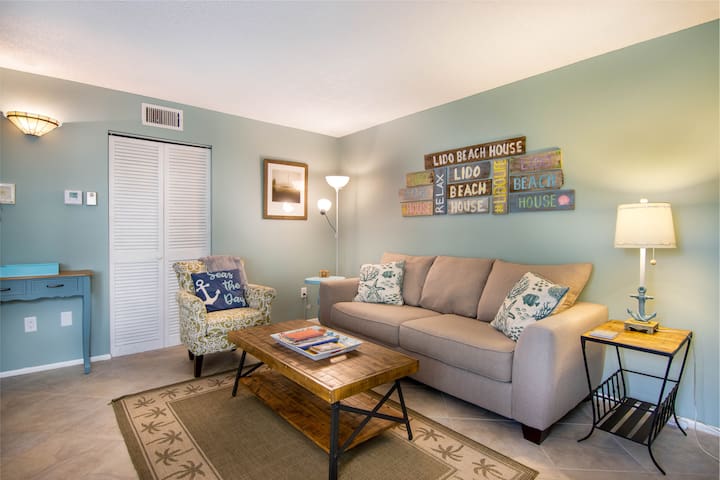 This comfortable 1st floor condo has a full kitchen, beach supplies, and an open floor plan. It's about a 10 minute walk from St. Almonds Circle and is just a block from the beach. For couples that want reliable and easy, this is a nice place to stay.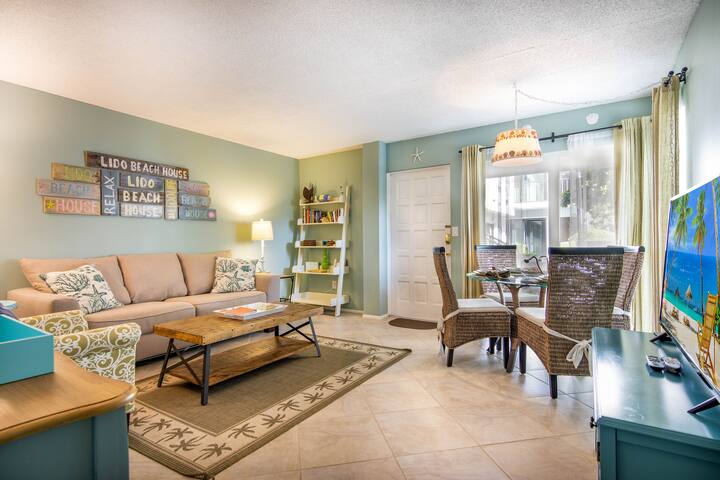 Chasing the Sun - Lido Beach Guest House
This 1 bedroom guesthouse is a great option for couples who want to enjoy the outdoors. There's a nice outdoor sitting area, a grill, and plenty of beach supplies. It's also conveniently close to the beach (less than a block away) and near all kinds of restaurants and shopping.
Manasota Key
Manasota Key is a favorite for nature enthusiasts. There are mangroves and sand dunes, as well as three main beaches - Manasota, Blind Pass, Englewood, and Stump Pass. The island has a number of pavilions, picnic tables, and grills, and there's also a state park.
Manasota Key has a number of vacation rentals available for couples and some favorites are below.
Gulf Side Condo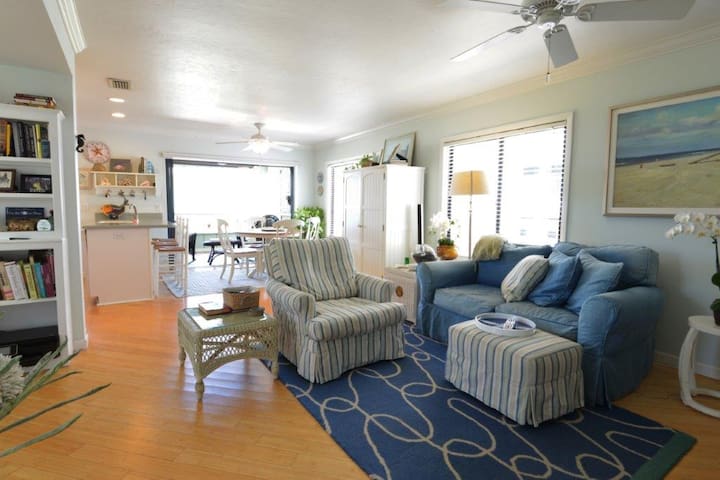 This 2 bedroom condo is perfect for a couple's retreat. There's a full kitchen, a nice living space, and a coastal style decor that will ensure you enjoy your vacation. There's also a wide porch that has comfortable seating. The condo has a sand path that leads to a private beach. For a romantic getaway, this place can't be beat.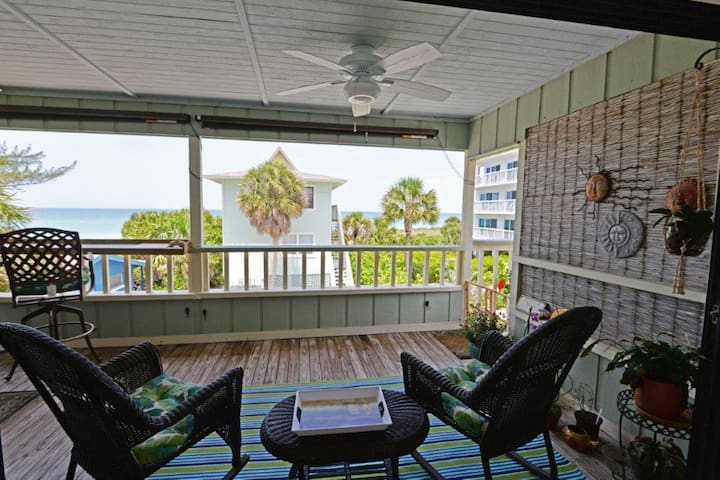 Manasota Key Condo
If you want to be right on the ocean, this is the place to stay. There are cozy beach style decorations and the unit offers sunset views over the Gulf of Mexico. The beach is steps away and there are local restaurants and bars are walking distance away.
Siesta Key
Siesta Key is an 8 mile long island with some of the best beaches in the area. There's a lot for couples to enjoy, whether you like relaxing by the beach or partying at night.
Below are some nice vacation rentals for couples headed to Siesta Key.
Siesta Key Apartment on Sunset Beach
This 1 bedroom apartment is basic but comfortable. It's location is great and there's a full kitchen, an outdoor dining table, and enough space for a couple to be comfortable. There are also additional units in the building that can be rented if you are traveling with others.
Siesta Beach Serene Condo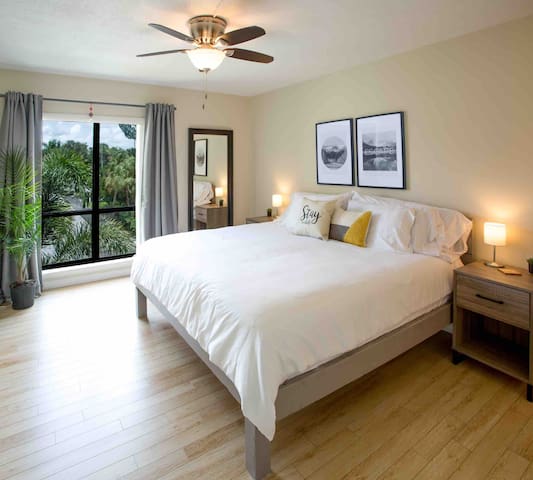 This private corner unit condo offers lots of natural light, a modern decor, and your own private lanai. They have beach equipment available (but do note that there's not direct private beach access available). The complex has tennis courts and there are bikes available for rent as well.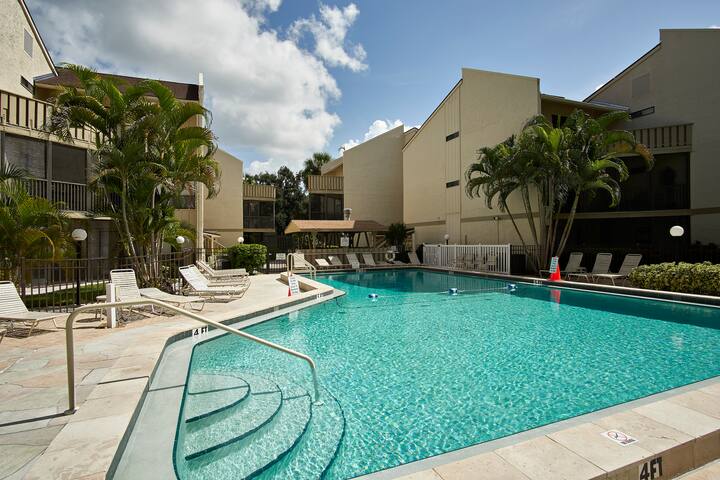 Casey Key
Casey Key is on the south end of Sarasota. There are picnic areas, food stands, lifeguards, and a nice park.
Casey Key Cottage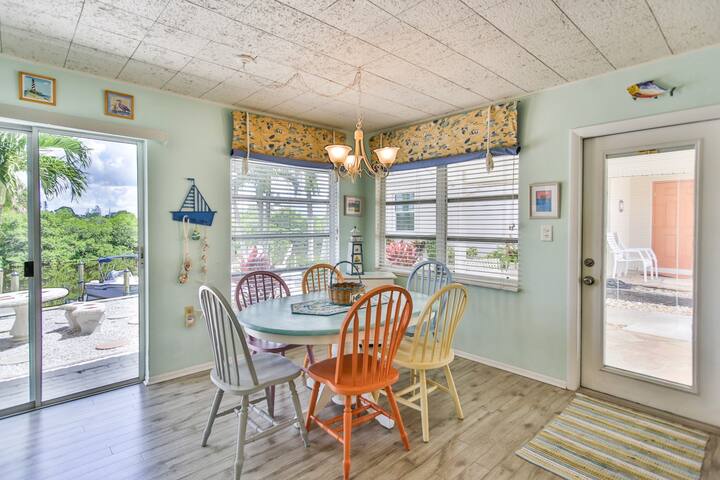 This charming cottage has a cozy style and a private beach. The tropical backyard looks out on the bay and the private porch is the perfect place to enjoy a meal. If you feel like dining out, there are a number of great restaurants within walking distance. This is the place to come if you want to relax or enjoy some fishing from the dock.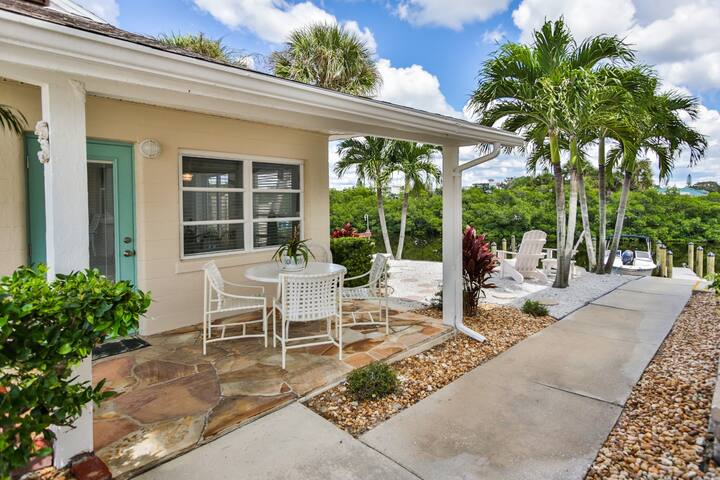 Happy Travels!