The Best Airbnb Vacation Rentals in Ormond Beach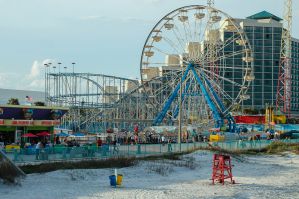 Just north of Daytona Beach, Florida is Ormond Beach, a family-friendly and fun beach town that is really just an extension of the Daytona region. Since you're so close to everything in Daytona here, people choose to stay in Ormond Beach so that they can have a little more peace and quiet while still enjoying all of the fun beach activities, amusement rides, nightlife, and restaurants of Daytona Beach.
If you're looking for a place to stay, we have researched the best vacation rental beach houses and condominium rentals in Ormond Beach for your next trip. All of these places are family-friendly, have extra space for your family or group of friends, full kitchens so you can cook all of your meals, and are either right by the beach or within a short walk to the beach. You can't go wrong staying in Ormond Beach, as it's a terrific town with beautiful waves and lots of fun things to do. Some of the beach areas closer to Daytona Beach allow cars to drive on the beach, while the northern end of town does not. Either way, you'll have fun in the sun with your crew in one of these great Airbnb's.
This guide is part of our series on the
best Airbnbs in Daytona Beach
, so check out the other guides for more ideas on places to stay, too.
What are the best beach condo rentals and vacation homes in Ormond Beach, Florida?
Contents: Classy Oceanfront Condo | Shore House | Trendy Beach Bungalow | Beach Home with Ocean View and Kayaks | Luxe Oceanfront Condo Rental | New Luxury Beachfront Condo Vacation Rental | Family-Friendly Ormond Beach Vacation Condo | Luxury Home - 4-Bedroom Pool House | 4-Bedroom Ormond Beach Family Pool House Vacation Rental | Affordable 2-Bedroom Beach Condo Rental in Ormond Beach | Affordable Beach House - Ormond Beach Vacation Rental
You couldn't ask for more from this appropriately named "Classy" condo. With 2 bedrooms, a terrific balcony looking out over the ocean, an updated and modern kitchen to cook all of your meals, and use of the building's swimming pool, anyone would be comfortable here. This place is perfect for a family or a small group of friends on a relaxing trip to the Ormond Beach where you can experience all of the fun that Daytona offers. As this condo has undergone recent renovations, you'll be living in style. The second bedroom has two queen beds, so there's room for everyone.
Need a house on the beach? Doesn't everyone? This amazing
3-bedroom
house sits on the beach and has a number of great features. The interior is beautiful with a large living room and kitchen surrounded by an upper level balcony where you'll find the bedrooms and an office work space. A covered porch and balconies on the 2nd floor look out over the ocean, as you're right on the beach here. Parking, laundry, wi-fi, and other niceties are all part of the package.
This nice 2-bedroom bungalow has a great vibe, some nice furnishings, and relaxing amenities. Featuring a full kitchen so you can cook for everyone in your group, plus nice bathrooms, laundry, an outdoor shower for after the beach, and a short walk to the beach, this place has everything you'll need. It's great for a family, couple, or a small group of friends (up to 6 people). Check out the photos!
Just 50 yards from the beach (you don't have to cross the street), this quaint beach rental house has a view of the ocean along with a very nice kitchen, spacious bedrooms, modern bathrooms, and kayaks to take out on the water. You'll also be able to use the provided beach chairs and toys such as boards, rafts, a grill, and more. With 2-bedrooms, there is enough room for up to 6 people, making it the perfect house for a family beach vacation or a friends' reunion to the beach.
This 2-bedroom luxury resort-style condo has a large balcony with amazing views. The building also has a nice swimming pool, a private beach access, and more. Having undergone recent renovations, you'll be able to cook all of your meals in style in the high-end kitchen, relax in the luxurious bathrooms, and lounge on the new, modern furniture. The photos speak for themselves! Parking, laundry, wi-fi, beach chairs, and more niceties are included.
Here's another luxurious condominium rental in a fairly new building. With high-end furnishings and a modern kitchen, along with nice furniture and elegant bathrooms, this beach condo would make anyone swoon. The views from the windows and balcony are jaw dropping. The master has a huge bed and an amazing bathroom, while the 2nd bedroom is great for kids with twin beds and their own modern bathroom. Laundry, a pool, gym, wi-fi, and more are all included.
With bright colors and a relaxing beach vibe, this 2-bedroom beach condo has a modern and comfortable feel with a renovated kitchen and updated bathrooms. Located in Ormond Beach, this is a family-friendly condo because it has 2-stories so the kids can go to bed earlier than the adults. Also, the relatively small and private complex (Ormond Beach Club) has a swimming pool and private beach access right on the sand. Laundry, wi-fi, parking, and other amenities are all part of the package.
This higher-end vacation home has a great pool in the back and a long list of amazing features. The kitchen is well done and fully-equipped. You'll also find a lounge room with a projection TV, another area with a bar, luxurious bathrooms, a room with bunk beds for kids, an office area, laundry, large walk-in closets, a hot tub, and more. Located just a few blocks from the beach as well as restaurants and shops, the location is nice, too.
Located across the street from the beach, here's a
4-bedroom
beach rental house with a swimming pool and a large open-concept layout. The kitchen and living room space is huge and makes for a nice spot to relax, hang out, and plan adventures in the Daytona Beach area. The kitchen is well done and high-end, so you can cook all of your meals in style. Bedrooms are equipped with a variety of furnishings for adults and kids, and the 4th bedroom features bunk beds which the kids will love. The bathrooms are also luxurious and recently renovated. Add this one to your short list if you have a larger family or need more space for all of your friends.
Here's an affordable
2-bedroom
beach condominium rental that sits oceanfront, has a pool, and features a modern, updated kitchen so you can cook all of your meals. The 2nd bedroom has a queen and a full bed so that more people can come along (sleeps up to 6 people). Wi-fi, laundry, parking, and more are included. This is a nice option for a family traveling on a budget.
Located just 2 blocks from the beach, this affordable
2-bedroom
beach house has everything a family could want including a fully-equipped kitchen to cook meals, laundry, clean modern bathrooms, beach chairs and toys, parking, and more. It's a modest house that is well furnished, very comfortable, and great for a family trip to the beach.
Some photos are courtesy of airbnb.com.
Share This Article