Daytona Beach is huge! This area of beach towns along the central Atlantic coast of Florida is famous for its beautiful beaches, spring break, family-friendly activities, bike weeks, and of course, NASCAR. With so much to see and do, it's no surprise that the Daytona Beach region of Florida has become one of the most popular beach destinations in the entire state as well as the entire southeastern United States.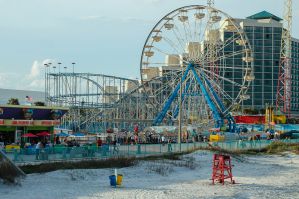 If you've never visited before, or if you're looking for somewhere to stay, we've got you covered. We're going to lay it all out for you here. Daytona Beach and the surrounding beach towns can be overwhelming because of the sheer number of places to stay in the form of beach condos, hotels, beach houses, vacation rentals, Airbnb's, VRBO's, and more. But we've put together this series of guides to make it easy and quick for you to find the best place and the right place for your next trip.
Jump to:
Regional Overview
Places to Stay
-
Beach Houses
-
Beach Condos (Central Daytona Beach)
-
Ormond Beach
-
Daytona Beach Shores
-
Port Orange & Wilbur-By-The-Sea
-
Ponce Inlet
-
New Smyrna Beach
In this series of articles, we will provide information about each of the beach areas. After all, some stretches of Daytona Beach are full of high-rise condos with plenty of restaurants, bars, and activities, while others are more spread out with more space, vacation rental homes, and less people. Some areas are known for
college spring break
or
bike week
activities which involve parties, bars, clubs, and plenty of fun, while other neighborhoods are more laid-back,
family-friendly and full of kids activities
. And other areas are full of beachfront condos that
cater to couples
, either younger or retirees, just looking for a quiet and relaxed stay on the shore.
So, depending on what you're looking for, you should plan ahead. You don't want to take your kids to a frat party on the beach. And if you're looking for that frat party on the beach, you don't want to end up at the family resort with the toddlers in the kiddie pool. Daytona Beach has plenty of space for everyone of all types and all ages, so it's just about finding the right spot for your next trip.
Some other things to consider during your trip: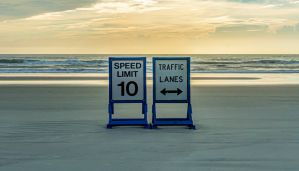 Some of the beaches allow cars to drive on the sand right up to the water. This sometimes draws a crowd of people in their cars and trucks who bring coolers, grills, tents, surfboards, and other activities to the beach. It can be lots of fun, or maybe it's not your thing. So find out ahead of time if the beach area and town you're visiting allows cars on the beach. (We have included notes about driving access in this article and other related articles about the region.)
Various times of the year in Daytona are known for their themed activities such as Speed Week (the week before the Daytona 500) or Bike Week, when a large number of motorcycle riders end up cruising through town and visiting the beach. Also,
college spring break in Daytona
can be very popular with younger travelers during the months of March and April, and sometimes even up to late May. These activities usually only affect the central Daytona Beach areas, and it can be easy to avoid these crowds by staying in the more periphery towns if you don't want to join in on this particular type of fun.
The Areas and Communities of Daytona Beach
The city of Daytona is inland, and the intracoastal waterway (the Halifax River) separates the barrier island from the mainland. This barrier island is home to all of the beaches, and the town of Daytona Beach is the coastal town right next to the city of Daytona. Both north and south along the beach are more beach towns that all merge together into one large beach, but each area has its own vibe and personality, and caters to different types of travelers.
(To make matters more confusing, several of the communities use the name "Daytona" in some form or another.)
From north to south:
To the north of Daytona Beach is
Ormond Beach
, which is less crowded and more family-friendly. Here you'll find a number of beachfront condos with pools, along with beach houses for rent that cater to all types of travelers looking for a more quiet and relaxed stay at the beach. Cars are not allowed on the beach in Ormond Beach north of Granada Blvd. (Hwy 40).
The town of
Daytona Beach
is more dense with high-rise condominium buildings, hotels, and resorts. Even a few blocks back from the beach you can find houses mixed in with apartment and condo buildings mixed in with restaurants, shops, bars and clubs, and activities such as mini-golf, go-carts, laser tag, and more. Main Street runs out from Daytona, across the bridge to Daytona Beach, and ends at the famous Daytona Beach Pier. Nearby is the Boardwalk park area with amusement park rides and a large ferris wheel. The Daytona Beach area (along with the town of Daytona itself) has plenty of nightlife with clubs and bars that entertain beach goers late into the night. Depending on the time of year, this area is packed with visitors interested in nightlife and typical spring break activities at the beach. Cars are allowed on the beach everywhere in Daytona Beach except for a few blocks surrounding the pier.
Head south from here for just a few minutes to
Daytona Beach Shores
, which has a mix of family-friendly places to stay along with some places that cater to a younger crowd interested in nightlife. With plenty of rental houses along with nice condominiums along the beach, there are plenty of activities for everyone here. It's easy to avoid the noise if you want. Restaurants, shops, bars, and fun activities are scattered along the main road and easy to reach from most places to stay on foot or with a very short drive. Cars are allowed on the beach in Daytona Beach Shores.
Keep traveling south and you'll get to
Port Orange
and
Wilbur-By-The-Sea
, both of which are still only about 20 minutes south of the Pier at Daytona Beach. Even though you're still somewhat close to all of the action, by now the vibe is entirely relaxed, family-friendly, couples-friendly, and retiree-friendly. With a combination of nice beach houses along with beachfront condo complexes, anyone would be comfortable in this beach town. Cars are allowed on the beach only as far south as Emilia Ave. / Breakers Ave. (3800 S. Atlantic).
Just to the south is
Ponce Inlet
, which is very similar with more beach houses and quiet condos. Cars are not allowed on the beach in Ponce Inlet unless you head all the way down to the Lighthouse Point Park by the inlet.
New Smyrna Beach
is at the southern end of the Daytona region, and is quite large. This family-friendly community is home to plenty of activities such as watersports, tennis, fishing, and natural and wildlife areas. This beach town, also known as NSB, is a great destination if you want to avoid the party-oriented vibe of Daytona while still enjoying similar activities. It's a popular spot for families, couples, and even large groups of friends looking to chill at the beach for a week or two. Cars are allowed on the beach in NSB from the inlet at the north to 26th Ave. Everything to the south is car-free. Since New Smyrna Beach is less crowded in general than Daytona, the number of cars on the beach is much less frequent, though.
To the south of New Smyrna Beach is Cape Canaveral National Seashore which is a protected natural environment. While the only place to stay here is at one of the campgrounds operated by the National Park Service, it's a nice spot for a day trip as the beaches are beautiful and secluded. Further south is
Cape Canaveral
, home of NASA's famous launchpads, a cruise ship port, and some nice beaches around the Cocoa Beach region.
Places to Stay in Daytona Beach
Beach Houses
We have assembled an extensive list of
beach house vacation rentals in Daytona Beach here
. Below are a few of the best, but for more ideas please refer to this other article. A beach house can be a great way to enjoy everything Daytona has to offer, as you have privacy, extra space, a great location by the beach, and sometimes even a private swimming pool.
Vitamin Sea - Beachfront Vacation Home
This 4-bedroom house sits right on the beach and has amazing views and a long list of great features
Shore House
Located right on the beach with multiple levels of beachfront views, this 3-bedroom house has a spacious interior.
Beach Condos
It's hard to beat the convenience and location of a condo. By choosing to stay in a condo, you'll have a great price, a perfect oceanfront location, a pool, a kitchen, and access to everything around town. Below are a couple of the best, but for more options, see our article about the
best beach condo rentals in Daytona Beach here
.
Wyndham Ocean Walk 2-Bedroom Beach Condo Rental
The Wyndham Ocean Walk resort sits right in the middle of central Daytona Beach, so if you stay here you'll be in the middle of all of the activities, bars, restaurants, shops, rides, boardwalk, and more. It offers something for everyone.
Oceanfront 1-Bedroom Beach Condo Rental
This nicely decorated and updated
1-bedroom
condo is perfect for a couple or a small family.
Ormond Beach
Ormond Beach, just 5 minutes by car to the north of central Daytona Beach, is a bit more laid back, family friendly, and relaxed. With a mix of condos and private houses all on the beach, this is a good area to stay in if you want to be close in, but not too close. For more ideas, check out our guide to
Airbnb vacation rentals in Ormond Beach here
.
Trendy Beach Bungalow
This nice 2-bedroom bungalow has a great vibe, some nice furnishings, and relaxing amenities.
Luxe Oceanfront Condo Rental
A luxury 2-bedroom condo perfect for a family or some friends.
Daytona Beach Shores
Just 5 minutes south of the center of Daytona Beach lies Daytona Beach Shores, another beach community that seems to just blend in to the rest of the area as the beach stretches onwards. This is a little bit more family-friendly than the center of Daytona Beach, and here you'll find a mix of private houses and beachfront condos. While a few great options are below, we have another article that covers the
best Airbnb vacation rentals in Daytona Beach Shores
.
Private Beach Villa - 2-Bedroom Airbnb Beach House
Daytona Beach Shores, Florida
This spacious villa sits right on the beach and has plenty of great features.
Gorgeous Beachside 3-Bedroom Vacation Home
Daytona Beach Shores, Florida
Here's a family-friendly beach house with enough room for everyone, plus amazing features such as a high-end kitchen, a kids room with bunk beds, and gorgeous furnishings.
Port Orange & Wilbur-By-The-Sea
For even more peace and quiet, head south to Port Orange and Wilbur-By-The-Sea. This beachfront area has more houses, more space, and plenty of room to spread out a little more. And as you're only about 20 minutes south of the activities in central Daytona Beach, you can easily enjoy everything without being close to the noise. Here are a few great places, but for more ideas see our article that provides an overview of the
best vacation rentals in Port Orange and Wilbur-By-The-Sea here
.
Hope's Haven - Vacation Rental Beach House with Pool
Just a few steps from the beach, this fantastic house has a great pool and plenty of space for the entire group.
Ponce Inlet
At the southern end of the beach before the inlet lies the small community of Ponce Inlet, known for mostly beach houses, some wildlife areas, and a few condo buildings. Again, this part of the Daytona region is a bit more quiet, relaxed, and kid-friendly. For our list of the best places in this part of the beach, see the
best Ponce Inlet Airbnb vacation rentals here
. Below are a few of the best.
Oceanfront Beach Condo Rental with Pool
This gorgeous 2-bedroom condo has room for up to 8 people and sits right on the beach in Ponce Inlet.
New Smyrna Beach
The major town to the south of Daytona is New Smyrna Beach, and it's quite large with plenty of beach area spread out enough so that you can have some space to yourself as well as be close enough to everything around town to enjoy all of the activities. NSB as they call it has plenty of kid-friendly and family-friendly activities, plus some natural areas, parks, tennis, golf, and more. We have an entire article that covers places to stay in this town here:
the Best Airbnb Vacation Rentals in New Smyrna Beach
. Here are a few of the best so you can see what to expect.
Beachway Breeze - 5-Bedroom Vacation Rental with Pool
5 Bedrooms, Pool, Oceanfront
This amazing oceanfront house has a pool, a spacious deck, and a beautiful interior with room for 10 people in 5 bedrooms.
Ocean Front Condominium
Here's a stylish condo with some very nice amenities. It has 2 bedrooms that are on the 2nd floor of the unit, as the kitchen and living room are on the main floor.
Planning Ahead
Now that you've hopefully picked out the place you want to stay, or at least the right neighborhood for you, your next trip to Daytona Beach will be even better. After all, there's plenty to do here anytime of the year.
If you're looking to make frequent trips to Disney and Orlando, Daytona Beach is approximately 90 minutes away by car, or more depending on which area you visit. If this is your plan, perhaps consider
finding a place to stay in Cocoa Beach
along "Space Coast" which is further south and also convenient to Orlando (the drive time is similar to Daytona).
Happy Travels!