The Best Beach House Vacation Rentals in Daytona Beach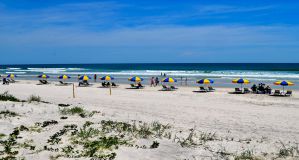 Daytona Beach is full of amazing activities, restaurants, shops, nightlife, and fun. Everyone from families to groups of friends to retirees visits Daytona, not just for the beach, but for the entire package of amazing things to do here.
If you're traveling with a family or a larger group of friends, then you probably need more space than what a hotel can offer. Perhaps you need more than what a condo can offer, too, and so that's why many visitors to this area along Florida's central Atlantic Coast choose to stay in a vacation rental beach house.
Finding a beach house in the Daytona area can be a bit challenging simply because there are so many options to choose from. Whether you're looking on Airbnb or trying to find a VRBO in Daytona Beach, the number of beach rentals can be overwhelming. Don't worry, we've simplified the process for you by using our experience, expertise, and knowledge to find the absolute best beach houses in Daytona Beach for your next trip.
Some of these houses are larger than others, and some are great for
families
while others are better suited for
groups of friends
. Some of these houses are expensive, while some are much more affordable. The price of a beach house vacation rental in Daytona Beach can often depend on the dates, the location of the house (for example, if it's right on the beach or a few blocks away), the size, the amenities (swimming pool), and the level of luxury of the home.
This guide is part of our series covering
Airbnbs in Daytona Beach
. We have another guide for
vacation rentals for spring break in Daytona Beach
for younger visitors traveling with friends that want to be closer to the nightlife scene in town. Also, for more family-friendly vacation rental options, check out our guides to some of the different regions of Daytona including
New Smyrna Beach
,
Ormond Beach
,
Daytona Beach Shores
,
Wilbur-By-The-Sea
, and
Ponce Inlet
, all of which are very close to Daytona Beach but have a more relaxed vibe. Some of the beach houses in those areas are listed below, too.
All of the beach houses here are the best in their price range, location, and level of cost. So, let's find the perfect house for your next trip to the beach!
Where are the best beach house rentals around Daytona Beach, Florida?
Contents: Private Beachfront 5-Bedroom Vacation Home with Pool | The Flamingo House | 3-Bedroom Pool House - Airbnb Vacation Rental | 3-Bedroom Beachfront House - Airbnb Vacation Rental | Paradise Point - Luxury Beach House with Pool | Vitamin Sea - Beachfront Vacation Home | Hope's Haven - Vacation Rental Beach House with Pool | Oceanfront House - Luxury Vacation Rental | Shore House | 3-Bedroom Riverfront Airbnb Home
Daytona Beach Shores
,
Florida
With space for 12 people, this gorgeous
5-bedroom
beachfront house has a swimming pool, plenty of amazing views out to the ocean, a spacious interior, and a long list of luxury amenities. The spacious living room, combined with the other seating areas around the house make for a nice place for various groups to relax and unwind around the house. The kitchen is not just large, it's also high-end and looks like it came out of a design magazine. You'll be able to cook all of your meals in style here. Just outside the glass doors to the beach is a huge deck with a pool, lounge area, and outdoor table. You'll probably want to spend most of your time out here or just down the steps at the beach. The bedrooms and bathrooms are equally as impressive. Check out the photos!
Here's a very nice
4-bedroom
house just a few blocks from the beach, so you can walk to the ocean in about 5 minutes. And with a swimming pool in the back, you can spend even more time at the house having fun. Along with the pool is a nice deck, covered seating, and lounge areas. This is a very relaxing home as it has a great kitchen where you can cook all of your meals, elegant yet casual decor, spacious bedrooms with cozy beds, and modern bathrooms. You'll have privacy, peace and quiet, extra space, your own pool, and a great location close to restaurants and shops.
Just a minute on foot from the beach and with a private swimming pool in the back, anyone would be comfortable at this
3-bedroom
house. It's well designed and has seen recent upgrades such as a new high-end kitchen, fantastically comfortable furniture, a kids room with bunk beds as well as a large bed for adults, another bedroom with 2 large beds, and stylish, modern bathrooms. This is a great house for a family or a group of friends on a trip to the beach, and it's also reasonably priced. Parking, wi-fi, a BBQ grill, outdoor seating, large TV's, beach bikes, and more niceties are all part of the package.
Imagine stepping from a high-end kitchen into a relaxing and spacious living room with huge glass doors that open out onto the beach. That is what this
3-bedroom
house offers. And it's great for a family or larger group because there is more than one living room area, as another space has a relaxing TV seating area and a piano, plus a large deck out back. The bedrooms have a visiting-your-relatives vibe which means you'll feel right at home as you relax beachfront here. Located about 1 mile north of Main Street and central Daytona Beach, this is a good spot to be close to all of the activities while still staying a bit away from the noise and nightlife.
This spacious and beautiful
5-bedroom
house has something for everyone. It's located right on the beach! Starting with the swimming pool in the back, there's also a built-in hot tub along with a covered patio for a BBQ grill and dining table. Inside you'll find a huge amount of space starting with the game room with a pool table and fireplace that opens out onto the pool deck. The kitchen is large and modern, with nice appliances so you can cook all of your meals in style. Several balconies and decks look out onto the beach, and you'll have a private access down to the sand and waves. The bedrooms have a mix of bed sizes, and one room has bunk beds which is great for kids. Other bedrooms have larger queen beds, making this house great for either a large family or a large group of friends headed on a beach trip. The bathrooms are also well designed, updated, and clean.
This
4-bedroom
luxurious home has decks and balconies that spill down the hill to the beach. At the top is the house which centers around a large living room with huge windows allowing plenty of natural light to come in. The views are spectacular! The kitchen is not just modern, but also updated and luxurious. The rest of the house is equally as nice with a fun beachy vibe along with plenty of room for a family or a group of friends. This would be the perfect beach house for a girls' weekend away or several families traveling together. It's also not far from restaurants and shops. Check out the photos!
If you need space for a group or a larger family, here's a very nice
5-bedroom
house with a covered pool, a huge and updated kitchen, modern bathrooms, and a colorful decor. Located directly across the road from the ocean, you can be at the beach access on foot in just a few minutes. This is an amazing house, so add it to your short list!
Wilbur-By-The-Sea
,
Florida
Here's a luxurious 3-bedroom house with some gorgeous decor, amazing beachfront views, large windows, and a hot tub on the expansive deck. The kitchen looks like it came out of a design magazine. The dining room has so many windows and views you won't know where to look, and it also has a sauna. In addition to the deck, the upper level has a huge balcony, too. The bathrooms are as elegant as the rest of the house, so check out the photos!
Need a house on the beach? Doesn't everyone? This amazing
3-bedroom
house sits on the beach and has a number of great features. The interior is beautiful with a large living room and kitchen surrounded by an upper level balcony where you'll find the bedrooms and an office work space. A covered porch and balconies on the 2nd floor look out over the ocean, as you're right on the beach here. Parking, laundry, wi-fi, and other niceties are all part of the package.
Having undergone recent renovations, this
3-bedroom
beach house vacation rental has plenty of amazing features including a high-end master bathroom, a fantastic kitchen, and a great location just a few blocks from the beach. It sits on the Halifax River, and has a new private boat dock so you can fish and relax by the water. It's worth a look!
Some photos are courtesy of airbnb.com.
Share This Article