The Best Airbnb Vacation Rentals in Ponce Inlet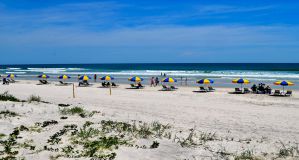 Ponce Inlet, Florida is a beach town that is part of the overall Daytona Beach area. Located just 20 minutes south of Daytona Beach, you can stay here and enjoy some peace and quiet at the beach while still having access to all of the fun and exciting activities around Daytona. Also, no cars are allowed on the beach for the majority of Ponce Inlet's beaches, so your views and your beach fun won't be spoiled.
If you're looking for a vacation rental in Ponce Inlet, we've assembled the best Airbnb beach condo rentals and beach houses for your next trip. All of these places are in great locations either right on the beach or very close to the beach. They also have full kitchens, extra bedrooms, and swimming pools, too!
Ponce Inlet is a family-friendly and more relaxed environment, and would be a great place to stay for any family, couple, or group of friends looking to relax at the beach. This guide of places to stay is part of our series that covers
Airbnb vacation rentals in Daytona Beach
, so if you're looking for a beach house or a beach condo, we have reviewed plenty of other options around the region.
Where are the best vacation homes and beach condo rentals in Ponce Inlet, Florida?
Contents: Spacious Oceanfront Condo | Paradise Point - Luxury Beach House with Pool | Beachfront Top Floor Remodeled Condo Rental - Ponce Inlet | Oceanfront Ponce Inlet Beach Condo Rental | Beautiful Beachfront Condo | Oceanfront Beach Condo Rental with Pool | Bleu Tortuga North - Airbnb Vacation Home
If you need more space for everyone, this larger
3-bedroom
condo has luxurious features such as an updated kitchen, a nice pool, and a beautiful balcony that overlooks the ocean. It's a corner unit with lots of large windows and plenty of natural light. The bedrooms are modern and relaxing, and the master bathroom is fantastically elegant. Tennis courts, laundry, parking, wi-fi, a hot tub, and other niceties are included.
This spacious and beautiful
5-bedroom
house has something for everyone. It's located right on the beach! Starting with the swimming pool in the back, there's also a built-in hot tub along with a covered patio for a BBQ grill and dining table. Inside you'll find a huge amount of space starting with the game room with a pool table and fireplace that opens out onto the pool deck. The kitchen is large and modern, with nice features so you can cook all of your meals in style. Several balconies and decks look out onto the beach, and you'll have a private access down to the sand and waves. The bedrooms have a mix of bed sizes, and one room has bunk beds which is great for kids. Other bedrooms have larger queen beds, making this house great for either a large family or a large group of friends headed on a beach trip. The bathrooms are also well designed, updated, and clean.
Here's another recently remodeled 2-bedroom condo that sits right on the beach with a balcony that has great oceanfront views. The kitchen is modern and opens into the living room so you can keep up with your family's activities. The bedrooms and living room are all nicely furnished, too. The bathrooms are surprisingly luxurious! The building has a heated pool, grills, parking, and more nice amenities, too.
Here's a great oceanfront condo in Ponce Inlet on the 3rd floor overlooking the beach. With 2 bedrooms and enough room for 6 people, this is a good spot for a family or some friends. You'll have access to the nice pool, too. The condo has a balcony with amazing views, a full kitchen to cook all of your meals, and nice furnishings.
If you're looking for a family-friendly 2-bedroom beach condo rental, this is a good option at an affordable price. The building is right on the beach with great views, and there's a pool, too. The kitchen has everything you need to cook, the bathrooms are clean and modern, and the furnishings are nice. Restaurants and shops are very close by and you can reach them on foot.
This gorgeous 2-bedroom condo has room for up to 8 people and sits right on the beach in Ponce Inlet. Having undergone recent renovations, the kitchen is high-end and fully-equipped so you can cook all of your meals in style. The furnishings are also new and modern, the bathrooms are crisp and clean, and the bedrooms are elegant. The nice balcony has plenty of great views. Laundry is in the unit, and you'll be able to use the pool, grills, and more.
Just 3 minutes on foot from the beach, this terrific and affordable
3-bedroom
, 2-bathroom house has a swimming pool, a fully-equipped kitchen, and plenty of nice amenities. Two of the bedrooms have large beds, while the 3rd has twins which are great for kids. This is definitely a family-friendly house, but it could also be good for a group of friends looking for a relaxing place to stay. Laundry, wi-fi, parking, and more are included.
Some photos are courtesy of airbnb.com.
Share This Article