Daytona Beach Spring Break: Where to Stay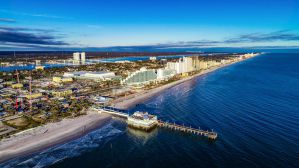 Spring break in Daytona Beach is a quintessential American cultural experience. But depending on who you are (or perhaps how old you are), "spring break" can mean different things to different people. For the college crowd and those in their 20's, it's a time to let loose and have fun. For families with kids, it's a time to escape the 9-to-5 grind and take a much needed vacation. Either way, Daytona Beach is a great place to kick back, relax, and have some fun.
If you're in college or in your 20's, spring break is a graduation requirement. At least, that's the excuse we're using when we book our oceanfront room, grab 10 of our best friends, cruise through the Brew Thru, and spend the next week sleeping all day because we'll be awake all night. Or something like that. Yes, spring break in Daytona Beach is popular with college-aged visitors and anyone that wants to enjoy the nightlife, bars, clubs, activities on the boardwalk, and the presence of all their friends.
But if you're a family with kids, or even a group of friends looking for a more relaxed and less nightlife-focused trip, Daytona Beach has plenty to offer for you, too. Plenty of places along the beach in the Daytona region are ideal for having a great time at the pool, enjoying some golf, tennis, fishing, boating, putt-putt, BBQ's, and more. And you don't have to stay right in the heart of Daytona to enjoy the activities, because if you just go a few minutes north or south, it's a little more quiet but still close enough.
If you're looking for a place to stay in Daytona Beach for spring break, we have put together our list of the best Airbnb vacation rentals for larger groups for your next amazing trip to the beach. All of the places we have listed below offer the extra space you need combined with great locations on the beach and proximity to the activities, restaurants, and nightlife around town. We know it can be hard to find just the right place, especially if you've looked for a VRBO vacation rental or a beach house on Airbnb, because there are just so many options that it's overwhelming. We've done the hard part for you and found the absolute best spring break vacation rentals.
This article is part of our series covering
places to stay in Daytona Beach
. So, you might want to explore some of our other guides if you're looking for a
beach house in Daytona Beach
, a
beach condo rental in Daytona Beach
, or even try some of the other nearby beach communities that are part of the Daytona region such as
Ormond Beach
,
Daytona Beach Shores
, or
New Smyrna Beach
.
But on to spring break! Let's get started with finding a place to stay for your next spring break trip in Daytona Beach.
What are the best beach houses and beach condo rentals for Spring Break in Daytona Beach, Florida?
Contents: Luxury Penthouse Apartment - Oceanfront 4-Bedroom Condo Rental | A Wyndham Ocean Walk 2-Bedroom Beach Condo | Paradise Point - Luxury Beach House with Pool | Private Beachfront 5-Bedroom Vacation Home with Pool | Oceanfront House - Luxury Vacation Rental | 4-Bedroom Ormond Beach Family Pool House Vacation Rental | Beach Home with Ocean View and Kayaks | Horizons 2-Bedroom Beach Condo Rental
Wow! This
4-bedroom
penthouse apartment is not just gorgeous, but it's also oceanfront with amazing views looking out over the ocean and up and down the beach. Up to 10 people can stay here. Spread over two floors, the open and spacious beach condo has a fully-equipped and high-end kitchen, modern and luxurious bathrooms, and a huge balcony on the 2nd level. The bedrooms are flexible, and 2 of them have sets of twin beds and bunk beds so that more friends or family members can stay here in comfort. Some rolling cot beds are also included. The building (Horizons Condos) also has a swimming pool and a gym. Located within walking distance to plenty of shops, restaurants, and bars, this amazing beachfront vacation rental also has a great location. Check out the photos!
Here's a fantastic 2-bedroom condo at the Wyndham Ocean Walk, which is in the heart of central Daytona Beach. With room for up to 8 people, plus a nice kitchen and modern bathrooms, this is a terrific beach condo rental with plenty of room and a long list of amazing amenities. The multiple swimming pools (indoor and outdoor) along with beachfront access, a poolside bar, a game room with billiards, and a gym will keep you occupied. And as for the location - it's right in the center of central Daytona Beach, so all of the restaurants, shops, rides, boardwalk, bars, activities, and more are just right outside the front door in the surrounding blocks.
This spacious and beautiful
5-bedroom
house has something for everyone. It's located right on the beach! Starting with the swimming pool in the back, there's also a built-in hot tub along with a covered patio for a BBQ grill and dining table. Inside you'll find a huge amount of space starting with the game room with a pool table and fireplace that opens out onto the pool deck. The kitchen is large and modern, with everything you need to cook all of your meals in style. Several balconies and decks look out onto the beach, and you'll have a private access down to the sand and waves. The bedrooms have a mix of bed sizes, and one room has bunk beds which is great for kids. Other bedrooms have larger queen beds, making this house great for either a large family or a large group of friends headed on a beach trip. The bathrooms are also well designed, updated, and clean.
Daytona Beach Shores
,
Florida
With space for 12 people, this gorgeous
5-bedroom
beachfront house has a swimming pool, plenty of amazing views out to the ocean, a spacious interior, and a long list of luxury amenities. The spacious living room, combined with the other seating areas around the house make for a nice place for various groups to relax and unwind around the house. The kitchen is not just large, it's also high-end and looks like it came out of a design magazine. You'll be able to cook all of your meals in style here. Just outside the glass doors to the beach is a huge deck with a pool, lounge area, and outdoor table. You'll probably want to spend most of your time out here or just down the steps at the beach. The bedrooms and bathrooms are equally as impressive. Check out the photos!
Wilbur-By-The-Sea
,
Florida
Here's a luxurious 3-bedroom house with some gorgeous decor, amazing beachfront views, large windows, and a hot tub on the expansive deck. The kitchen looks like it came out of a design magazine. The dining room has so many windows and views you won't know where to look, and it also has a sauna. In addition to the deck, the upper level has a huge balcony, too. The bathrooms are as elegant as the rest of the house, so check out the photos!
Located across the street from the beach, here's a
4-bedroom
beach rental house with a swimming pool and a large open-concept layout. The kitchen and living room space is huge and makes for a nice spot to relax, hang out, and plan adventures in the Daytona Beach area. The kitchen is well done and high-end, so you can cook all of your meals in style. Bedrooms are equipped with a variety of furnishings for adults and kids, and the 4th bedroom features bunk beds which the kids will love. The bathrooms are also luxurious and recently renovated. Add this one to your short list if you have a larger family or need more space for all of your friends.
Just 50 yards from the beach (you don't have to cross the street), this quaint beach rental house has a view of the ocean along with a very nice kitchen, spacious bedrooms, modern bathrooms, and kayaks to take out on the water. You'll also be able to use the provided beach chairs and toys such as boards, rafts, a grill, and more. With 2-bedrooms, there is enough room for up to 6 people, making it the perfect house for a family beach vacation or a friends' reunion to the beach.
This nicely appointed
2-bedroom
condo rental in the Horizons building offers terrific views from the 15th floor overlooking the ocean from the huge windows and expansive balcony. Inside is a full kitchen so you can cook your meals, along with modern, clean bathrooms. The bedrooms are laid out so that up to 8 people can stay here comfortably, as they have multiple beds, along with a sofa that folds out into 2 full sized beds! The building has a pool and gym, and direct beachfront access. It's close to restaurants, bars, and shops, too.
Some photos are courtesy of airbnb.com.
Share This Article