The Best Airbnb Vacation Rentals in Port Orange & Wilbur-By-The-Sea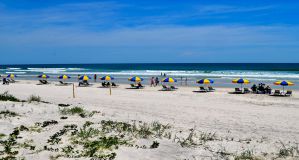 Towards the southern end of the Daytona Beach region lie the beach towns of Port Orange and Wilbur-By-The-Sea. These relaxing, laid back, and family-friendly oceanfront communities have plenty of activities, restaurants, and shops. But also, the area is only 15 to 20 minutes away from the heart of Daytona Beach, so you can easily find plenty of activities to do such as mini-golf, amusement park rides, fishing, and more. Or, head south to the New Smyrna Beach area to experience some of the wildlife spots to see manatees and dolphins. If you're looking for an area to avoid the party-oriented nightlife crowds, but still be within easy reach of so many amazing activities, this area of the Daytona Beach region is a great choice.
If you're looking for a place to stay in the area, we have researched the best Airbnb vacation rentals in Wilbur-By-The-Sea and Port Orange, Florida for your next trip. The area is fairly quiet, and has more beach houses than condos. This means that you'll have more space, more peace and quiet, but also easy access to fun activities from any beach house rental in the area. All of these vacation rentals have great locations on or by the beach, full kitchens, and some have other amazing amenities such as swimming pools and hot tubs, too.
This guide is part of our series on the
best Airbnbs in Daytona Beach
, so check out the other guides for more ideas on places to stay, too.
Where are the best beach condo rentals and vacation houses in Port Orange and Wilbur-By-The-Sea?
Contents: Paradise Point - Luxury Beach House with Pool | Vitamin Sea - Beachfront Vacation Home | Oceanfront House - Luxury Vacation Rental | Hope's Haven - Vacation Rental Beach House with Pool | The Blue Marlin - Pool House Vacation Rental | The Little Pink House | Pool House Across from Beach
This spacious and beautiful
5-bedroom
house has something for everyone. It's located right on the beach! Starting with the swimming pool in the back, there's also a built-in hot tub along with a covered patio for a BBQ grill and dining table. Inside you'll find a huge amount of space starting with the game room with a pool table and fireplace that opens out onto the pool deck. The kitchen is large and modern, with nice finishings so you can cook all of your meals in style. Several balconies and decks look out onto the beach, and you'll have a private access down to the sand and waves. The bedrooms have a mix of bed sizes, and one room has bunk beds which is great for kids. Other bedrooms have larger queen beds, making this house great for either a large family or a large group of friends headed on a beach trip. The bathrooms are also well designed, updated, and clean.
This
4-bedroom
luxurious home has decks and balconies that spill down the hill to the beach. At the top is the house which centers around a large living room with huge windows allowing plenty of natural light to come in. The views are spectacular! The kitchen is not just modern, but also updated and luxurious. The rest of the house is equally as nice with a fun beachy vibe along with plenty of room for a family or a group of friends. This would be the perfect beach house for a girls' weekend away or several families traveling together. It's also not far from restaurants and shops. Check out the photos!
Wilbur-By-The-Sea
,
Florida
Here's a luxurious 3-bedroom house with some gorgeous decor, amazing beachfront views, large windows, and a hot tub on the expansive deck. The kitchen looks like it came out of a design magazine. The dining room has so many windows and views you won't know where to look, and it also has a sauna. In addition to the deck, the upper level has a huge balcony, too. The bathrooms are as elegant as the rest of the house, so check out the photos!
If you need space for a group or a larger family, here's a very nice
5-bedroom
house with a covered pool, a huge and updated kitchen, modern bathrooms, and a colorful decor. Located directly across the road from the ocean, you can be at the beach access on foot in just a few minutes. This is an amazing house, so add it to your short list!
Gorgeously renovated, this
3-bedroom
house has a glamorous pool in the back, a stylish fully-equipped kitchen, a large screened porch, a room with twin beds for the kids, nice big beds for the adults, garage parking, laundry, wi-fi, and plenty of other extras. Located just across the street from the beach, you can walk to the beach access path in just 2 minutes. This is a great place for a family, as it also includes beach chairs and toys in addition to the amazing pool.
Wilbur-By-The-Sea
,
Florida
This cute
3-bedroom
house is indeed pink, but don't let that hold you back. With plenty of great features including amazing views right out to the beach along with a nice fully-equipped kitchen, anyone would be comfortable here.
Here's an affordable 3-bedroom house that has a swimming pool and a very convenient location across the street from the beach. With a full kitchen, you can cook all of your meals, too. The bedrooms and living room are all nicely furnished, too. This is a great option for a family on a budget-friendly trip to the beach, especially if you need a little more space. It's also convenient to everything in town such as shops, restaurants, and activities around the Daytona area.
Some photos are courtesy of airbnb.com.
Share This Article