Just north of West Palm Beach is Singer Island, also called Palm Beach Shores, and is next to the town of Riviera Beach. This beautiful barrer island is home to a number of resort-style condo buildings, private homes, restaurants, shops, and activities. You can snorkel right off of the beach in the ocean or in the waters between the island and the mainland, too. As the island is fairly narrow, it's easy to get around to the multiple restaurants, bars, and shops. Plenty of fishing charter boats can be rented, as well as jet skis and other water activities, too.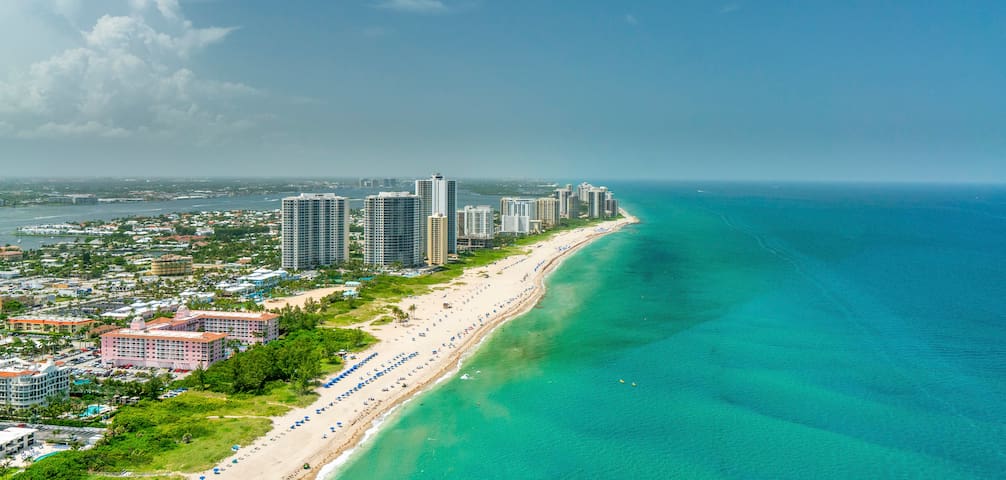 If you're looking for a place to stay on Singer Island and Palm Beach Shores, we have researched the best Airbnb vacation rentals as condos and houses. Some of these places are perfect for families, while others are smaller and great for a couple traveling alone. Or, many could also be good for a girls' weekend getaway or a guys' bachelor trip. Either way, all of these vacation rentals have amazing amenities, great locations by the beach, and reasonable prices.
Jump to:
-
Houses
-
Condos
-
Marriott Ocean Pointe Resort
-
Marriott Palm Beach Resort
Houses
Houses offer more space, extra bedrooms, and privacy. The houses on Singer Island are very close to the beach because the width of the island is narrow, so no matter where you are, the beach is just a few blocks away. All of these houses have full kitchens and terrific amenities.
Casa Blanca 4BR House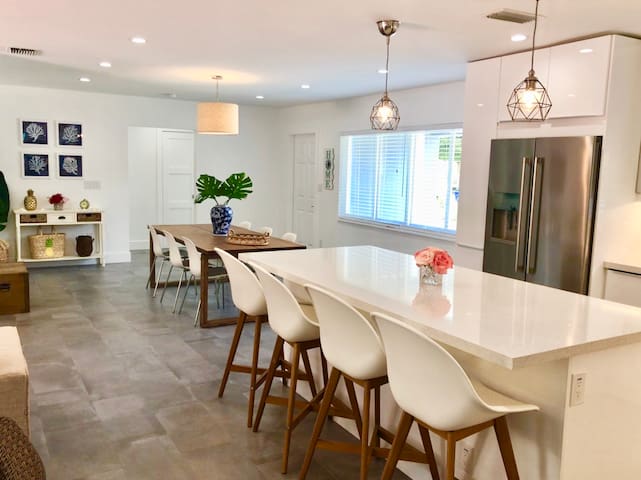 If you need more space for your larger family or group of friends, this beautiful
4-bedroom
, 2-bathroom home is perfect. It's gorgeous, nicely appointed, updated, and has a
swimming pool
in the back. The kitchen is not just fully stocked, it's also well designed and looks like it came out of a home decor magazine. The bathrooms are equally as luxurious, and the bedrooms are spacious and comfortable. It's also
pet-friendly
! Large dining tables both inside and out by the pool are the perfect size for your group, too. A high-end grill is included, too. Laundry, Wi-Fi, parking, a work desk, cable TV, and more niceties are included. Located just a few blocks from the beach, you can get there on foot, and many other restaurants and shops, too.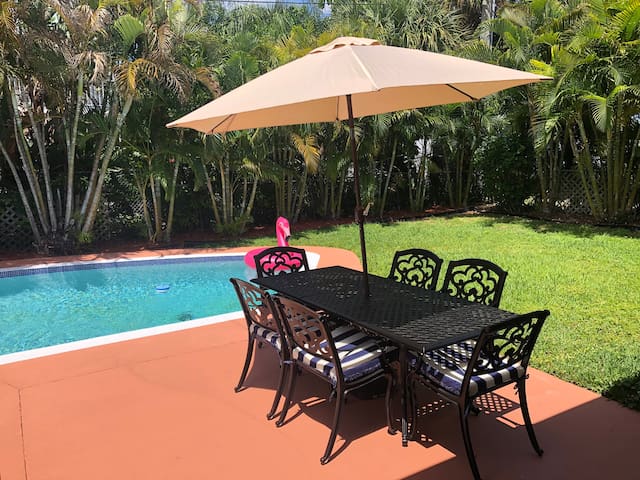 4BR Pool House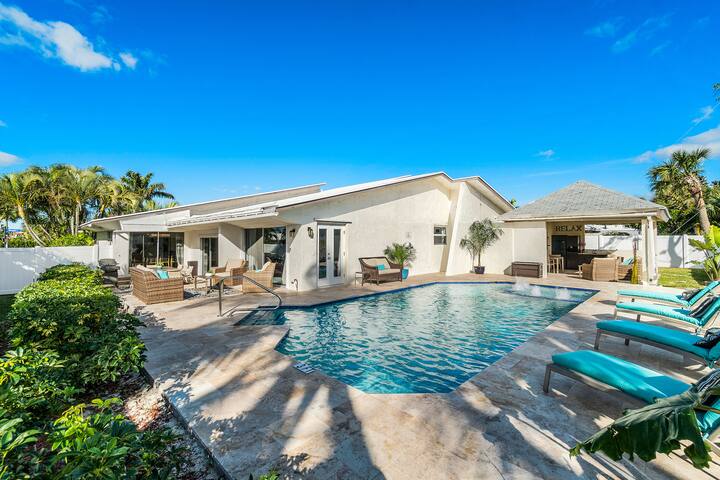 With room for up to 10 people, this is a fantastic
4-bedroom
house with a pool, cabana, and luxury touches on the inside. Located just a few blocks from the beach and Ocean Reef Park, this is a nice and quiet location that is still convenient to everything on the island. The pool is heated, and next to it is a covered cabana with a nice seating area. More outdoor seating and dining can be found just outside the large sliding doors that open from the living space. Inside is a beautiful updated kitchen with modern appliances. You can cook all of your meals here in style. The large living room opens from the kitchen and has a nice TV area. The master suite is elegant, luxurious, and romantic. The 2nd bedroom is just as nice. The 3rd has bunk beds which the kids will love, too. A grill, laundry, Wi-Fi, garage parking, cable TV, a work desk, and more are all part of the package. This is a spectacular house, so check out the photos!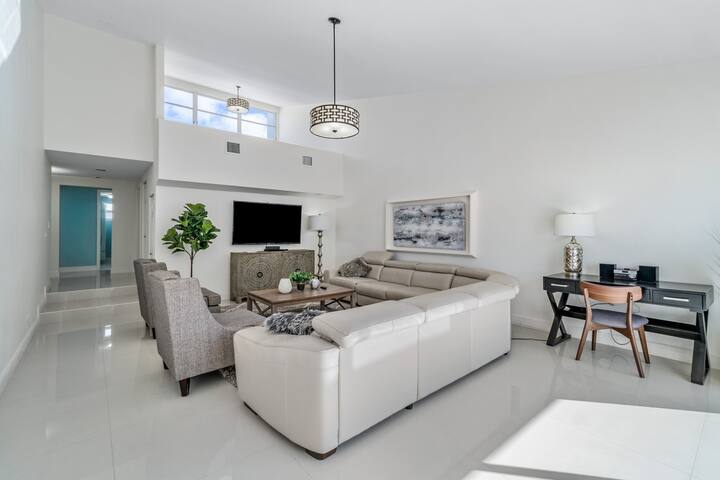 Eden by the Sea - Pool House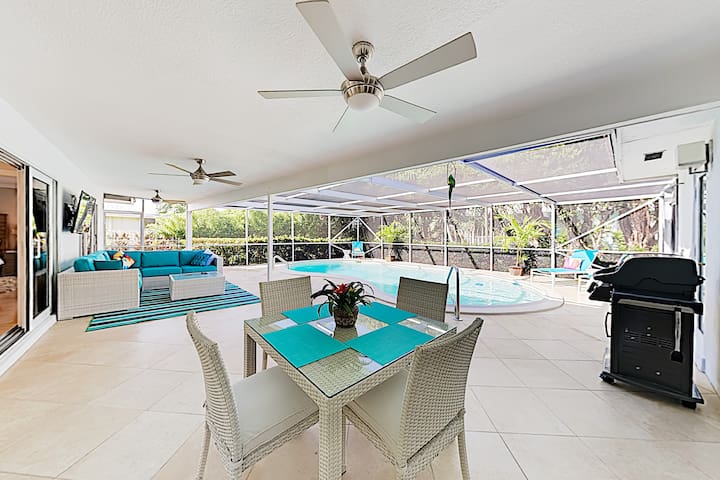 Wow, this
3-bedroom, 3-bathroom
pool house is just a few blocks from the beach and has a covered pool, gorgeous interior, and space for everyone. It truly is an eden. The large open-concept layout features a beautiful new kitchen along with 2 living room seating areas and a nice dining table. The kitchen is the center of attention so anyone cooking will feel like they are part of the conversation (or you can keep an eye on all the kids). With bright modern colors, the rest of the house is well designed and cheerful, but in a classy and tasteful way. The bathrooms are just as modern as the kitchen, too. The 3rd bedroom has a set of twin beds which is nice for the kids. And obviously the kids will love the pool, too. Around the pool you'll find more patio seating, another outdoor dining table, a grill, and plenty of natural light. Perfect for a family!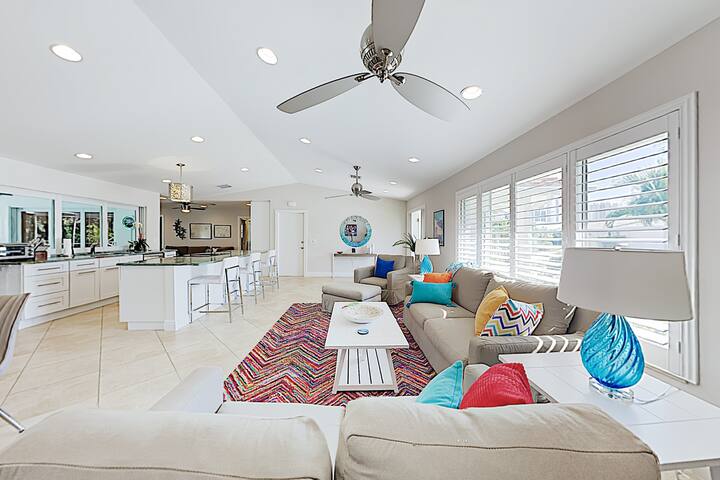 Condos
A variety of condos on the beach or very near the beach are available as vacation rentals on Singer Island. Below are the best of them.
Oceanside Oasis 2BR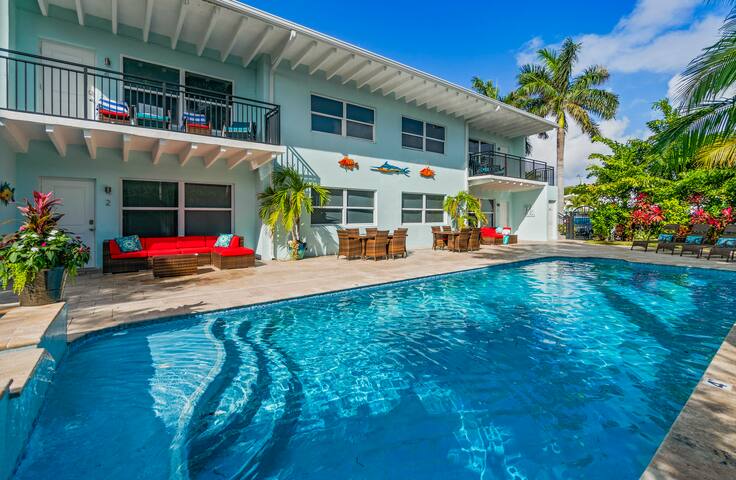 This remodeled
2-bedroom
condo is in a small building that is only a 4-minute walk to the beach on Singer Island. You'll have a pool and spa that you only share between the 4 total units in this boutique-style building, so it's great for families with kids and anyone who wants a little privacy. The condo has a beautiful fully-equipped kitchen so you can cook all of your own meals. The bathrooms are also luxurious as they are updated and designed in a very nice style. The bedrooms are comfortable and the living room is also well appointed. Laundry, Wi-Fi, free parking, and other niceties are included. This is the perfect spot!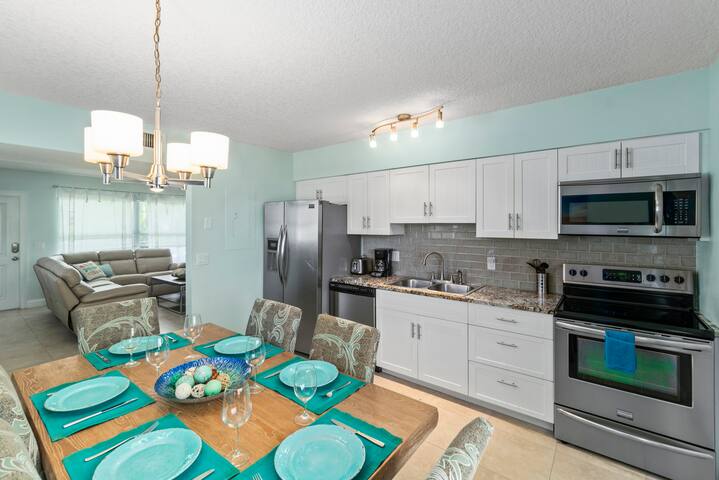 Palm Beach Shores Resort
Here's a nice 1-bedroom condo with a fully-equipped kitchen located at the Palm Beach Shores Resort. This smaller hotel-style resort has a nice pool, gym, restaurant, and more and sits right on the beach, so the location is perfect and the amenities are nice. The condo is furnished nicely, and you'll have a fully stocked kitchen to cook all of your meals, too.
Bluewater Bungalow #4
This 2-bedroom affordable condo is just a block back from the beach and has plenty of space for a family, a couple, or a small group of friends. With a small but fully-equipped kitchen, you can cook all of your meals. The building has a few nice outdoor seating areas, and you're close to shops and restaurants, too.
Oceanside Studio (Affordable)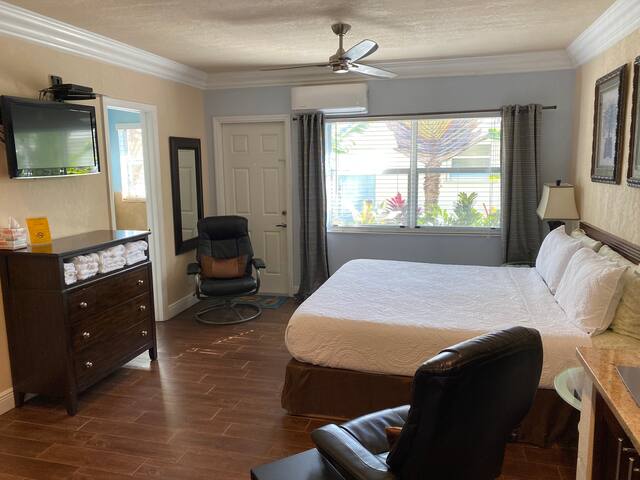 Here's a nice and affordable condo right across from the beach and next to the Ocean Mall with plenty of restaurants, bars, and shops. The
studio
condo has a full kitchen, a modern and clean bathroom, and a comfortable bed. This is a great place to stay for a couple looking for a vacation rental at the beach. Wi-Fi, free parking, cable TV, and other niceties are included. The building has a pretty courtyard with some lounge chairs, too. This is a great find at a great price.
Renovated Beach Condo 2BR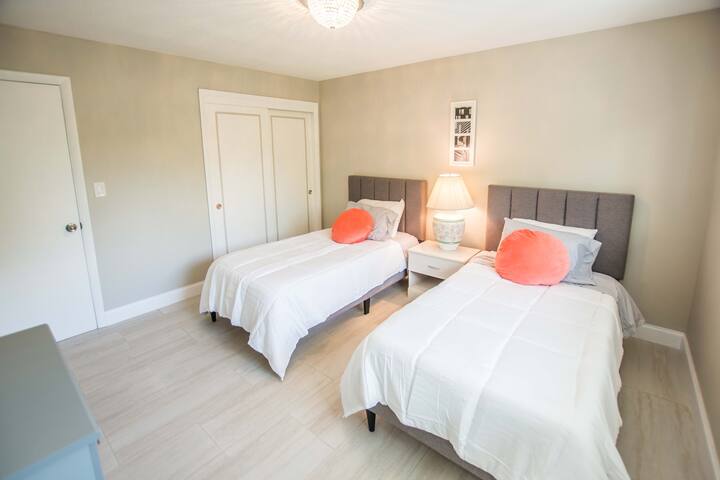 This beautiful and renovated
2-bedroom
condo is close to the beach as it's just one block back from the sand. The small building only has a few units, so you'll have a nice and quiet stay here. With a fully-equipped renovated kitchen, you can cook all of your meals in style. The open floorplan lets you keep up with the kids or the conversation in the living room, too. The bathroom is also modern and clean, and the beds are comfortable. A small private balcony on the back is a good spot to enjoy the Florida weather. Shops and restaurants are a very short drive away. Free parking, laundry machines, Wi-Fi, a work desk, and other niceties are included. And it's affordable!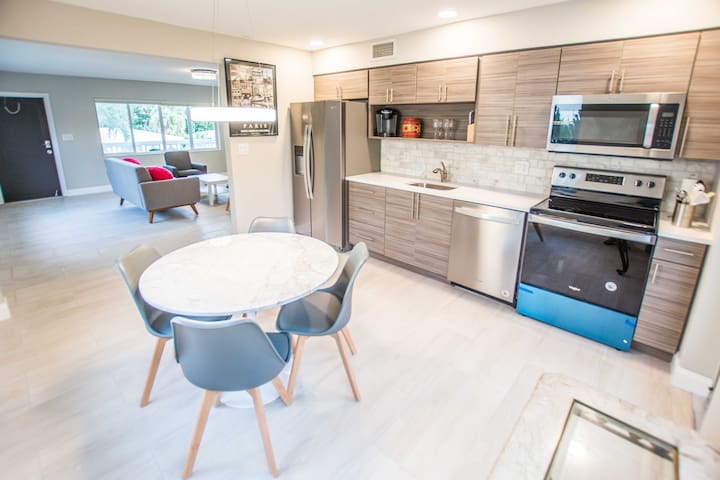 Singer Island Escape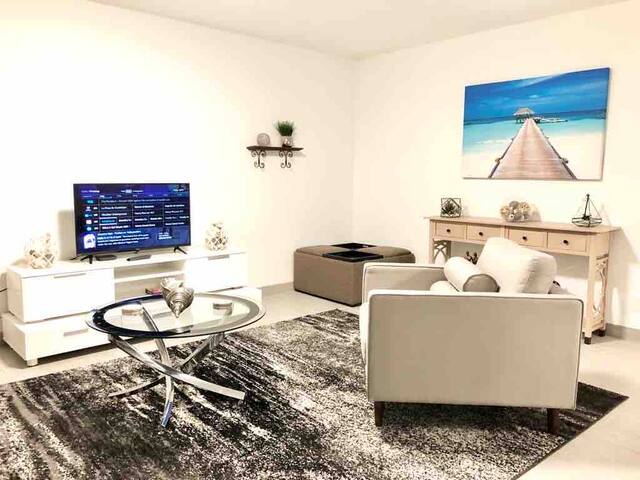 A few blocks back from the beach, this
2-bedroom
condo has nice features and an
affordable price
. The kitchen is modern and updated with everything you need to cook. The bedrooms have large beds, so this is a good spot for a family or a small group of friends traveling to the beach. Wi-Fi, laundry, free parking, TVs, and more are included, too.
Marriott's Ocean Pointe Resort
At the southern end of Singer Island lies this luxurious resort full of condos known as Marriott's Ocean Pointe, which is part of Marriott's Vacation Club (a timeshare ownership resort). With studios, 1-bedroom, and 2-bedroom condos, various units are individually owned and rented out as vacation rentals. In addition to terrific service provided by Marriott, the beachfront resort has multiple large swimming pools, a splash pad for kids, hot tubs, grills, fire pits, kids play areas, pool bars and restaurants, a fitness center, tennis courts, volleyball, shuffleboard, and mini-golf.
Some of the vacation rentals are like normal hotel rooms with one large room with a bed, sitting area, and kitchenette. Other rooms are much larger villas with
multiple bedrooms, full kitchens, balconies
and more. They also have laundry, cable TV, Wi-Fi, and other niceties. In the larger villas you can cook all of your own meals and never have to leave the resort if you don't want to. Or head out to the nearby shops and restaurants on the island or around West Palm Beach.
Below are just a few of the condos available on Airbnb, or you can find more on
Marriott.com here
.
Beachfront Tropical Paradise Studio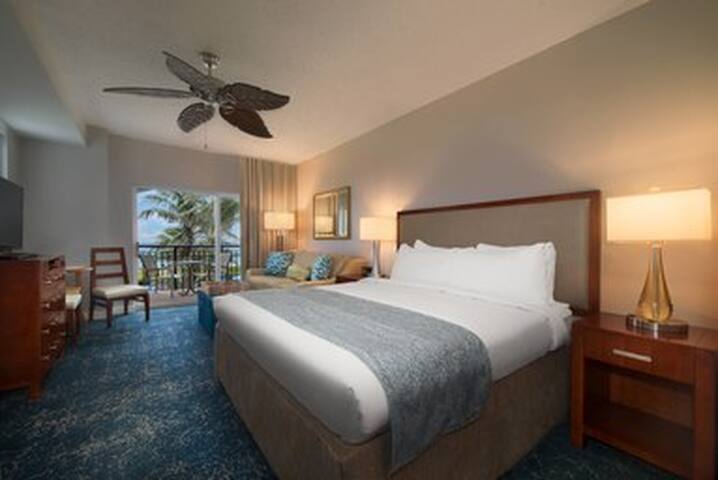 Here's a fairly affordable
studio
condo with a kitchenette and balcony. The kitchenette has a sink, microwave, and mini-fridge.
Marriott's Ocean Pointe 2BR
With 2 bedrooms and a
full kitchen
, you can have plenty of space and cook all of your meals in this villa. It's the perfect size for a family, as the sofa also pulls out into another bed if you need even more space.
Marriott's Ocean Pointe 1BR
Also equipped with a full kitchen, this 1-bedroom vacation rental has room for up to 4 people and a balcony, too.
Marriott's Palm Beach Resort

Below are a few of the best vacation rentals at this resort, or you can see more on Marriott.com here.

Marriott Palm Beach Resort 2BR

A fantastic kitchen, a nice balcony, a comfortable living room, and 2 relaxing bedrooms are what you'll find here. And add to that all of the previously mentioned amenities and you've got yourself a recipe for a terrific vacation at the beach.

Marriott Palm Beach Resort 1BR

One bedroom with a nice living room and fully-equipped kitchen, plus all of the resort's amenities.



Happy Travels!