West Palm Beach On a Budget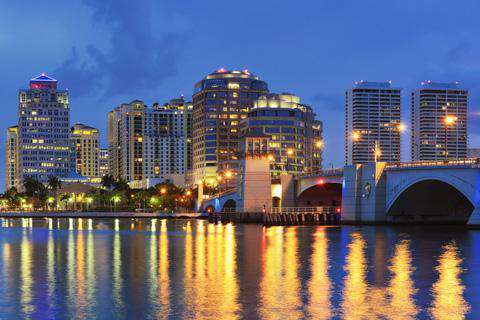 One of Florida's most dynamic cities, West Palm Beach encapsulates the best of a metropolitan city all while nestled in the warm serenity of a tropical paradise. Located in southern Florida, about an hour's drive north of Miami, West Palm Beach holds a population of 99,919 and is one of the three main cities in South Florida. This city is known for its unique culture, world-class dining, and extensive shopping districts. From young to old, everyone can find their own niche in such a pleasant, diverse city. No matter what time of the year it may be, you can be assured that it is gorgeously sunny in West Palm Beach!
Sights
If you are looking to truly embrace the subtropical splendor of Florida, sit back and smell the roses at one of West Palm Beach's major sights, Mounts Botanical Garden. Built in 1925 in honor of Marvin U. "Red" Mounts, who served Palm Beach County Extension and Palm Beach County farmers for over 40 years, Mounts works as one of the oldest and largest public botanical gardens in the Palm Beaches. While gazing within the seemingly never-ending garden, Mounts also provides a wide array of programs for individuals to learn about the enviornment. Mounts holds guided tours for both individuals and groups, educating people on the biological diversity within this garden. Be sure to donate when leaving this unmistakably gorgeous garden to help it grow!
In the heart of downtown West Palm Beach lays an ever popular district that will surely satisfy all your shopping and dining needs. Though the list of stores downtown is nearly endless, some include Saks Fifth Avenue, Nordstrom, Banana Republic Factory Store, Kenneth Cole, and DSW Designer Shoe Warehouse. Besides its plethora of shops, the downtown area also offers daytime activities like laser tag, mini golf, movies, and go-karting. However, when the sun sets, the party is far from over when you're downtown! Bars, restaurants, and clubs light up the night to sustain the thriving nightlife the city holds. No matter your tastes, you'll find something to do downtown.
Activities
The subtropical wilderness does not compare to its wildlife! McCarthy's Wildlife Sanctuary houses hundreds of native Floridian animals that are either sick or wounded. Foxes, bobcats, cranes, pelicans, hawks, owls--the refuge works to nurse these animals back to health, so they may return to the wild. With over 170 permanent resident animals at the sanctuary, the wildlife exhibits McCarthy's has is nearly endless. Though closed Sunday and Monday, McCarthy's tour hours last from 11:00am to 1:00pm. The tour cost is $35 per adult and $25 per child. If you are looking to get a thrilling adventure out of Florida's wild side, McCarthy's is the place to be.
Besides its lions, tigers, and bears, Dorothy can still have fun under the sun in West Palm Beach as well. Okeeheelee Park allows individuals to swim and sit under the hot Floridian sun. Besides its blue waters, Okeeheelee Park also provides three 9 holes golf courses, a dog park, baseball, softball and soccer fields. Okeeheelee Park also houses a wildlife preserve for many species of migrating birds. There are also a plethora of lake activities you can explore, including water skiing, paddle boats, kayaks and RC boating. Okeeheelee Park is proud to hold both national water skiing championships and BMX bike competitions in its county park, making it a gem for sports fans all around the world.
Food and Dining
Known as one of the top 7 restaurants in West Palm Beach by the Palm Beach Post, Pistache French Bistro has been serving up traditional cuisine in art-nouveau-style digs since 2008. This high-class eatery is located in the downtown area on Clematis Street. Pistache offers menus for brunch, lunch, dinner, and dessert. Some of its most well-known meals include moules frites "mariniere," grilled swordfish, Florida pompano, and grilled mahi mahi. Whatever dish you decide to tackle, be sure to relish the oceanic flavors of Pistache's.
Transportation
Probably one of the most convenient ways to get around the city, West Palm major car rental vendors can be found at the airport or throughout the city, including Enterprise, Hertz, Avis, and Budget. Nevertheless, be sure to pay for pricey tolls before entering the city. Parking, however, is free and plentiful. Besides rental cars, the Palm Tran bus system operates more than 30 routes throughout West Palm and Palm Beach. The bus fare is affordable at $2 per ride or $1 for seniors and students 21 and younger, running from 5:00 am to 10:30pm. If you find that your travels are limited to only the downtown area, consider using the West Palm Beach Trolley or hailing a taxi. No matter your method of travel, be sure to explore every part of West Palm Beach!
Related:
Looking for a
party hostel in Hawaii
or
Miami
? Traveling alone to
LA
or
New Orleans
? Want a budget hostel in
NYC
?