The beach town of Jupiter, Florida offers a nice place to relax for a beach vacation. The town itself is full of restaurants, shops, and activities, while over at the beach and intracoastal waterway you'll find watersports, snorkeling, kayaking, and more. You're also very close to the Loggerhead Marinelife Center where you can learn about the turtles that come ashore. Many visitors also come for baseball's spring training at Roger Dean Stadium in Jupiter. And don't forget to visit the famous Jupiter Lighthouse! Dubios Park is a great place to go for nice views of the famous lighthouse as well as put your boat or kayak into the water. Jupiter is also close to the nearby major destinations of West Palm Beach and Boca Raton, where you'll find even more shopping, restaurants, a zoo, and other activities.
Jupiter, Florida makes a great place to stay if you're planning a trip to the beach. A number of terrific Airbnb vacation rentals can be found here, and many of them are close to the beach, offer full kitchens and extra space, and have great amenities such as swimming pools. We have researched the best rental houses and condos in Jupiter for your next beach trip, so here they are.
Jump to:
-
Houses
-
Condos & Apartments
Vacation Rental Houses in Jupiter
If you need more space or a private vacation home, Jupiter has a variety of great houses around town not too far from the beach.
Coastal Contemporary Home - Pool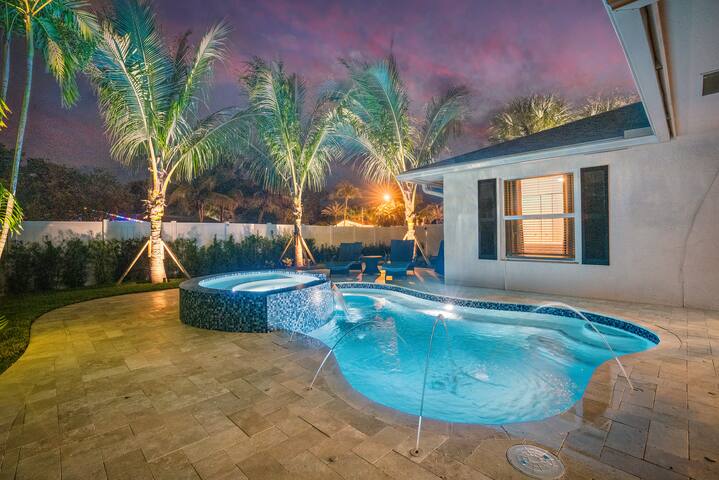 The
3-bedroom
Beach Daze house is recently remodeled from top to bottom and features a brand new beautiful swimming pool in the back next to a nice covered porch. Inside you'll find a gorgeous kitchen that just stepped out of a magazine, along with brand new bathrooms and a well designed set of bedrooms. The main living room area features a large TV and flows into the open-concept kitchen area. This kitchen is fully-equipped and high-end, so you can cook all of your meals in style. Dine inside or out as the outdoor dining area is also large and spacious. The bathrooms are elegant, laundry and Wi-Fi are included, and the pool is terrific for both kids and adults. Located within walking distance to parks, restaurants and shops, this house is just a few minutes by car to the nearby beaches (or a long walk). This is a gem!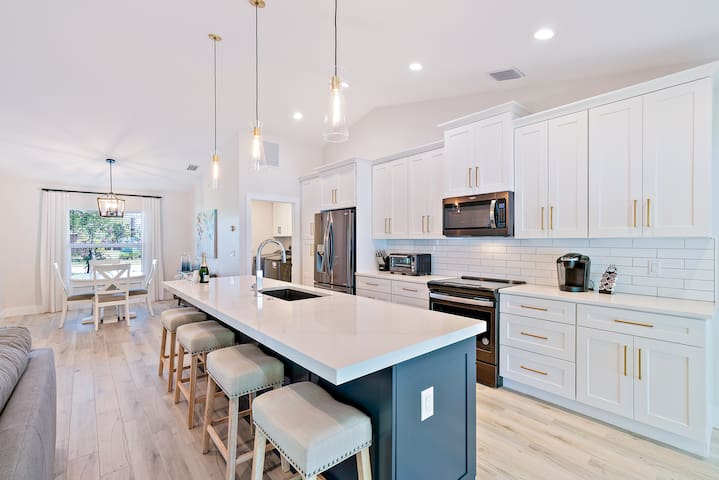 Village Retreat Pool House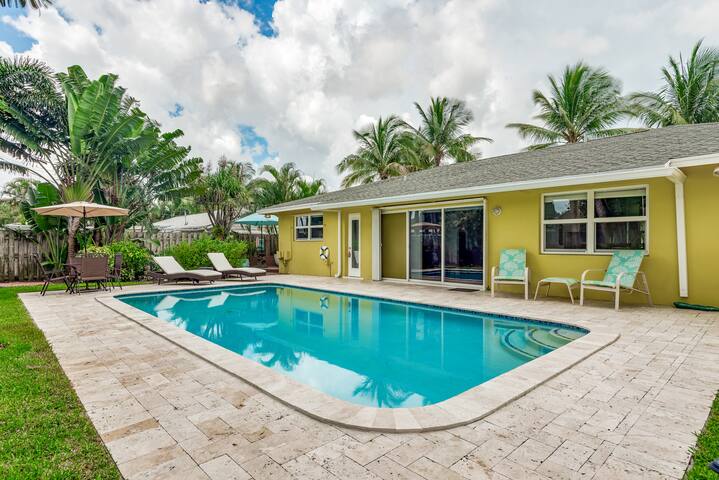 Here's a great 2-bedroom house with a pool out back that is perfect for a family or a group of friends making a trip to the beach. With a comfortable interior featuring a large living room, a high-end modern kitchen with all appliances, and clean, luxurious bathrooms, anyone would be comfortable here. Outside with the pool you'll also find some outdoor seating and lounge options including a hammock and dining table. And don't forget about the private outdoor bathtub, too! The neighborhood is quiet and residential, but it's also not far from the beach and within walking distance to shops, restaurants, parks, and more.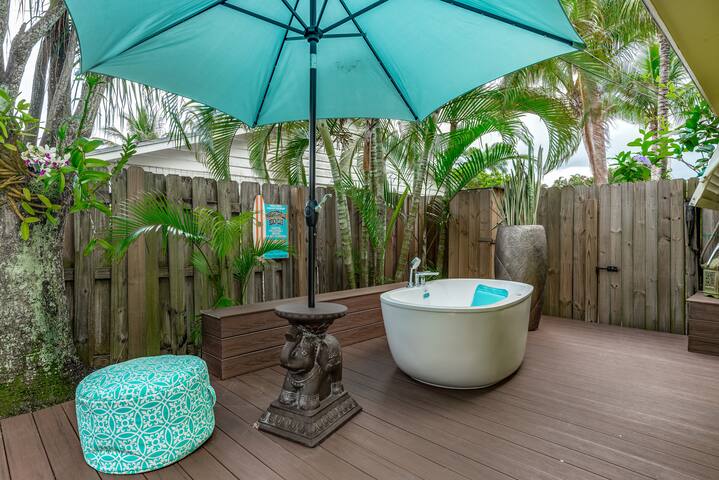 Luxury Vacation Home with Dock & Pool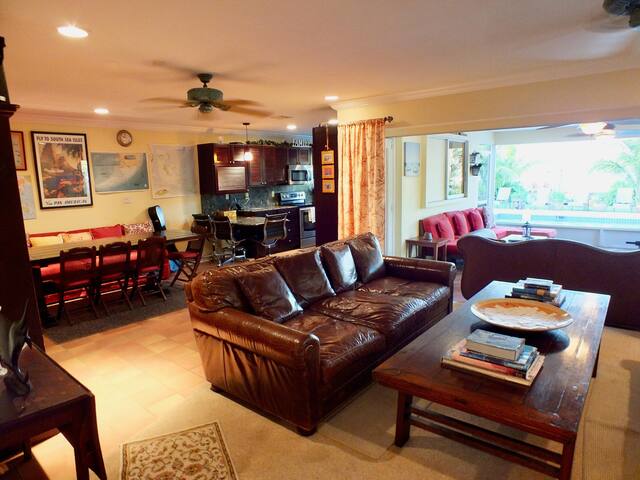 Wow! Sitting right on the water with its own dock as well as a swimming pool and hot tub, this amazing
3-bedroom
vacation rental home has so many amenities that anyone would love it. It's perfect for families who are active and always looking for activities. Or, a group of friends would love it, too. Girls' weekend away, anyone?
The open-concept kitchen, dining, and living room space is perfect for the whole group as everyone can keep up with making great plans to go out on the water or head out to the beach. The kitchen is high-end and new, and has everything you need to cook all of your meals. A separate TV lounge is in addition to the main living room, and there's also a library, too. Even more comfortable seating is found on the screened porch with a ping pong table. The 2 bathrooms are clean and modern. Laundry, Wi-Fi, multiple TV's, a Wii, kayaks, paddle boards, a golf cart, basketball goal, BBQ grill, hammock, and 4 bikes. Wow, that's a lot. Check out the photos!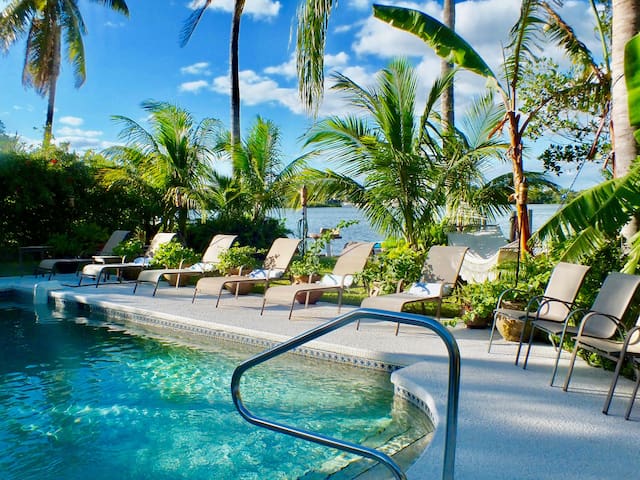 Central Jupiter House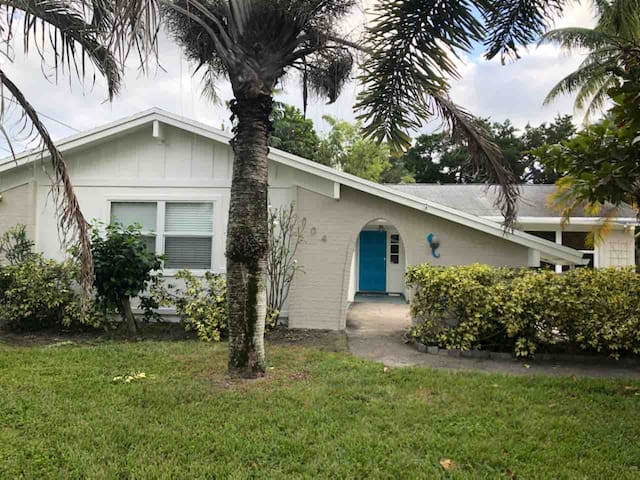 Here's a nice and comfortable 3-bedroom house with an updated interior. Located near shops, restaurants, the river park, and more, the location is very nice. It's just about 1 miles from the beach, too. The kitchen is modern and has all major appliances, plus some extras. The living room and bedrooms are very nicely done, too. A screened porch and the lovely gardens are great places to enjoy the Florida weather. Laundry, Wi-Fi, and other niceties are included.
Townhouse by Roger Dean Stadium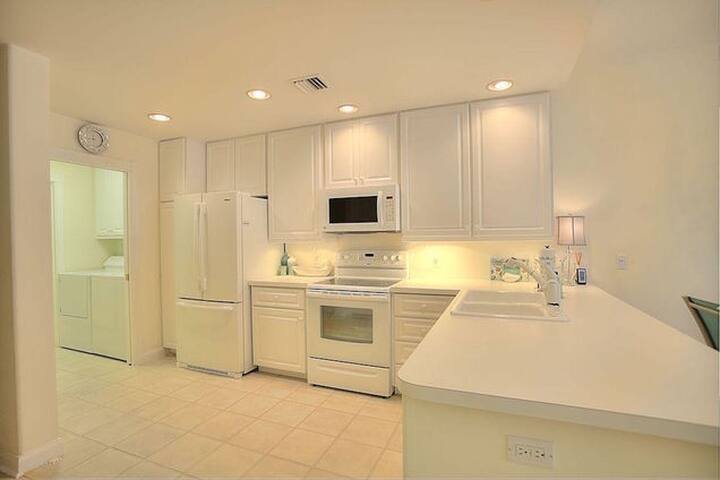 This modern 3-bedroom townhouse has room for up to 8 people, and is located a very short walk to Roger Dean stadium so you can visit the baseball games during spring training. It's also a short distance to a variety of restaurants, shops, bars, and other central Jupiter activities. The interior is comfortable and clean. You'll find a nice kitchen that is fully-equipped so you can cook all of your own meals if you like. Or get take-out! The living room is relaxing, the bedrooms are spacious, and it has multiple TVs. Laundry, Wi-Fi, and other niceties are all part of the package.
Vacation Rental Condos in Jupiter
Luxury 2BR Condo - Walk to Beach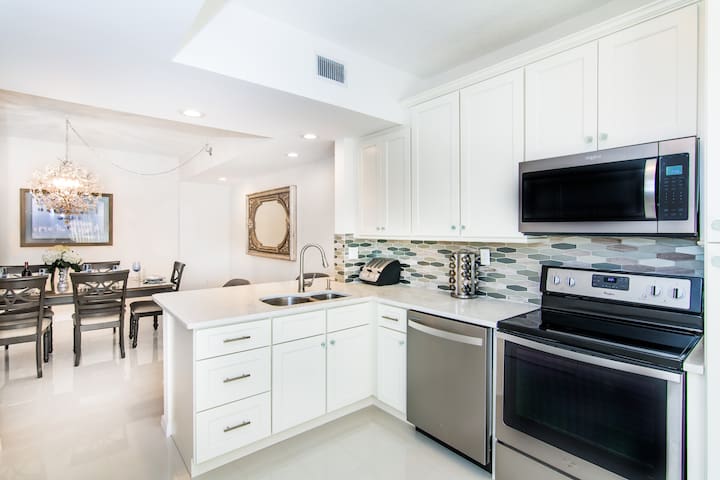 Perfect for a family, a couple, or a small group of friends, this
2-bedroom
, 2-bathroom condo is luxurious, clean, comfortable, and perfectly located. Sitting near the beach, but in a quiet area, you can walk to the ocean in just a few minutes. The complex also has a nice swimming pool, too. The modern kitchen has everything you need to cook, and the bathrooms are also clean and elegantly appointed. A private deck out back has another dining table. The bedrooms also have their own TV's in addition to the huge 55 inch TV in the living room. Nearby is a lake with some nice walking trails, as well as tennis, handball courts, grills, a pool clubhouse, and more. This is a fantastic vacation rental for anyone!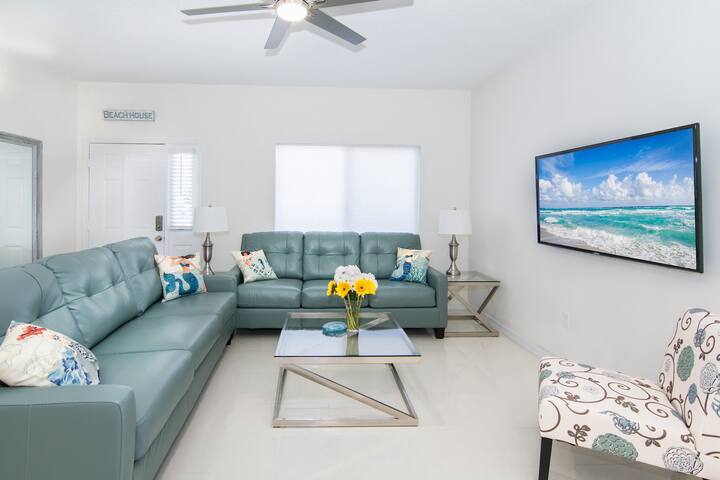 Jupiter Bay East Condo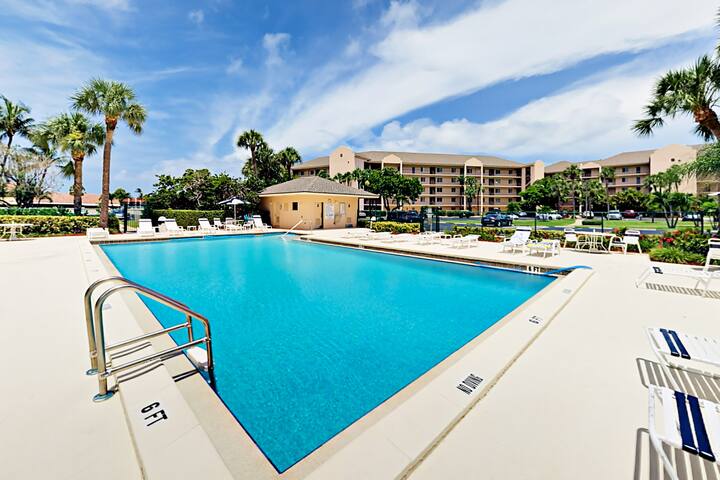 Here's a beautiful and fairly affordable resort-style condo in a complex with a swimming pool, tennis courts, and is within walking distance to the beach. The large open-concept layout lets you see from the kitchen into the dining and living room space, which is all nicely appointed. The kitchen is fully equipped and very modern. The screened porch is a nice touch, too. The 2 bedrooms and bathrooms are also clean and modern, with comfortable furnishings. Check out the photos because this is really a good find at a great price.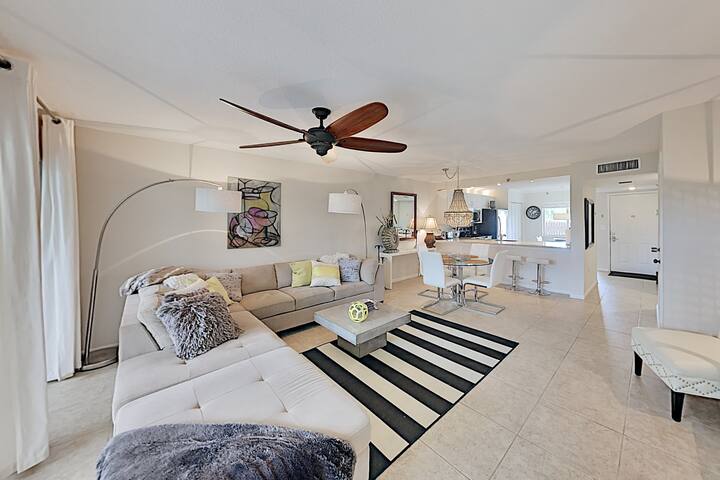 Jupiter Bay Resort Condos
The individually owned condos are often rented out as vacation rentals, and they are all terrific considering the location close to the beach, the pool, and other amenities. They have 1 or 2 bedrooms, fully-equipped kitchens, laundry, and more. Here are a few of the best in the resort area.
2 Bedroom Condo
This one has a terrific master bedroom with a king bed, plus 2 more queens in the 2nd bedroom. The kitchen is modern, and the views over the lagoon are fantastic.
1 Bedroom Condo
Here's a 1-bedroom with a nice kitchen, new laundry machines, and a good view from the porch out to the lagoon.
Updated 2 Bedroom Condo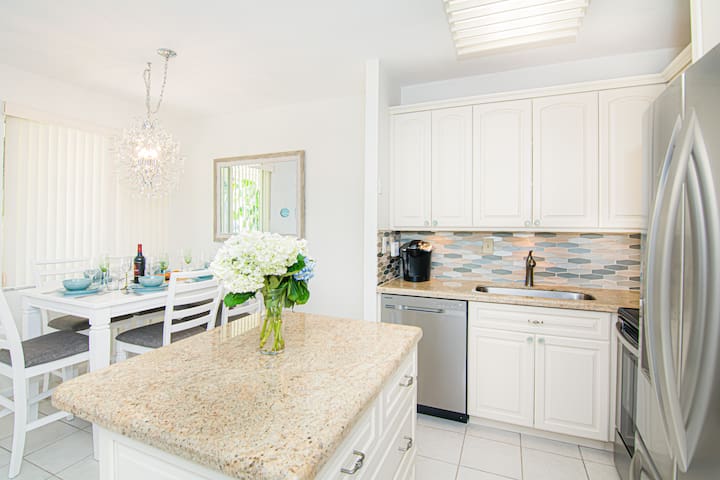 On the ground floor is this recently renovated 2-bedroom with luxurious finishes, an updated kitchen, and a huge 55 inch TV.
2 Bedroom Condo (Bunk Beds)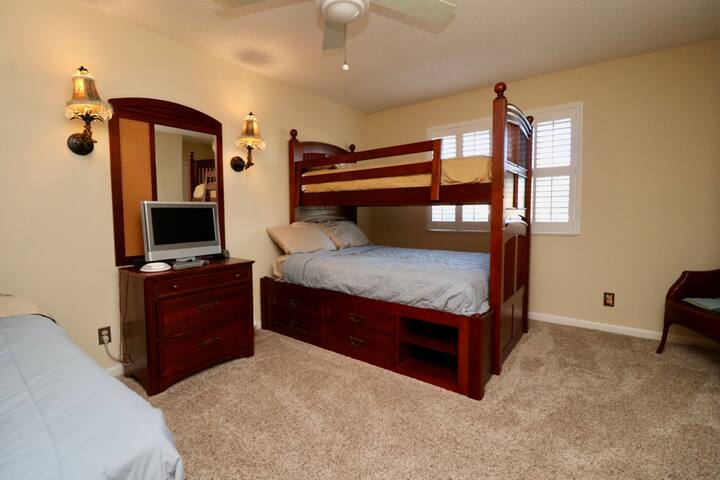 This 2-bedroom is near the pool with a great view over the lagoon. The 2nd bedroom in this condo has 2 sets of bunk beds which can sleep up to 4 people, which is great for the kids.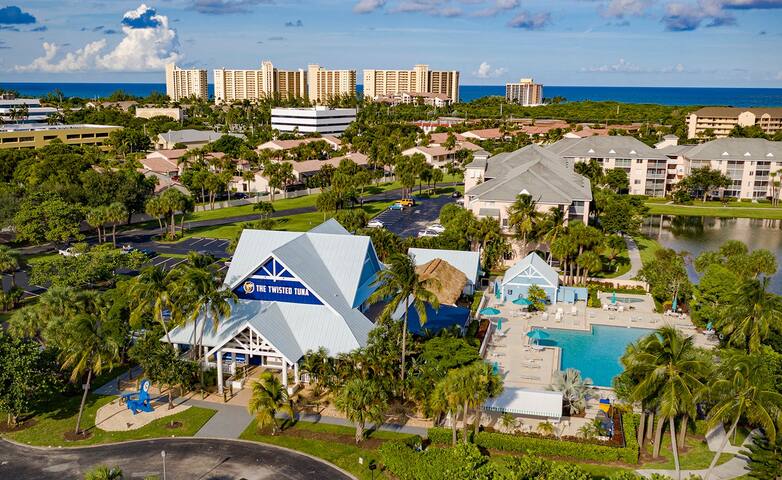 Happy Travels!