The Best Beach House Rentals in Melbourne Beach and Indialantic (Airbnb, VRBO)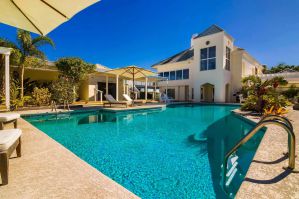 Along the Space Coast, south of Cocoa Beach and Satellite Beach, lie the beach towns of Indian Harbor, Indialantic, and Melbourne Beach. Bordered by the Atlantic Ocean on the east and the Indian River on the west, the narrow barrier island along the shore is full of beach houses for rent along with plenty of shopping, fantastic restaurants, and exciting water sports. And just inland are plenty more activities, too. It's no wonder that people flock to this stretch of the Space Coast to enjoy their beach vacation, and a vacation rental beach house is the perfect way to enjoy it, especially if you're traveling as a family or a group of friends and need some extra space. Or, if you're traveling as a couple, there are some smaller beach house rentals that are romantic, affordable, and perfect just for two people as well.
If you're looking for a place to stay in Indialantic or Melbourne Beach, finding something perfect can be a little tricky. After all, Airbnb, VRBO, and other vacation rental websites can be overwhelming when you are searching for the perfect beach house. But don't worry, we have done the research for you and found the best vacation rental beach houses in Melbourne Beach and Indialantic for your next beach trip.
While you're in the area, make sure you check out the Brevard Zoo along with Manatee Cove so that you can check out the local wildlife. Kids love these areas, and adults do too. Also, the Eau Gallie arts district in the town of Melbourne, Florida is a terrific place to wander around for the afternoon, and then grab a bite to eat at one of the many restaurants, too. And don't miss the Andretti Thrill Park which has go-carts, laser tag, mini-golf, and more activities for the whole family. Naturally, many of these beach houses are just a short drive from most of these attractions, so you can enjoy the beach as well as the other activities around the beach towns. And since you're on the Space Coast, you can always head north to Cape Canaveral to see the rocket launchpads, the NASA museum attractions, and more. So, let's get to it and uncover the best Space Coast beach rentals in Indialantic and Melbourne Beach.
This article is part of our series covering the Best Airbnbs and Vacation Rentals in Cocoa Beach, Florida.
Where are the best places to stay in Melbourne Beach and Indialantic, Florida?
Contents: Hibiscus Elegant Midcentury Beachside House | Hidden Gem with Pool | Oceanfront Beach House with Pool | Luxury Townhouse on the Beach - Indialantic Vacation Rental | Oceanfront 5-Bedroom Beach House with Pool | Melbourne Beach Jungle Treehouse | The Beach Shack | Tropical Oceanfront Garden Villas | Family Beachhouse with Pool | Coconut House - Pool | Paradise Beachside - Affordable Indialantic Vacation Home | Beachfront Indialantic Vacation House | Oceanique Resort Beach Condo | Melbourne Beach Vacation Home with Pool | Melbourne Beach House with Pool
Here's a gorgeous and spacious beach house rental that is surprisingly affordable. The
2-bedroom
vacation home sits only 3 minutes to the beach on foot, and features an updated fully-equipped kitchen, a midcentury decor, spacious open-concept living, elegant bedrooms, clean and luxurious bathrooms, and an art studio in the garage. Bikes, laundry, wi-fi, parking, and more are included. Add this one to your short list. It's close to all of the restaurants and shopping in Melbourne Beach, too.
Sitting right on the beach with a saltwater pool overlooking the sand and waves, this is one of the most perfect beach houses we've ever seen. Huge windows bring in plenty of natural light. The spacious kitchen, living room, and dining area flow together in a large, open-concept layout with plenty of space for your entire family or group to spread out. The
3 bedrooms
are elegant and relaxing. The bathrooms are also clean and luxurious. The gorgeous kitchen isn't just fully equipped so you can cook all of your meals, it also seems to have sprung out of a design magazine. And you'll find extra luxury touches, too, such as a sitting area off of the master, a large swing on the lawn overlooking the beach, and elegant beach decor. Check out the photos!
Here's a perfect and cozy
2-bedroom
townhouse right on the beach. The outdoor furniture on the patio along with the hot tub is relaxing and comfortable with amazing views, so you never need to go inside. If, for some reason you do decide to go inside, you'll find a modern kitchen, clean bathrooms, and a beautiful style. The living room has a 2-story set of windows to bring in plenty of natural light. One of the bedrooms is up in the loft space overlooking the beach, too. With 3 TV's, a BBQ grill, hot tub, clean bathrooms, and a great location, this place is perfect for a couple, a family, or a small group of friends traveling to the beach.
This grand
5-bedroom
vacation rental beach house has it all, including a pool, a beachfront location, a fireplace, and a gorgeous kitchen. A long row of huge picture windows looks out to the beach from all of the rooms in the back of the house. Or, step out onto the large deck to take in the Florida sun and the blue water. The house has a terrific flow from the kitchen to the living room and the dining area with an open-concept floorplan. The bedrooms are equally as elegant, and the master has a king bed, walk-in closet, and a luxury bathroom with an amazing shower and stand-alone tub. And believe it or not, on the lower level you'll find another family room with a TV along with another smaller kitchen. Plus, there's a fun bar area, too. And did we mention the gorgeous
swimming pool
? Also outside is a BBQ grill, an outdoor dining table, and lounge chairs. You can walk to nearby shops, restaurants, and a playground, too.
This fantastic
4-bedroom
treehouse style vacation home is just 3 minutes from the beach on foot. It is built on stilts and has several stories above the ground level, including a top floor Crow's Nest room with lots of great views and natural light. There's even a bed in this room if you want to sleep at the top of it all! The house has plenty of outdoor deck space with nice seating all around so that you feel like you're in the trees. The large master bedroom has a luxurious bathroom. Other bedrooms are great for anyone, including kids, and have their own bathroom to share, too. The surprisingly large kitchen is fully stocked and has nice appliances such as a 6-burner gas stove. You'll be able to cook like a chef here! And kids will love the media room, too. Laundry, Wi-Fi, parking and other amenities are all included, as expected.
This is not a shack - it's just the opposite! This luxurious
3-bedroom
townhouse not only sits right on the beach, but also has modern, updated features such as a gorgeous fully-equipped kitchen, open layout living and dining space, and elegant bedrooms. The upstairs master bedroom has a balcony overlooking the ocean, while the lower level sliding glass doors open onto the small lawn which then leads down to the beach. You're also right by the Indialantic shops and restaurants which are not far away on foot. Laundry, parking, Wi-Fi, and more are included.
Here's a set of nice and affordable
2-bedroom
villas that sit right by the beach and have everything a family would need for a great beach vacation. One of several villas are available as vacation rentals, and they all have similar features. With a spacious and colorful kitchen, along with modern bathrooms and a relaxing living room, anyone would be comfortable here. Private hot tubs are in the cute garden in the back of the villas, too. Just a block from the shops and restaurants in the town of Indialantic, you'll be in a very convenient location.
Let's review the list of features for this
3-bedroom
family-friendly house: large swimming pool, upgraded fully-equipped kitchen, comfortable living room, multiple faux-fireplaces, a spacious and elegant master bedroom with a luxury ensuite bathroom, a kids room with twin beds, a surfboard picnic table, and a location just a half-mile from the beach. It's a beautiful beach house rental, and you can't go wrong here, so check it out. A BBQ grill, parking, laundry, wi-fi, and other niceties are also part of the package.
Just two blocks from the beach sits the
3-bedroom
Coconut House vacation rental which has a pool in the back along with some great outdoor seating under the verandah. Inside is a fully-equipped kitchen, comfortable living room with a nice TV, and cozy bedrooms.
This
affordable
house has
3-bedrooms
and is just a few blocks from the beach which can be easily reached in a few minutes. The entire place has undergone recent renovations, so the kitchen and bathrooms are new, modern, and classy. The kitchen has everything you need to cook meals for your whole family or group of friends, too. The bedrooms are cozy, and one has twins for the kids. The living room is also relaxing. In the back yard you'll find hammocks and a nice outdoor dining table. Overall, this is a quality house at a lower price than some of the others in town, and that's only because it's not right on the beach. It's a great value, so check it out!
Wow! This gorgeous house has a huge enclosed sunroom with large windows that look out to the beach. If you ever leave this spot and explore the rest of the house, you'll find a spacious kitchen, comfortable bedrooms, and clean bathrooms. The decor might be a little retro, but it's all very well kept and has a fun vibe. If you need more space, the place next to it is also available as a beach rental, so you could get both together.
Indian Harbor Beach
,
Florida
If you're looking for a resort-style beach condo rental, this is it. The small
Oceanique Resort
has just a few medium-rise buildings, sits right on the beach, and has a great swimming pool. The condo has 2-bedrooms, a balcony overlooking the water, a modern and fully-equipped kitchen so you can cook all of your meals, and more. It's also within walking distance to some shops and restaurants, too. Laundry, wi-fi, cable TV, and other nice amenities are all part of the package.
This Melbourne Beach rental house has a gorgeous pool in the back. And with
3 bedrooms
you'll have room for the whole family, too. It's fairly affordable despite the level of luxury that you'll find here, mainly because it's about a half-mile from the beach (but you can walk to it). The modern kitchen has been renovated and has upgraded appliances. The bathrooms are also clean and luxurious. Skylights bring in the natural light during the daytime, too. A garage, laundry, bikes, and more are all included.
The friendly owners of this family-oriented house have packed in a long list of features and amenities. Starting with the pool and hot tub, you'll also find some nice seating areas in the back alongside them. Inside is a nice kitchen where you can cook all of your meals. An exercise room is also a nice touch. Comfortable furniture along with clean, modern bathrooms mean that everyone in the family will be able to relax here. A crib is included, too, as is laundry and other typical niceties you would expect of a home. It's close to the river, and just a few blocks from the beach.
Some photos are courtesy of airbnb.com.
Share This Article