Cocoa Beach lies in the heart of Florida's Space Coast, a stretch of beach that heads south from Cape Canaveral down the Atlantic coastline. Here you'll find not only gorgeous beaches and fantastic weather year-round, but also plenty of activities for everyone. First of all, there's the beach itself with warm, clear waters. Along the beach is Cocoa Beach's boardwalk and pier. This is just one of many places where you'll find shops, restaurants, and activities for all ages. Check out the original Ron Jon Surf Shop and have a stroll out on the iconic pier for great views and a drink. And since Cocoa Beach lies on a barrier island, you'll also find plenty of watersports and activities away from the beach on the Banana River. Fishing, kayaking, stand-up paddle, the Manatee sanctuaries, and dolphin cruises are also on the must-do list. Of course, we can't forget about all of the attractions up at Cape Canaveral where you can tour the NASA facilities and see the rockets. If you time your visit to Cocoa Beach well, you can also watch a rocket launch from right outside your beach house or beach condo as most of the shoreline has a view on a clear day.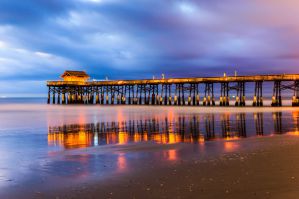 Are you looking for a place to stay in Cocoa Beach? That's no surprise, because this iconic beach destination makes for the perfect beach destination. And it's not far from Orlando, too, so you can even combine both places into one trip. Cocoa Beach vacation rentals are one of the best ways to enjoy your trip to the Space Coast, because they have everything you need including extra bedrooms, a kitchen, and terrific locations. Also, many Cocoa Beach rentals can be very affordable and cost the same as a hotel or resort. So why not consider a Cocoa Beach Airbnb for your next trip? After all, many of these places feel like resorts and you'll also have extra space and privacy, along with easy access to everything in town such as the restaurants and shops.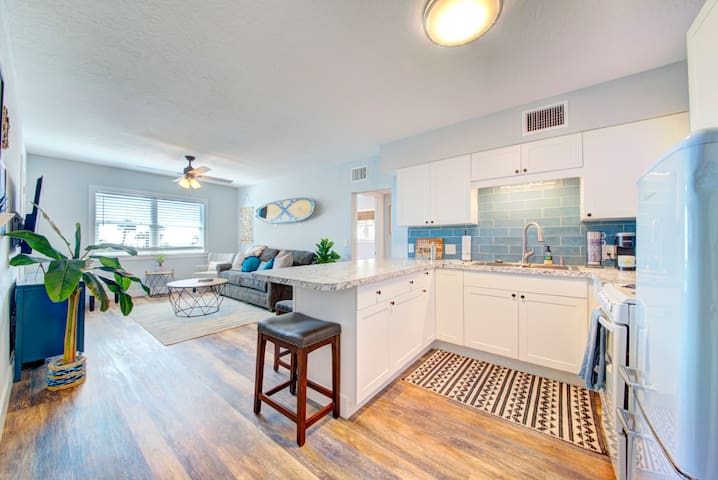 In this article, we have assembled the
best Airbnb Cocoa Beach rental properties
for your next trip. We have also grouped them by which vacation rentals are best for families, couples, or groups, as well as the best rental houses and beach condos. We know that finding that perfect property on Airbnb, or looking for a VRBO in Cocoa Beach can be challenging because of the overwhelming number of options, and so we have done the hard part for you. No matter what type of vacation rental property or beach condo you're looking for, we have found the best places to stay in the best locations in Cocoa Beach. So, let's get to it!
Jump to:
Beach Houses
|
Beach Condos
|
Places for Families
|
Places for Couples
|
Places for Groups
|
Nearby Beach Towns
Airbnb Beach Houses in Cocoa Beach
Cocoa Beach is full of those quintessential beach house rentals that everyone loves. While a few are right on the beach, many are just one or two blocks back from the ocean. So, you can walk to the beach and also walk to the nearby shops and restaurants. Here are a few of the best beach houses. Also, we have another article that focuses on
all of the best beach houses in Cocoa Beach here
.
Charming Cocoa Beach Airbnb Getaway with Pool
3 Bedrooms, 8 People, Pool
If elegant and relaxing is what you're going for, this fun and stylish house has both. With a nice swimming pool in the back along with comfortable outdoor lounge areas, a hot tub, and an outdoor shower, you can sip your wine while the kids splash in the pool. Or, head to the beach which is just a few minutes away on foot. With
3 bedrooms
, this house has enough space for up to 8 people. You'll be able to cook all of your meals in the updated fully-equipped kitchen which features marble countertops and a large gas range, along with other high-end appliances. Laundry is also included, which is perfect for families traveling with kids. The master bedroom is an elegant escape, and has a beautifully upgraded bathroom. The other bedrooms are nice for kids or adults. If you stay here, you're also just a few blocks from shops, dining options, and grocery stores. This is a terrific and affordable option for any family or group.
My Favorite Spot - 3-Bedroom Airbnb Vacation Rental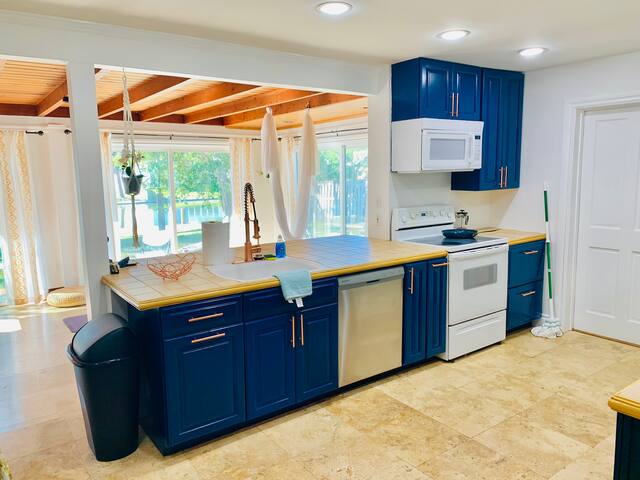 We love this house that is located on the water of one of the small canals. It's also just a few blocks from the beach and a few blocks from the shops and restaurants nearby. The large backyard and deck make a nice area to relax and take in the natural vibe and warm weather. You'll find hammocks, a kayak, paddle boards, yoga equipment, and a fire pit. Natural light flows into the house through the large windows, so you can bring the outside in. The spacious kitchen (fully equipped for all of your meals) flows into the open-concept living room space with nice, cozy seating. The bathroom is also modern and updated, and the
3 bedrooms
are comfortable, too. Also included are Wi-Fi, laundry, parking, and more.
Airbnb Beach Condos in Cocoa Beach
If you want a prime oceanfront view along with plenty of resort-style amenities, then you can find plenty of beach condos and apartments along the ocean in Cocoa Beach. Many of these condos have 2 or 3 bedrooms along with balconies, full kitchens, swimming pools, and more. Here are a few of the best options, and we also have a full article that
covers the best Cocoa Beach condominium rentals here
.
High-End Beach Condo - 2-Bedroom Airbnb with Unobstructed View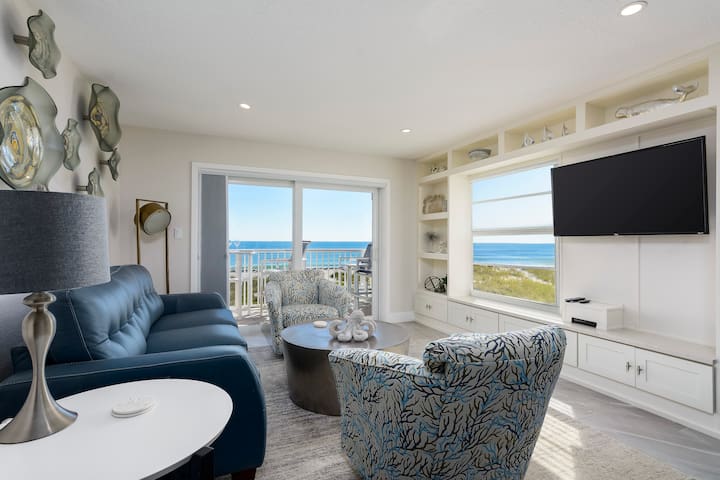 This modern, renovated 2-bedroom beachfront condo rental is gorgeous. It has been redone from top to bottom with new floors, an amazing kitchen, luxurious bathrooms, modern furniture, and more. The view from the balcony is terrific, as it looks right out onto the ocean. You can cook all of your meals in the updated kitchen with new countertops, cabinets, and high-end appliances. The kitchen looks like it came out of a design magazine! The bathrooms are equally as impressive. This is a great place for a family or a small group of friends traveling together. Laundry, wi-fi, and plenty of other luxuries are included. The building also has a swimming pool and other nice features. Located in the Spanish Main building, right on the beach and in the heart of Cocoa Beach, you're just a few minutes on foot to nearby dining options, shopping, and more activities.
Direct Oceanfront Family-Friendly 2-Bedroom Beach Condo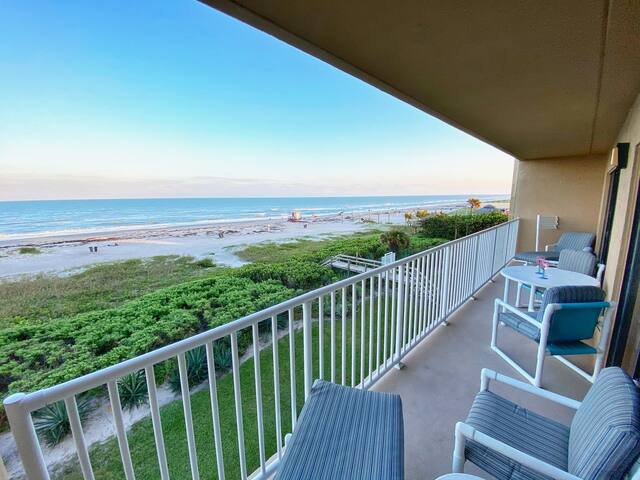 If you're looking for an oceanfront condo, this is a terrific option! The 2-bedroom beachfront condo in Cocoa Beach has plenty of nice features, such as a balcony that overlooks the beach. The fully-equipped kitchen is clean and has everything you need to cook your meals. The bedrooms and living room are nicely appointed with modern, comfortable furnishings, too. The 2nd bedroom has twin beds that pull out into trundle beds, so it's great for a family with kids. Located in the Boardwalk building, you'll have access to the swimming pool. You're also within walking distance of a variety of restaurants, shops, grocery stores, activities, and more.
Cocoa Beach Airbnbs for Families
Cocoa Beach is absolutely a family-friendly beach destination. Not only is the beach fantastic, but plenty of kid-friendly activities are around, too. And many of the restaurants are also casual and easy, which is perfect for families. Here are a few of the best family-friendly vacation rentals in the area, but we also have an entire guide dedicated to the
best vacation rentals for families in Cocoa Beach here
.
Cocoa Beach Pool House Paradise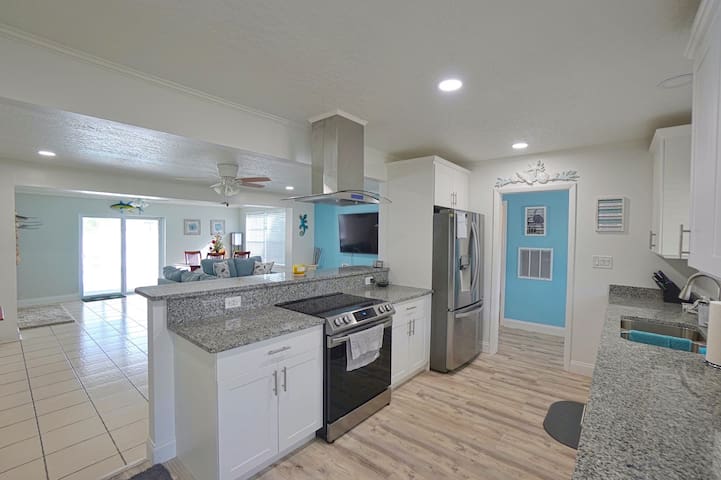 Paradise is an appropriate name for this family-friendly
3-bedroom
house with a fantastic pool and lounge area in the backyard. Not only is there a gorgeous pool surrounded by palm trees, but also lounge chairs, a fire pit, BBQ grill, hammocks, outdoor dining space, and more. Inside you'll find a high-end updated kitchen with all appliances to cook all of your meals in style. The living room and dining area are all open so everyone can keep up with the conversations about your adventures in Cocoa Beach. The bathrooms are also updated and renovated with a modern design. All of the bedrooms have TV's, and one of the bedrooms also has bunk beds for the kids. And in the garage you'll find bikes which the whole family can use, along with some beach toys and boards. Laundry, Wi-Fi, parking, and more. It's within walking distance to the beach as well as restaurants, shops, and other activities in downtown Cocoa Beach.
Sandcastles - Updated 2-Bedroom Beach Condo
Having seen recent renovations, this 2-bedroom condo at Sandcastles has a gorgeous new kitchen along with new, modern furnishings. The bathrooms are also updated and have a more luxurious feel.
Cocoa Beach Airbnbs for Couples
Plenty of places in Cocoa Beach are perfect for couples looking for a romantic and fun beach getaway. We have highlighted a few of the best beach condos and smaller houses here. If you're looking for more ideas, we have an entire article dedicated to
the best romantic Cocoa Beach condominium rentals for couples here
.
Bali Bungalow - A Beach Rental for Couples
Here's a gorgeous, cute, and relaxing 1-bedroom bungalow-style beach apartment located oceanfront. The fun decor is beautiful and comfortable. The kitchen is high-end and fully stocked with everything you need to cook all of your meals, including a gas stove and new appliances. With an open-concept layout, the kitchen flows into the spacious living room which has nice sofas and a good TV. The bathroom is also modern and clean. The bedroom is romantic with a large bed, and there's another TV here as well. The walk to the beach is through a nice garden area, too. And not only are you right on the beach, you're also just a short walk to nearby shops, restaurants, and activities!
The Surf Shack
1 Bedroom, Walk to Everything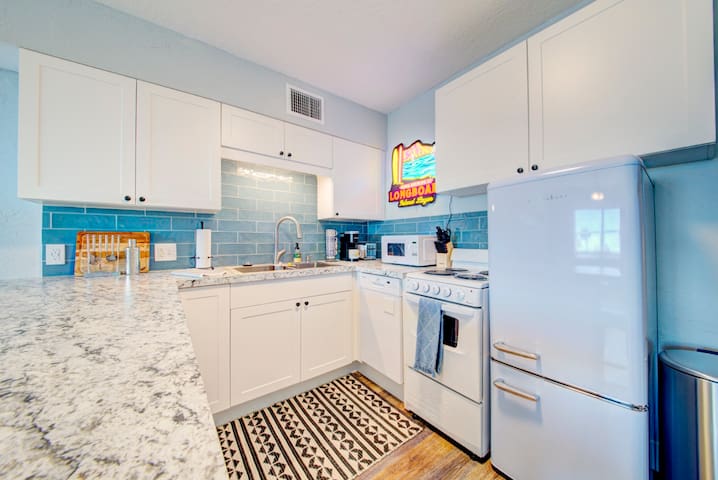 Gorgeously renovated and remodeled, this 1-bedroom apartment/condo would be perfect for a couple. It's just a short walk to the beach, and you have ocean views from the windows of the bedroom and living room. The beautiful kitchen has new countertops, updated appliances, and a stylish decor, so you can cook all of your meals in style. Or, just stroll right outside to the numerous shops and restaurants that are all steps away from this vacation rental.
Cocoa Beach Airbnbs for Groups
Cocoa Beach is a great destination for groups of friends looking to have a good time on a trip to the beach. Whether you're looking for a girls' weekend getaway, a fishing trip, a bachelor weekend, or some type of friends reunion, this amazing beach town has something for everyone. Here are a few larger properties and beach houses which are perfect for groups. We also have an entire guide encompassing
the best beach houses and vacation rentals for larger groups in Cocoa Beach here
.
Vibrant Villa with Pool - Large Cocoa Beach Airbnb Vacation Rental
6 Bedrooms, Pool, Oceanfront, Game Room
This large and luxurious
6-bedroom
house has room for up to 12 people. But it doesn't just offer space to sleep, it's also full of amazing entertaining features such as the terrific swimming pool in the backyard, a location right on the beach, multiple decks and balconies, and a huge interior for everyone to hang out. When you walk out the door you can choose to take a dip in the gorgeous pool or stroll right past it and out to the beach, as this house is oceanfront. Or relax in the hammock, play ping-pong, shoot some hoops on the basketball goal, enjoy the shaded seating area in the covered patio, or relax by the built in BBQ grill.
Inside is a large open-concept living, dining, and kitchen space with enough room for everyone to watch TV, eat at the table, and cook together. The kitchen is fantastic with high-end finishings so you can cook all of your meals in style. The bathrooms are equally as impressive. The bedrooms have a mix of adult and kid-friendly setups, and one room has bunks. Most of the bedrooms have TV's too. Another section of the house also has a game room with foosball, billiards, a wet bar with a wine fridge, and another TV lounge spot. And another room has a movie theater with a projection screen! The list just goes on and on. Parking, Wi-Fi, laundry, and other niceties are included.
The location is perfect. Not only is it right on the beach, but it's also just a few blocks away from the central area of Cocoa Beach with all of the shops and restaurants.
Nearby Beaches
Cocoa Beach lies on a barrier island shared by several other beach towns, and they merge together, so sometimes it's hard to know if you're in Cocoa Beach or one of its neighboring towns. Staying nearby can be a great option, because you can still take advantage of the area's fun activities such as visiting the NASA museum and launch pads, enjoying the beach, finding the manatees, and more.
If you're traveling in the area, you might also want to check out the
best beach houses in Cape Canaveral
, or the
best beach condo rentals in Cape Canaveral
, as this town is just north of Cocoa Beach and the city limits tend to blur together.
Also, if you head south, a few other great places to stay are
Satellite Beach
,
Wabasso
,
Melbourne Beach & Indialantic
, and
Vero Beach houses
and
condos
. All of these places have terrific vacation rentals that are affordable, luxurious, and right by the ocean.
Happy Travels!