Cocoa Beach On a Budget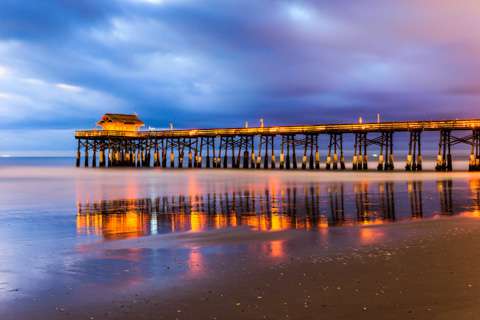 Cocoa Beach, Florida has long been a favorite vacation spot for travelers looking for sun, sand, and waves. The location was also made famous as the setting for the 1960's television show, "I Dream of Jeannie". The town of just over 11,000 is located in Brevard County along the Atlantic coast. Many people visit the area because of its excellent surfing. There are many surfing festivals and competitions held here yearly and the famous Ron Jon's surf shop receives about 2 million visitors a year. The city is also home to the East Coast Surfing Hall of Fame.
Cocoa Beach's climate is humid subtropical with hot and humid summers and warm, dry, and sunny winters. Tropical downpours are common during the winter months, although they are often short lived.
Sights
People travel to Cocoa Beach for one reason alone - it's beautiful beach. It's obvious why this stretch of sand is so famous. In addition to sunbathing and swimming, you'll find activities along the beach that include beach volleyball, surfing, and surf fishing. If you're wanting to do some shopping or you forgot a few essential items at home, there are plenty of beach shops around town. For a more thorough selection you can head to Merritt Square Mall, which has many popular chain stores to choose from.
Neighborhoods
Cocoa Beach covers an area of about 15 square miles, the majority of which is water and almost 5 square miles are land. The city is bordered by Cape Canaveral to the north and Crescent Beach to the south. The Atlantic Ocean is to the east and Banana River to the west. There are many boating channels that have been dredged in the area and many of the area's homes are built on dredged mud and sand.
Most visitors spend their time on the beach. The Cocoa Beach Pier, formerly called the Cape Canaveral Pier, has many restaurants, bars, gift shops and fishing opportunities. You can also rent sporting equipment there.
You'll find plenty of budget chain hotels around the area, but as you move closer to the water prices get higher. Peak seasons and spring break also brings an increase in price when crowds are at their highest and rooms are in short supply.
Activities
If you've had your fill of hanging out on the beach then there are a number of other activities that you can enjoy around town. If you want to get out on the water then check out Schooner Sails that offers boat rides around the Space Coast. You can also reserve it for weddings or birthdays. Cocoa Beach Sportfishing Charters offers deep sea fishing charters and sportfishing. Sterling Casino Lines offers gambling cruises both during the day and in the evening. You must be 18 years old to join. If you'd like to try your hand a surfing or paddleboarding then try A1A Beach Rentals. They offer surfing and paddleboard lessons as well as kayak rentals and tours.
There are a handful of festivals in the area. The Annual Easter Surfing Festival dates back to 1964 and attracts about 100,000 spectators. The Beach Fest is also held every May. Other events include the Air Show and the National Kidney Foundation Pro-Am Surfing Festival.
Food and Dining
Restaurants are everywhere and almost exclusively cater to tourists in the area. Pizza and pasta options are ubiquitous, as are seafood restaurants that offer freshly caught shrimp, crab, and fish. Florida's Seafood Bar & Grill is one popular option which offers a large variety of freshly caught seafood prepared any number of ways. For Cuban food head to Roberto's Little Havana on N. Orlando Avenue. The food is good and reasonably priced. Other international options available around town include Mexican and Japanese.
Transportation
The best way to travel to Cocoa Beach, and really the only way, is by car. You'll want to have a vehicle with you after you arrive as well. Parts of the touristy areas are pedestrian friendly, but you will be very confined to specific areas if you don't have your own car. There is a bus system, Space Coast Area Transit, which is cheap and reasonable, but not the ideal way to spend most of your vacation. Bikes are an option as well, as there are some bike lanes, but do watch out for traffic, particularly during rush hour.
Related:
Looking for a
party hostel in Hawaii
or
Miami
? Traveling alone to
LA
or
New Orleans
? Want a budget hostel in
NYC
?