Cocoa Beach offers plenty of activities for visitors, and that's why it's one of the most popular places to enjoy the beach on the Atlantic Coast in Florida. Part of the Space Coast, Cocoa Beach is just south of Cape Canaveral, so you can make a quick trip to visit the NASA launch pads or even see a rocket lift off. And with plenty of other activities around Cocoa Beach, you'll never be bored. From the natural areas to go fishing and kayaking and see manatees to the fun boardwalk and pier with all of the shops, restaurants, and bars, there's something for everyone.
If you're looking for the perfect Cocoa Beach condominium rental for your next trip, we have assembled our list of the best. We know that it can be hard to find the perfect place on Airbnb, VRBO, or any other rental website, due to the huge number of options available. But we have done the research for you, so with our experience and expertise, here you can see the list of the best condos for rent in Cocoa Beach, Florida.
Staying at a
beach condo in Cocoa Beach
is one of the best ways to experience this amazing beach town. Not only will you be right on the ocean and steps away from the sand, but also close to all of the restaurants, shops, and activities in town. All of the Cocoa Beach condominiums we have listed here are right in the central area of town and within walking distance to plenty of places to eat and shop. They are also either right on the beach or just a block back from the beach, too. Some are larger and perfect for families or groups, while some are smaller, romantic, and very nice for a couple making a fun trip to the beach.
This article is part of our series covering the Best Airbnbs and Vacation Rentals in Cocoa Beach, Florida.
Direct Oceanfront Family-Friendly 2-Bedroom Beach Condo
2 Bedrooms, Oceanfront, Pool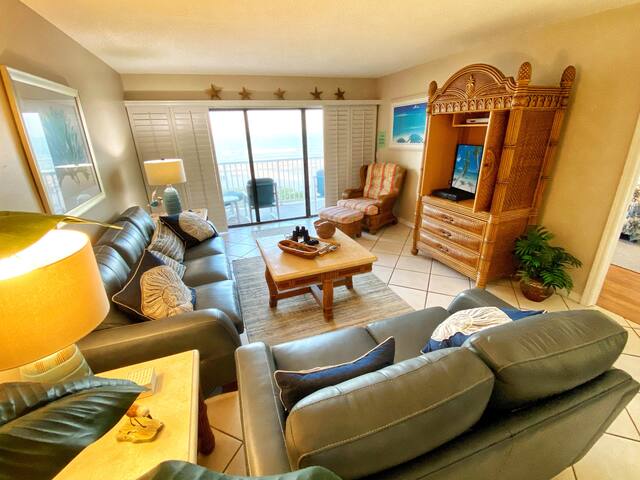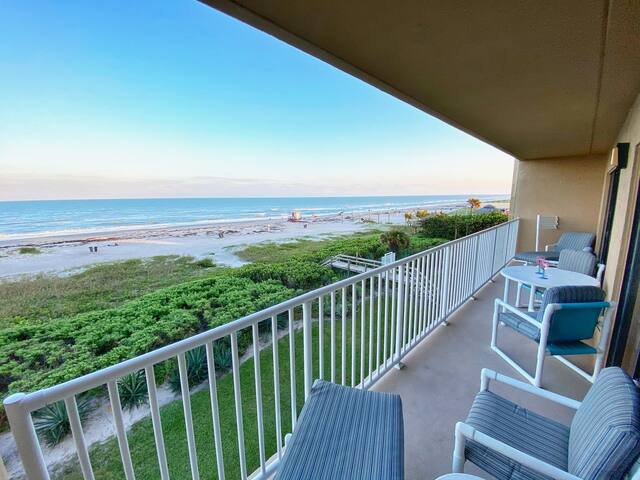 If you're looking for an oceanfront condo, this is a terrific option! The 2-bedroom beachfront condo in Cocoa Beach has plenty of nice features, such as a balcony that overlooks the beach. The fully-equipped kitchen is clean and has everything you need to cook your meals. The bedrooms and living room are nicely appointed with modern, comfortable furnishings, too. The 2nd bedroom has twin beds that pull out into trundle beds, so it's great for a family with kids. Located in the Boardwalk building, you'll have access to the swimming pool. You're also within walking distance of a variety of restaurants, shops, grocery stores, activities, and more.
The Surf Shack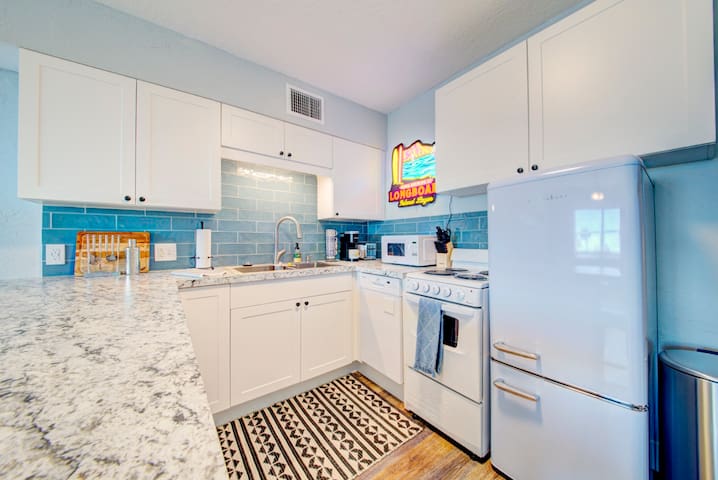 Gorgeously renovated and remodeled, this 1-bedroom apartment/condo would be perfect for a couple. It's just a short walk to the beach, and you have ocean views from the windows of the bedroom and living room. The beautiful kitchen has new countertops, updated appliances, and a stylish decor, so you can cook all of your meals in style. Or, just stroll right outside to the numerous shops and restaurants that are all steps away from this vacation rental.
Cocoa Beach Retreat - 1-Bedroom Beach Rental
Perfect for couples, this affordable 1-bedroom beach condo rental is located just across the main road from the ocean. With an affordable price and modern upgrades, it's a very comfortable and relaxing place to stay in Cocoa Beach. The kitchen is modern and has everything you need to cook. The bathroom is also clean, modern, and well designed. Laundry, Wi-Fi, towels, beach chairs, and other niceties are included.
Starfish Cottage - 1-Bedroom Airbnb Condo
Here's a cute 1-bedroom apartment/condo that is located on the ground floor of an oceanfront building. You can slide open the large glass doors and then stroll right out onto the beach. The interior is decorated nicely, and the modest kitchen has everything you need to cook your meals for a short trip at the beach.
High-End Beach Condo - 2-Bedroom Airbnb with Unobstructed View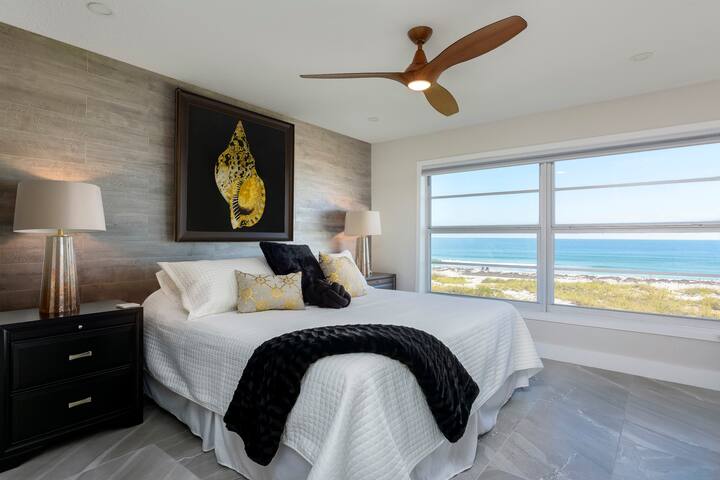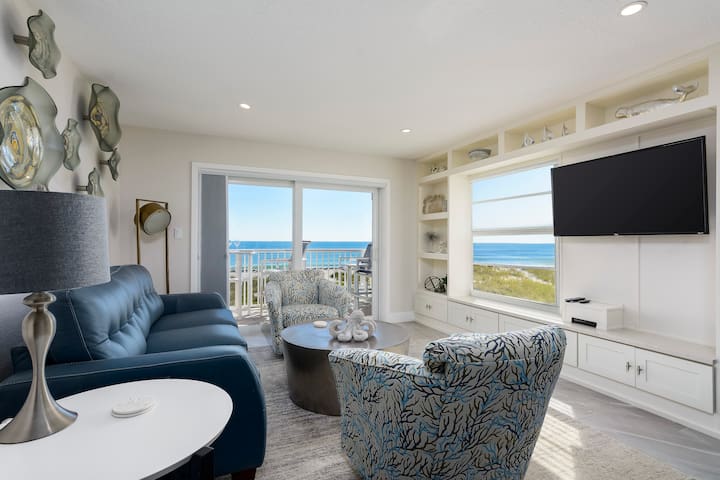 This modern, renovated 2-bedroom beachfront condo rental is gorgeous. It has been redone from top to bottom with new floors, an amazing kitchen, luxurious bathrooms, modern furniture, and more. The view from the balcony is terrific, as it looks right out onto the ocean. You can cook all of your meals in the updated kitchen with new countertops, cabinets, and high-end appliances. The kitchen looks like it came out of a design magazine! The bathrooms are equally as impressive. This is a great place for a family or a small group of friends traveling together. Laundry, wi-fi, and plenty of other luxuries are included. The building also has a swimming pool and other nice features. Located in the Spanish Main building, right on the beach and in the heart of Cocoa Beach, you're just a few minutes on foot to nearby dining options, shopping, and more activities.
Midtown Cottage Condo - Affordable 2-Bedroom Airbnb
While it might look modest on the outside, the interior of this 2-bedroom cottage apartment has been renovated, updated, and sports some high-end furnishings. The modern kitchen is well designed and will let you cook all of your meals in style. It flows out into the open-concept living room with relaxing furniture and a nice TV. The bedrooms are also comfortable. A covered porch will let you enjoy the nice Florida weather, too. Located just a few blocks from the beach, this location is also convenient to nearby restaurants, shops, and more. It's also affordable.
Sandcastles Resort Condos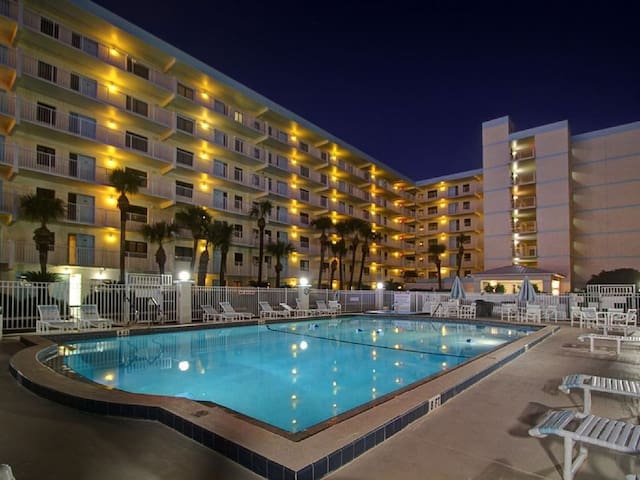 Right in the middle of Cocoa Beach, the Sandcastles resort is a group of condominium buildings that sits oceanfront. It's hard to find a better location with all of the amenities offered by the resort. Because the building is a bit older, and because the condos are owned by individual owners, the prices of these vacation rentals tend to be fairly affordable. Many of them are either 2-bedroom or 3-bedroom condos with full kitchens, balconies, and comfortable furniture. The complex is not only right on the beach, but it also has a heated swimming pool, hot tub, sauna, lighted tennis courts, and other amenities. Laundry and Wi-Fi are in the condos, too.
Below are some of the best beach condos in the Sandcastles Resort. They all have a mix of decor, styles, and varying levels of renovation.
Sandcastles 6th Floor 2-Bedroom Condo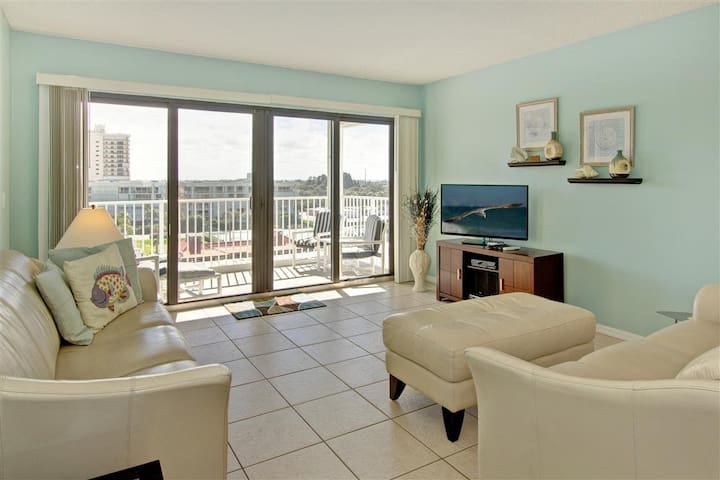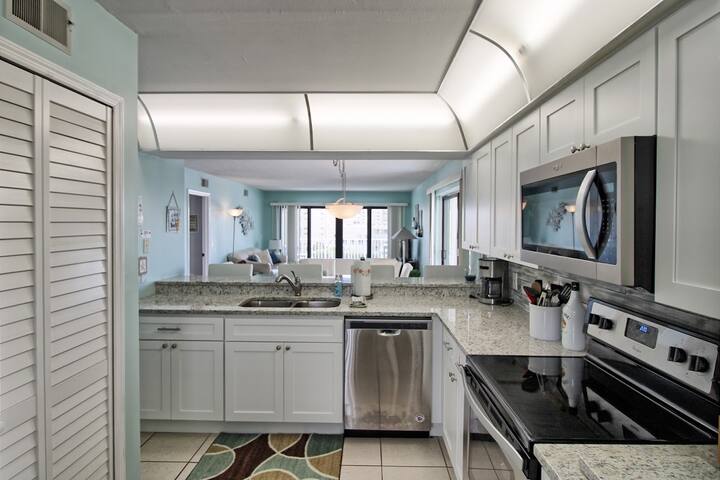 Located on a high floor, this affordable 2-bedroom has nice features and an updated kitchen.
Sandcastles 3-Bedroom Direct Oceanfront Condo
This 3-bedroom condo is on the corner with a wrap around balcony. The kitchen is updated and modern, and the furnishings are somewhat new and very comfortable with a modern design. A murphy bed has also been installed in the living room, which means up to 8 people can stay here.
Sandcastles Updated 2-Bedroom Beach Condo Rental
Having undergone recent renovations, this 2-bedroom condo at Sandcastles has a gorgeous new kitchen along with new, modern furnishings. The bathrooms are also updated and have a more luxurious feel.
Sandcastles Family-Friendly 2-Bedroom Cocoa Beach Condominum Rental
This 2-bedroom has nice furnishings along with a clean kitchen. One of the bedrooms has bunk beds which the kids will love.
Happy Travels!