Looking for a family-friendly vacation rental in Cocoa Beach, Florida? We've got you covered. From our own experience, we know it can be a serious endeavour to find the perfect place to stay on Airbnb or the best VRBO beach house in Cocoa Beach. That's because so many options are available that it's just overwhelming. So, based on our experience and research, we have assembled our list of the best family-oriented vacation rentals in Cocoa Beach. If you're traveling with kids, you need more space, laundry, a full kitchen, plenty of activities, and an extra bathroom or three. And having your own master bedroom with more luxurious to be your private oasis is always a nice touch, too, right?
So, here's our list of the best vacation rentals for families - some of them are condos, and some are beach houses, but either way you will get plenty of relaxing comforts and an affordable price.
You'll be able to experience all of Cocoa Beach's amazing activities in addition to the terrific sand and waves at any of these places. Some are individual houses right on the beach or very close by, while some are condominium rentals right on the beach.
This article is part of our series covering the Best Airbnbs and Vacation Rentals in Cocoa Beach, Florida.
Cocoa Beach Pool House Paradise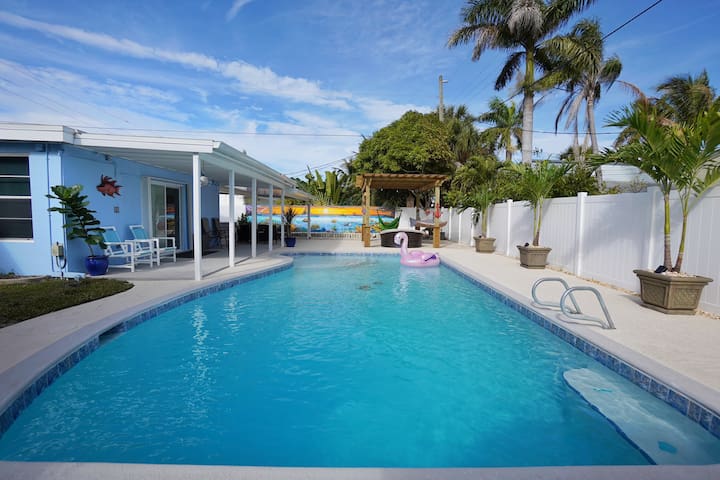 Paradise is an appropriate name for this family-friendly
3-bedroom
house with a fantastic pool and lounge area in the backyard. Not only is there a gorgeous pool surrounded by palm trees, but also lounge chairs, a fire pit, BBQ grill, hammocks, outdoor dining space, and more. Chill outside while the kids play in the pool! Inside you'll find a high-end updated kitchen with all appliances to cook all of your meals in style. The living room and dining area are all open so everyone can keep up with the conversations about your adventures in Cocoa Beach. The bathrooms are also updated and renovated with a modern design. All of the bedrooms have TV's so that no one will fight over what to watch, and one of the bedrooms also has
bunk beds for the kids
. And in the garage you'll find bikes which the whole family can use, along with some beach toys and boards. Laundry, Wi-Fi, parking, and more. It's within walking distance to the beach as well as restaurants, shops, and other activities in downtown Cocoa Beach, Florida.
Luxury Beach House in Cocoa Beach
Wow! This family-friendly and beatiful
3-bedroom
house is very spacious (3,000 sqft), and has plenty of luxurious features. As it sits right on the beach, 2 of the bedrooms look out towards the ocean, along with the amazing living room and kitchen area. The floor-to-ceiling windows open up to a fantastic patio with outdoor seating, and then you can walk straight out onto the beach from there. The fully-equipped kitchen is updated and well designed with marble counters and high-end appliances. The master suite is gorgeous and has a large, luxurious bathroom. The other bedrooms are also nice, and have 2 queen beds and 2 full sized beds, so there's plenty of room for extra people. That makes this house perfect for a family that needs more space than what a typical hotel would offer. Laundry, Wi-Fi, garage parking, and other family-friendly amenities are all included. And it's just a few minutes by car into everything in the central part of Cocoa Beach, too. Add this one to your short list!
Charming Cocoa Beach Getaway with Pool
If fun and relaxing is what you're going for, this amazing and stylish house has both. With a nice swimming pool in the back along with comfortable outdoor lounge areas, a hot tub, and an outdoor shower, you can sip your wine while the kids splash in the pool. Or, head to the beach which is just a few minutes away on foot. With
3 bedrooms
, this house has enough space for up to 8 people making it perfect for a family that needs a little extra space. You'll be able to cook all of your meals in the updated fully-equipped kitchen which features marble countertops and a large gas range, along with other high-end appliances. Laundry is also included, which is perfect for families traveling with kids. The master bedroom is an elegant escape, and has a beautifully upgraded bathroom. The other bedrooms are nice for kids or adults. If you stay here, you're also just a few blocks from shops, dining options, and grocery stores. This is a terrific and affordable option for any family on a trip to the beach!
My Favorite Spot - 3-Bedroom Vacation Home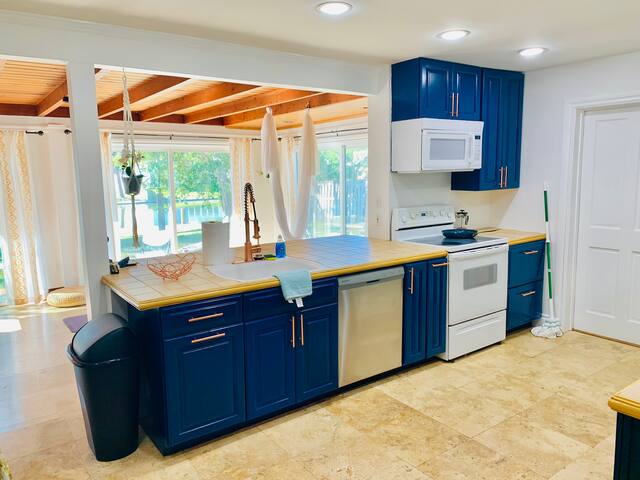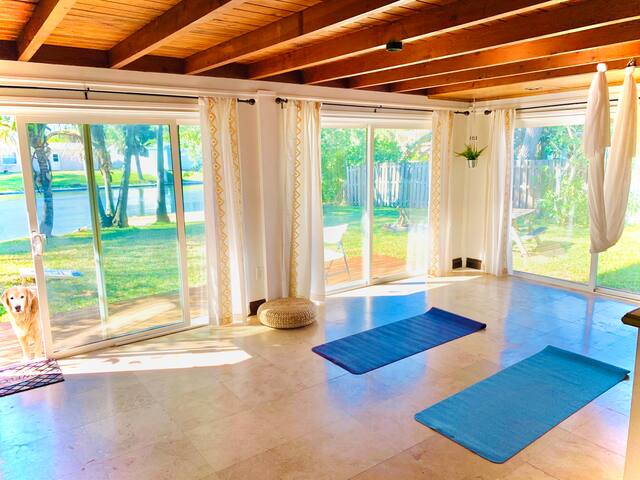 We love this house that is located on the water of one of the small canals. It's also just a few blocks from the beach and a few blocks from the shops and restaurants nearby. The large backyard and deck make a nice area to relax and take in the natural vibe and warm weather. The kids can play while you sip some wine in the shade. You'll find hammocks, a kayak, paddle boards, yoga equipment, and a fire pit, so there are plenty of family-friendly activities here. Natural light flows into the house through the large windows, so you can bring the outside in. The spacious kitchen (fully equipped for all of your meals) flows into the open-concept living room space with nice, cozy seating. The bathroom is also modern and updated, and the
3 bedrooms
are comfortable, too. Also included are Wi-Fi, laundry, parking, and more.
Sandcastles 2-Bedroom Family-Friendly Condo
This 2-bedroom condo is part of the Sandcastles resort, which features a swimming pool and sits directly on the beach. It's hard to find a better location! This beach condo has nice furnishings along with a clean, modern kitchen. Also, one of the bedrooms has bunk beds which the kids will love, along with extra space for everyone. It's also affordably priced.
Also, we have more details about the Sandcastles resort with more available units in our article covering the best beach condo rentals in Cocoa Beach.
Downtown Cocoa Beach Family-Friendly Townhome
Just a few blocks from the beach, this family-oriented
2-bedroom
, 2-story townhouse has seen recent updates and renovations. So, you'll have a gorgeous and modern kitchen and bathrooms, a relaxing living room and bedrooms, and other nice amenities such as laundry, Wi-Fi, and a beautiful back deck with outdoor seating overlooking a shady lawn. The kitchen and living room share an open-concept layout so you can keep an eye on the kids, and there's plenty of space and high-end appliances so you can cook all of your own meals. Also, use the fireplace, watch the large TV, or even work at the desk. Bikes are included, too, so you can explore the town as a family. Or use the body boards when you head to the beach. One of the bedrooms is kid-friendly, and there's a cool little tree swing in the back, too. It's also close to dining and shopping in town! Add this one to your list, because it's also affordable!
Private Airbnb Beach House in Cocoa Beach
Here's a cute, affordable, and family-friendly
3-bedroom
house featuring a hot tub, bunk beds, a fire pit, BBQ grill, and a very nice fully stocked kitchen. Yes, you can cook all of your meals, eat and sleep in style in the well designed and nicely furnished house, relax in the backyard while the kids play, and venture out to the beach and nearby restaurants. When you come back, a nice outdoor shower awaits, along with the beautiful and secluded gardens. Beach chairs, umbrellas, and toys are included. This vacation house also has plenty of board games which is great for those evenings full of family fun. Laundry, a coffee machine, towels, and more amenities are included. This is the perfect house for a family beach getaway!
White Paddle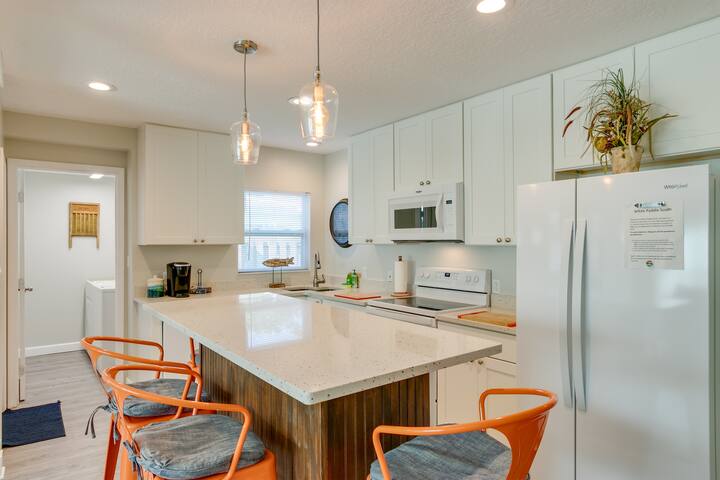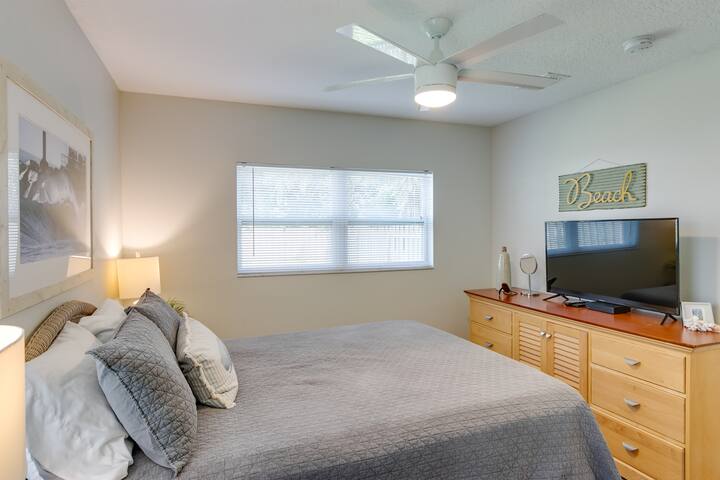 This house is a duplex, and both sides are available as vacation rentals ("
North
" and "
South
"). Each side has
2 bedrooms
and 1 bathroom, making them perfect for a family. Or, if you need more space because you have a larger family, or are traveling with other relatives, you could rent both at the same time to have 4 bedrooms. Inside each unit is a modern, renovated, and well designed kitchen with everything you need to cook all of your own meals. The living room and bedrooms are comfortable and relaxing. The bathrooms are also modern and updated. The bedrooms have their own TV's, too. Also included are some nice outdoor seating areas, a grill, and beach toys. Laundry, Wi-Fi, coffee makers, towels, and other niceties are included.
High-End Beach Condo - 2-Bedroom Airbnb with Unobstructed View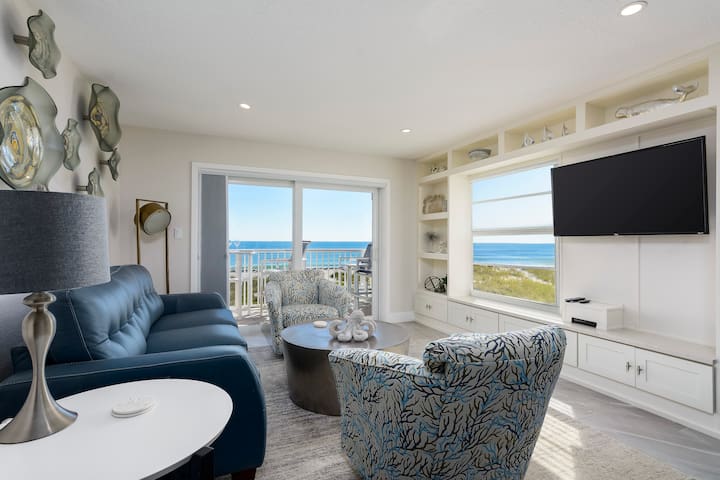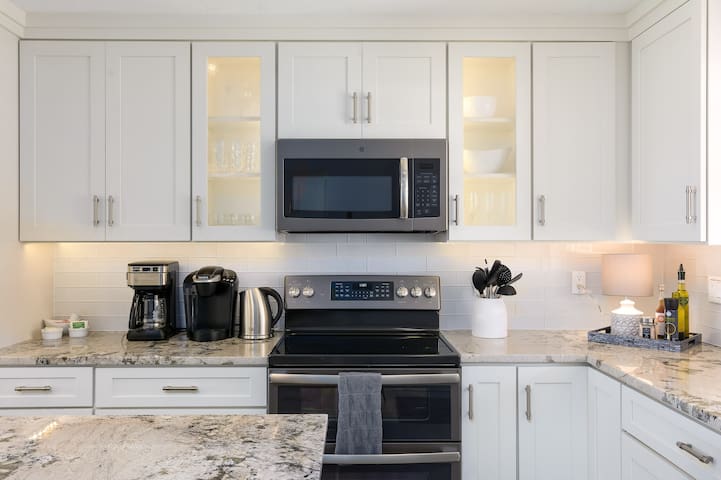 This modern, renovated 2-bedroom beachfront condo rental is gorgeous. It has been redone from top to bottom with new floors, an amazing kitchen, luxurious bathrooms, modern furniture, and more. The view from the balcony is terrific, as it looks right out onto the ocean. You can cook all of your meals in the updated kitchen with new countertops, cabinets, and high-end appliances. The kitchen looks like it came out of a design magazine! The bathrooms are equally as impressive. This is a great place for a family traveling together because everyone can spread out and relax. Laundry, wi-fi, and plenty of other luxuries are included. The building also has a swimming pool and other nice features. Located in the Spanish Main building, right on the beach and in the heart of Cocoa Beach, you're just a few minutes on foot to nearby dining options, shopping, and more activities.
Happy Travels!