Vail is a popular family destination year round. Obviously the most popular season to visit is during the winter ski season, but the town is a fun and beautiful place to visit during the summer months as well. Vail is a charming town with a handful of great neighborhoods where you can stay. The town is very walkable, but if you choose to stay a bit outside of the town, there are plenty of shuttles available as well.
Vail Village
Vail Village is at the heart of the picturesque ski area. This area is lined with world class shops and restaurants and it's filled with architecture that is reminiscent of European alpine buildings.
There are countless luxury hotels and resorts to choose from. The area is very accessible to the slopes, and there are shuttles and ski valets that make everything even that much more convenient.
2BR Luxury Condo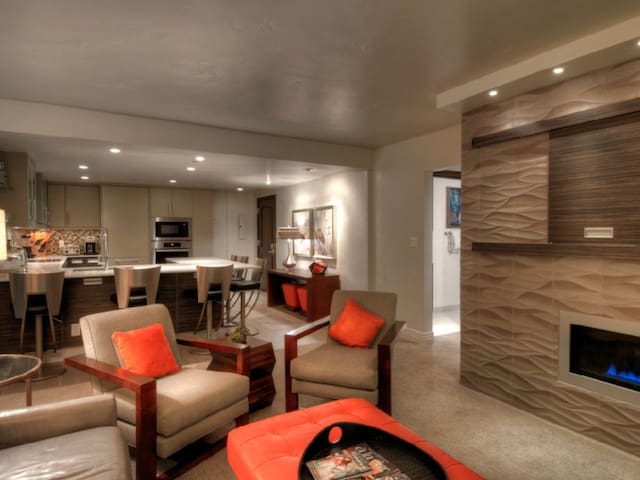 Families love the pool at this place. It's location couldn't be better and everything you could need is accessible on foot. There's also a nice balcony where you can enjoy the mountain view.
Vail Village 2BR - New
This property is central to everything. It's clean and comfortable, with a balcony and keypad access.
Vail Condo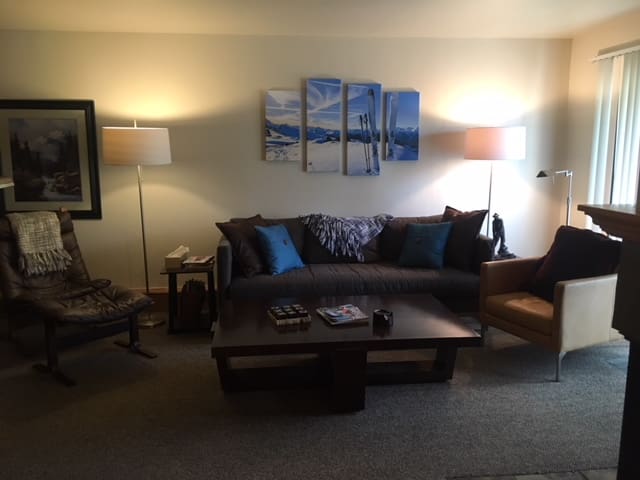 This condo is just steps away from Vail Village and everything it has to offer. Families appreciate the quiet setting and beautiful views. The fully-equipped kitchen is nice, and it even has a balcony to enjoy the fresh air.
Golden Peak
Just a short five minute walk from Vail Village, Golden Peak is right at the base of Riva Bahn Express Lift. This lift takes you to Vail's Terrain Park and the bottom of Northwoods. This is a popular training area for national ski teams, so you might get to enjoy a front row seat to some impressive skiing. Families also appreciate this location because it's where you'll find the town's Child Care and Nursery facilities. There are just a couple of properties to choose from in this area and we've described some of our favorite options below.
Beautiful Condo with Loft
This property is great for a family
on a budget
. It's a good value, just a short walk into Vail Village. Families appreciate the quiet location. It can sleep up to 6 people, which is great if you have kids and need a little extra space. The kitchen is gorgeous and fully-equipped with top end appliances. The bathrooms are also recently updated with modern touches. The balcony is also a nice spot to relax. And
kids will also love the fun loft space
which is a nice spot for a kids bedroom, as it has 2 twin beds. For the level of luxury here, the price is quite affordable making this place a great deal.
Lionshead
Lionshead is another popular village in Vail about a 10 to 15 minute walk from Vail Village. The town is pedestrian friendly and has impressive cuisine, shops, and architecture. There's also a complimentary bus that travels regularly between Vail Village and Lionshead.This village offers access to the Eagle Bahn Gondola and Born Free Express Lift.
Accommodation options in this area include condos, hotels, and resorts. There are also a number of options across the Lionshead pedestrian bridge, but there is a short walk to get to the main part of town.
Treetops 4D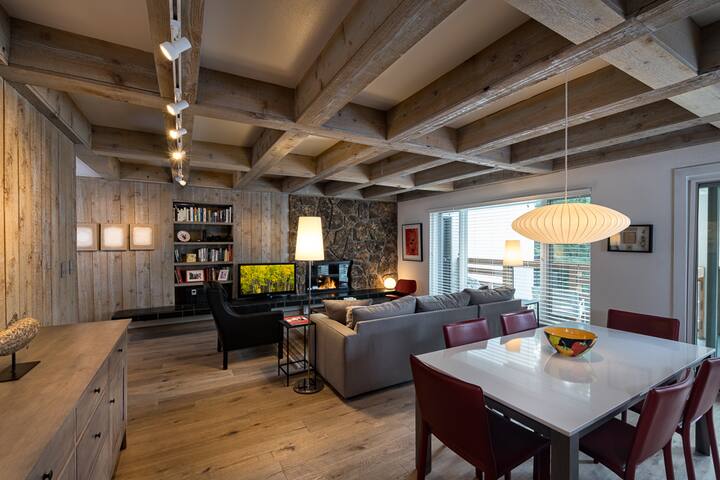 This condo is conveniently located near everything. There's a great patio, a nice view, and a fully stocked kitchen so your family can enjoy all kinds of home cooked meals.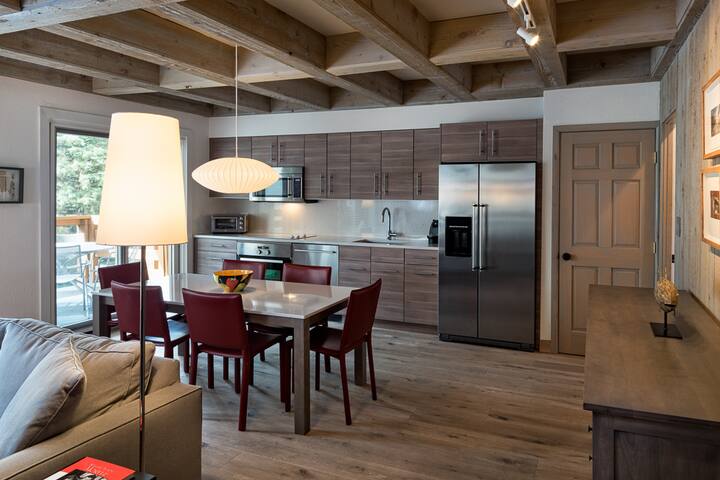 The Landmark
Families love the pool and hot tub at this condo! It's conveniently located near everything, but also in a quiet setting where your family can enjoy a good night's sleep. The bunk beds in the 2nd bedroom are a nice touch for the kids, and everyone will love the spacious living room and fully-equipped kitchen.
East Vail
East Vail offers budget friendly options with a more local vibe. The area is quiet, which families enjoy and there are a number of family friendly activities in the area like playgrounds, ponds, and dog parks. East Vail is a bit removed from the more touristy areas, but they still offer easy access to anything you're planning to see or do while you're in Vail. You can take the free bus to the slopes and be there in between 15 and 25 minutes depending on where you stay. It's a pretty ride and a great opportunity to chat with locals. It's also possible to drive, but be prepared to pay about $25 a day for parking in Vail Village.
Most of the accommodation options in this area are condos and affordable hotels. Below are a couple of our favorite options.
Inviting Condo on Gore Creek
Families will love the large deck and grill at this condo. It's a spacious property that is comfortable for the whole family. The ambiance is terrific, as it's modern but with old rustic charm, such as the wood burning stove in the corner. The kitchen is gorgeous with top end fixtures, and the bathroom is luxurious. The kids will love sleeping up in the loft area, too!
Penthouse Condo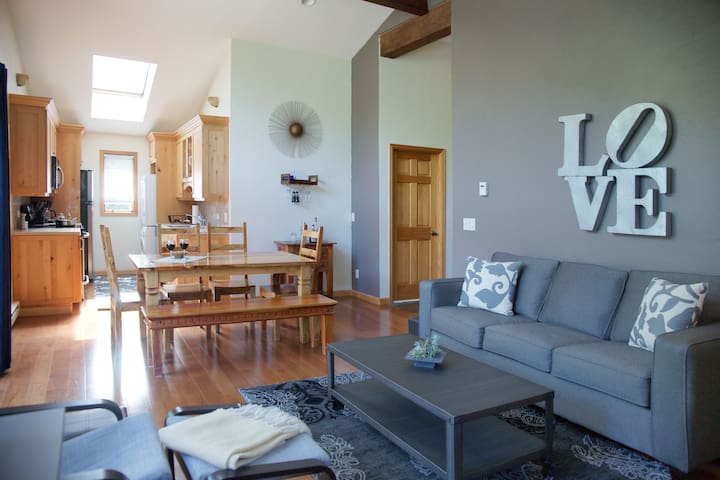 This top floor property is perfect for families who want a quiet setting. It's walking distance to some great trails and offers nice views of the surrounding area.
Mountain View Deck
Here is another peaceful property overlooking the creek with great views and an amazing interior. It's clean, modern, and comfortable – perfect for the whole family. The deck is huge with amazing views. The 2nd bedroom has 2 sets of bunk beds, too! And the kitchen will make your jaw drop. Even though this is an absolutely amazing place, the price is still
affordable
.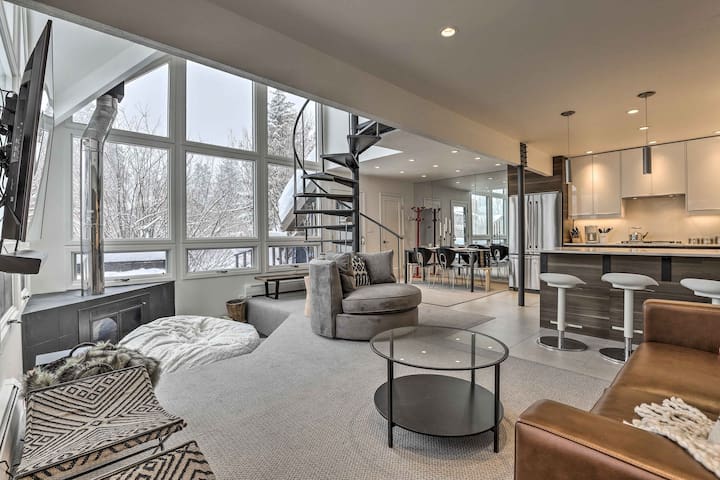 West Vail
West Vail is about 10 to 15 minutes from East Vail. The two main areas for properties are North and South Frontage Road. North Frontage Road is where you'll find the communities of Chamonix and Sandstone. This area also has two grocery stores and a handful of restaurants. Kids love the playgrounds in the area. There are also residential communities on South Frontage Road like Matterhorn and Intermountain, as well as a few hotels.
West Streamside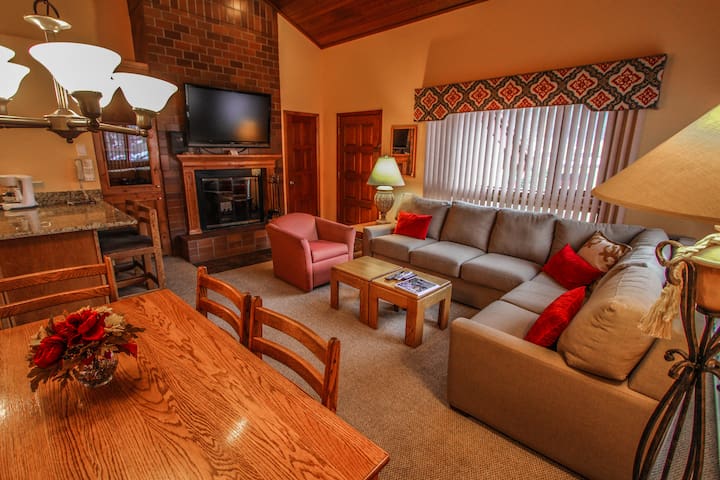 Families love the amenities at this condo. There's a hot tub with an awesome view! It's a beautiful setting with convenient transportation options. Do note that there are lots of stairs to climb, which may present challenges for some.
Marriot's Birch Resort
This place at the Marriott's Birch resort is perfect for small families. Kids love the pool which is both indoors and outdoors. You'll also find a basketball court and there are fun kids activities available as well. The hot tubs are the perfect place to chill, year round.
Happy Travels!
Make sure you also see
Vail Places to Stay for Couples
if you're interested in more places to stay in Vail.