Vail On a Budget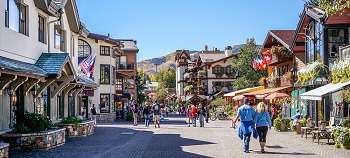 Vail is one of the premier ski resort areas in the United States. Located in central Colorado, Vail is not far from Denver and situated in the heart of the Rockies. Here you'll find a quaint mountain town designed around tourism, especially for the winter, although plenty of visitors come in the warmer months, too.
High-end hotels, condos, and other accommodation options are surrounded by shops and restaurants that are all somewhat expensive compared to other costs in the United States. Because of this, Vail is definitely not considered an "affordable" travel option for many. However, good deals can be found if you look around and do some research.
Sights
Skiing and snowboarding at
Vail
are the main attractions here, and that should come as no surprise to anyone who's even heard the name Vail. The popularity of winter sports in this town, and the surrounding region of the Rockies, stretches far and wide. With dozens of slopes on the mountains surrounding the town, the Vail ski resort complex is large indeed. The resort holds ski classes for kids and adults, as well as a number of other events and activities.
Several wildlife and wilderness areas can be found in and around the resort and are open most of the year. The Holy Cross Wilderness Area and the Eagle's Nest Wilderness Area are both worth visiting if you want to get out in nature, especially in summer for a hike.
The
Betty Ford Alpine Gardens
is a nice spot full of local and exotic flowers with beautiful landscaping. It's worth a visit if you go in the warmer months when everything is in bloom.
Activities
Other than the previously mentioned winter sports, Vail offers a number of other activities both in the town and resort area and in the surrounding mountains.
Hiking is one of the most popular activities, and a large number of trails can be found throughout the region. The Vail resort opens some of the chairlifts in the warmer months for hikers and other visitors who wish to head up to the top of the mountain.
Mountain Biking is also very popular, and like many ski resorts, the downhill ski slopes are full of criss-crossing downhill bike paths catering to those interested in this two-wheeled sport.
The resort has a popular spa. Visitors can pamper themselves and relax with a massage and other amenities year round.
Rafting, kayaking, and other river sports are popular in the region during the summer. It's easy to
find an outfitter
in town if you want to take a day trip to a nearby spot to shoot the rapids. Fishing in the nearby rivers and lakes is also popular.
The Forest Flyer mountain coaster is a fun activity for kids (and adults, too). It's like a roller coaster that zooms down the hill. Admire the views as you take the sharp turns at high speeds.
Horseback riding is another popular activity in warmer months, too.
Food and Dining
The town of Vail has a number of terrific restaurants and other food options. From high-end fine dining to quick and affordable fast-food, everyone has an option for their budget and time commitment. Grocery stores are also found in the area if your accommodation has a kitchen, as cooking is perhaps the best way to save money on food.
Sweet Basil, Bully Ranch, and Pepi's are some relatively casual restaurants serving various American and European dishes. Another is Terra Bistro which offers a variety of locally sourced ingredients in their creative dishes.
Matshuhisa has some great Japanese food, and is a relatively high-end place. Sushi Oka is nearby and has a more casual atmosphere for sushi, hibachi, and other Asian dishes.
For some great and more upscale dining options, check out Flame, Vintage, or Leonora.
Transportation
The town of Vail sits on I-70 about 100 miles west of Denver. The drive takes under 2 hours if traffic is good, and is quite scenic as you weave your way through the mountains. From Grand Junction, take I-70 east for 150 miles (about 2.5 hours). Be aware that sometimes I-70 and other roads can close in the winter due to extreme weather.
Greyhound buses (and other companies) run from Denver to Vail and take about 2.5 hours from the Denver Bus Center. Several trips are made daily.
Vail has a small airport (Eagle County Regional) with flights from Denver and Dallas. These flights tend to be fairly expensive. It's a small airport but has all expected services such as car rentals. Most visitors fly into Denver,
rent a car
, and then drive. You'll probably want a car when you get to Vail anyway, and the added expense of renting a car is probably cheaper than flying into Vail's airport.