Can Tho On a Budget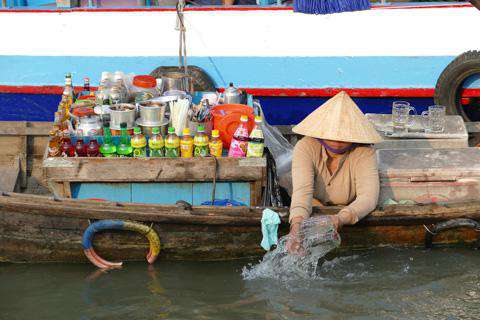 Can Tho is the largest city of Vietnam's Mekong Delta, and is best known for its canal network of floating markets, restaurants, bars, and hotels, Buddhist pagodas, and the beauty of the delta, which is illuminated in the evenings.
Sights
The main attractions of Can Tho are the floating markets and the pagodas. One of the biggest and most active Buddhist temples is Quang Duc Pagoda, located on Mau Than Street, where monks live and visitors are welcome. Also worth visiting is the newer Buu Tri Pagoda on Mau Than Street and the Khmer Pagoda of Munirangsyaram on Hoa Bình street. Mau Than Street is the longest street in the Mekong Delta and central street in Can Tho. Aside from the more touristy floating market area, this street has some of the best opportunities for local shopping and dining.
The
floating markets
are one of the most unique attractions of Can Tho. Cai Rang is the main wholesale floating market, and can only be reached by boat. Other markets on the water include Phong Dien, Phung Hiep, and Tra On. All of them are very lively, typically open earlier in the day, and can only be reached by boat. Floating market tours are available for visitors who wish to have a more guided experience of the local bustle.
Can Tho also has a number of impressive markets on land. Cai Khe Market on Tran Van Kheo sells fresh fish and other products that arrive on the river, Xuan Khanh Market on Mau Than Street predominately sells fresh food, fish, vegetables, and fruit, and Ninh Kieu Pier Tourist Market mainly caters to tourists.
Neighborhoods
In Can Tho, the center of all activity is on the waterfront along Hai Ba Tr?ng Street. This is where visitors will find the famous floating markets and other floating attractions like hotels, bars, and restaurants. The central district for the waterfront is Ninh Ki?u, the wealthiest and most-populated of Can Tho's nine districts. Ninh Ki?u's port is also the hub for boat trips on surrounding waterways. Other urban districts include Bình Th?y, Cai R?ng, Ô Mon, and Th?t N?t, while the rural districts are C? ??, Phong ?i?n, Th?i Lai, and V?nh Th?nh. Each district then has its own assortment of communities and towns. Most visitors stick to the city center, between the Can Tho University and the Ninh Ki?u quay. This area can be easily explored on foot, though there are also opportunities for renting bicycles or motorbikes to get around the city.
Activities
The best way to experience Can Tho is to explore. Whether on foot, bike, motorbike, or boat, any means of transportation will allow visitors to immerse themselves in the unique market culture of the city. A variety of tours are available from boat cruises to dinner food tours-there is something for everyone. The city also comes to life in a whole different way at night with the illuminated waterfront bustling with busy restaurants and bars.
Food and Dining
Can Tho is especially known for its lighter fare made with fresh fruits and vegetables. The markets are a great place to try local produce. There are many varieties of mangoes, oranges, jackfruit, pomeloes, and grapefruit, as well as more exotic fruits like custard apple, corossol, longans, and durian. Many locals get their produce at Xuan Khanh Market.
For a unique dining experience, visit H?m Vit Nau Chao, or the Hot Pot Alley. Here restaurants specialize in the Can Tho Hot Pot, a soup made from your choice of different vegetables, leaves, egg noodles or rice noodles, tofu, and eggs. Varieties of hot pot include duck, seafood, apple mangrove, and many varieties of fish. Other local specialties include magenta sticky rice cakes, cai rang grilled rolls made from pork, baked sticky rice banana bun, grilled green pepper snails, cong cake made from seafood and served with a sweet and sour fish sauce, Vietnamese noodles served with pork in coconut cream, traditional Vietnamese pancakes, banh mi (baguette sandwich), and many more.
Transportation
The city and the rest of the Mekong Delta is served by Can Tho International Airport. Flights are offered by VietJet Air, Thai VietJet Air, Vietnam Airlines, and VASCO. Because flights are limited in Can Tho, many visitors also opt to travel into Phnom Penh International Airport, the largest airport in Cambodia. Flight connections can be made to Can Tho, or it can be reached by car from Phnom Penh in about 5 hours 40 minutes (226 kilometers).
There are also express bus services that connect most locations in the Mekong Delta, including Ho Chi Minh City where many visitors also arrive. By car, it is about 4 hours northeast of Can Tho (197 kilometers).