Nha Trang On a Budget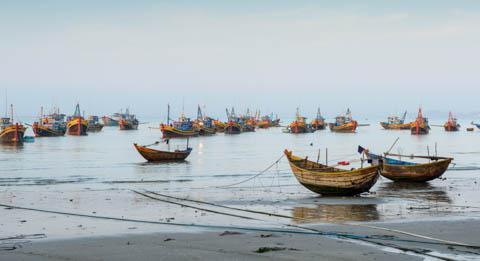 For the relaxation of a small beach town, plus the energy of a young city, consider Nha Trang, Vietnam. As the most famous seaside town in Vietnam, Nha Trang is certainly livelier than many other beach resort towns. Visiting this part of Vietnam is not for the faint of heart. These people know the meaning of nightlife - and make the night last as long as they can.
Something to keep in mind is to avoid monsoon season. From October to mid-December the weather in Nha Trang can be chilly and windy. Also, this area is a very popular spot for Russian tourists. Because of this many signs and menus are only available in Vietnamese and Russian. So don't be surprised if those are the only two languages spoken in your hotels and taxis - although English is becoming much more universal here and in Vietnam as a whole.
Sights
If you're in the mood to see some gorgeous beaches, simply take your pick. The six-kilometer stretch of golden sand beaches is split into various sections to please every type of tourist. There is an area just for swimmers to escape bothersome jet skis and boats, and the further south you travel, the more likely you will find your own private beach. Note that you may want to try to get your sunbathing in before one o'clock - after that the afternoon breeze rolls in to whip that sand straight into your face.
For those of you who simply can't get enough of the local culture, be sure to stop by the Po Nagar Cham Towers. These four brick towers built by the Cham civilization were meant to honor the mother of the kingdom, Yang Ino Po Ngar. Today, it stands as a sacred space for the local Buddhists. The think smell of incense and Buddhist population immediately lets you know this part of the island is very different from the resort section you traveled in from.
While you're taking the tour of the local religious sites, be sure to put Nha Tran Cathedral on the list. This elegant church sits on a small hill overlooking the train station – a unique view for anyone visiting.
Activities
Nha Trang is a great spot for all your typical watersports - sailing, jet skiing, surfing, etc. It's the center of scuba diving in this region. Right off shore is a series of islands with interesting underwater sights.
The
Thap Ba natural hot springs
are a great spot to unwind after all your ocean adventures. Sit in one of the relaxing pools or partake in a cleansing mud bath.
Traveling with kids can be a challenge. Luckily Nha Trang has a spot to occupy the little ones all day. With waterslides, games, a wave pool, rides and a large aquarium, the Vinpearl amusement park keeps the whole family entertained. A tourist favorite is the 3,000-meter cable car ride to get to the entrance of the park. Have your camera ready for some of the most beautiful views of the bay.
For any hikers visiting Vietnam, there are plenty of opportunities for you to climb things. None are prettier, however, than the Ba Ho waterfalls. These falls are virtually untouched with the exception of some arrow signs guiding your way. Hike your way to these beautiful views and enjoy a refreshing dip as the perfect end to your adventure.
But the best view in the city can be found at the Suoi Do Pagoda. Paddling the stream, climbing the mountain and arriving at the pagoda will meet you met with stunning views of rice paddies, hills and banana plants. It's a gorgeous destination, but a little tough to find. So planning your visit with a tour group might be a good option.
Food and Dining
Because Nha Trang is such a popular tourist destination, you'll likely find food from every region of the world - at every price you could imagine.
For an authentic Vietnamese experience, plan to eat one of the local pavement cafes. These informal spots are cheap with plastic chairs populating the sidewalks. While many stick to their favorite foods from home, be a little more open-minded and dive right into the delicious seafood offered in this region.
Transportation
Getting around this resort town is relatively easy given the reliable public bus system and a host of other transportation options. The buses running around the city are ultra-modern with air-conditioning and the sounds of Vietnamese music accompanying your ride.
There are the normal choices - taxis, bicycles, and motorbikes - but you can also hire a cylco-driver for the day. If this is your plan, be sure to clearly set the price before your ride begins. Many drivers will pretend not to understand your English numbers in order to cheat you into paying more. Be very cautious of drivers offering to take you to hookers and pickpocket you while you're not looking.
And as usual in Vietnam, negotiate with any taxi driver and settle on a price before you depart.
If you're looking for visa information for Vietnam, read this article about
how to get a visa for Vietnam
.
Related
Looking for a
hostel in Vietnam
or
Cambodia
? Find
party hostels in Vietnam
or
Siem Reap
or find the best place to stay if you're
traveling alone to Ho Chi Minh City
.