Da Nang On a Budget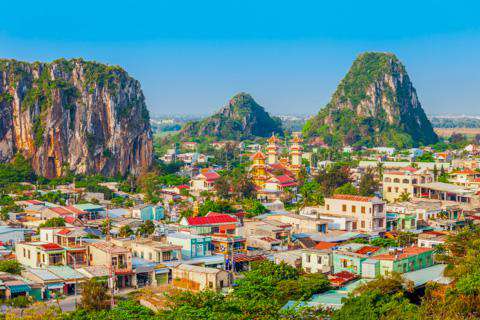 Halfway between Ho Chi Minh City in the south and Hanoi in the North is the easy-going beach city of Da Nang (or Danang, for some). The third most populated city in Vietnam, Da Nang draws in crowds with its beautiful and calm beaches as well as its history as a French colonial port.
With beaches, mountains, and cityscape, there's bound to be a point of interest for all travelers. Da Nang is also a transit hub to get to the four Vietnamese UNESCO World heritage sites: Phong Nha Ke Bang National Park, Hue, Hoi An, and My Son.
Da Nang experiences wet season from September through March and dry season from April through August with average temperatures of around 80℉.
Da Nang is also known to have some of the friendliest locals, probably due to the peace and quiet and lack of heavy traffic, even in the city.
Sights
You can't travel around Da Nang without crossing one of the Da Nang Bridges, including Nguyen Van Troi bridge, a foot bridge in the shape of a scallop, Han River Bridge, which is the country's only rotating suspension bridge, the 731-meter Tran Thi Ly bridge, shaped like a giant sail, and the iconic Dragon Bridge, which lights up at night. Every Friday and Saturday at 9 p.m., the dragon breathes fire and water toward the east.
Take the world's longest single-track cable car to the top of Ba Na Hills, a former French Hill station during the war. Kids will enjoy the amusement park at the top of the hill with plenty of rides and a wax museum. Don't forget to take a panorama of the views of the East Sea and mountains. Nearby, you can also climb the 17-story high tower inside the Buddha Guanyin, the biggest in Vietnam.
Cao Dai Temple is the largest in Vietnam, and is a peaceful getaway from the city. Though it is still used today by worshippers, visitors can also drop by during the day and check out the gardens, temple, statues, and artifacts.
Visit My Son Sanctuary, which consists of a number of abandoned Hindu temples from the Cham empire, which date back to as long ago as the 4th century A.D.
Activities
Bask in the sun, clear waters, and more than 18 miles of white sand at Non Nuoc Beach, also known as China Beach, made popular by the American war and also 80's TV show by the same name. Check out the nearby fishing boats and if you swim, go in the mornings as winds pick up in the afternoon. On the north side, you'll find higher-end restaurants and bars, while the south side is known for humbler seafood restaurants.
Drop into the Cham Museum and explore the world's largest collection of Cham art. Don't forget to check out the huge status of Buddhist Champa king Indrapura, on which intricate Buddhist carvings remain.
Put on your comfortable walking shoes to climb up the 100 steps into the Marble Mountains to see the caves, shrines, pagodas, and beautiful views of the city and the sea. If you're not ready to climb the steep stairs, don't worry, there's also a glass elevator available at the base of the mountain, which will take you to the main pagoda for 15,000 Dong.
Take one of the best coastal rides in the world on on a bike or motorcycle through Hai Van Pass, which was formerly the only road to travel north or south in Vietnam before the tunnels were built. You'll be sure to see breathtaking views of the cities, bridges, and beaches on this route.
While you're on your motorbike or hiring a vehicle, take a day trip to Hoi An, a small village which still retains Chinese, Japanese, and European architecture from the 17th century. Stroll the quaint town streets, shop the boutiques and taste the local and modern food in the numerous restaurants around the riverbanks. If you're in the market for a custom tailored dress or suit, you'll be sure to haggle your way to a good deal here.
Food and Dining
Vietnam has a plethora of choices when it comes to dining and Danang, unsurprisingly, specializes in seafood. Stop into Trung Phi BBQ for cheap eats, which include their famed barbecued oysters, shrimp, and octopus. They also serve beef and pork if you're not in the mood for seafood.
Regional specialties include Banh trang cuon thit heo, which is sliced pork, fresh veggies, and green bananas rolled with rice paper and served with dipping sauce. Locals keep coming back to the moderately-priced restaurant, Tran, which specializes in this as well as spring rolls served in its beautiful dining room with rustic wooden decor. Mi Quang 1A is the most famous shop to try Mi Quang, which are rice noodles with meat, shallots, garlic, fish sauce, and sometime eggs, chili peppers, and vegetables topped with rice crackers.
Another local favorite is Bun Cha Ca, a fish cake noodle soup served at many restaurants, including Bun Cha Ca 109 and Pho Xua.
If you're ready for a break from Vietnamese food, Da Nang also has plenty of international cuisines readily available. Happy Heart Cafe features healthy American and European fare at moderate prices. Mumtaz Indian Restaurant is well-known for its dosas, raita, and chicken, but also offers vegan, halal, and gluten-free options for those with dietary restrictions. You'll feel peace of mind eating at Bread of Life, an NGO restaurant which employs and benefits deaf Vietnamese and serves hearty portions of pasta, burgers, salads, and western-style breakfasts.
Transportation
Da Nang International Airport is only 3 miles away from the city center. From there, you can easily take a cab to get to your destination. Look out for green-and-white Mai Linh Group taxis, which are known to be trustworthy and reliable. Ensure that their meters are on and reset at the beginning of your ride.
Alternatively, you can also take the bus or train for low cost public transportation. The train station is located on Hai Phong Street, about 3 miles from the city center.
Da Nang Central Bus Station is one of the busiest in the country and has buses serving routes for all destinations basically all day long. Take note that if you're not traveling internationally, you can show up and buy your ticket on the spot.
Within the city, flag down a three-wheeled bike taxi, or "cyclo." As always, be sure to agree upon a price before you get in.
You may also opt to rent a motorbike if you're experienced and confident enough to navigate through the traffic in the city, but rest assured that Da Nang traffic is nothing like that of Ho Chi Minh. Ask your accommodation for trustworthy motorbike rental companies.
Related:
Looking for a
hostel in Vietnam
or
Cambodia
? Find
party hostels in Vietnam
or
Siem Reap
or find the best place to stay if you're
traveling alone to Ho Chi Minh City
.