What sets them apart?
This hostel's cleanliness, quiet setting, and professional vibe make it a comfortable option for travelers to Amsterdam.
Hostel Personality
Who's staying here?
This hostel feels a bit more like a hotel than a hostel. It typically attracts an older crowd and is a good option for families, couples, or anybody looking for a quiet environment. It's in a very safe location and is recommended for female travelers as well.
Insider Tip
The breakfast is a bit expensive but a good spread.
Stayokay Amsterdam Oost
Stayokay Amsterdam Oost is a large hostel of the Stayokay hostel chain. It has a quiet setting in a peaceful neighborhood where you can enjoy a good night's sleep. This hostel appeals to a slightly older crowd and is a good option for families who want to take advantage of the family rooms.
The hostel is a bit outside of the city center, but public transportation is convenient and easy to use. There's also an on-site restaurant and cafe that's convenient if you just need to grab a quick bite to eat.
The Facilities
Dorms
Dorm rooms sleep either six or eight people and are surprisingly large. The bunks are comfortable and sturdy and there's a partial wall on each bunk that provides just enough privacy. Most rooms have a good amount of natural light and some basic furnishings. Security lockers are also located under each bunk.
The bedrooms are all spacious and feature private sanitary facilities. All standard rooms have bunk beds.
Private Rooms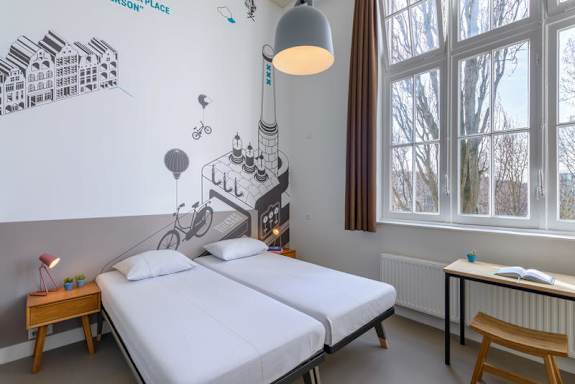 This is a large hostel with a large range of private rooms. Couples appreciate the double rooms, which give them a bit of privacy. There are also twin rooms available. Families often take advantage of the quad or six person private rooms. These are also great for groups of friends that are traveling together.
Bathrooms
Each room has it's own private ensuite bathroom. The bathrooms are clean and the hot water is reliable.
Restaurant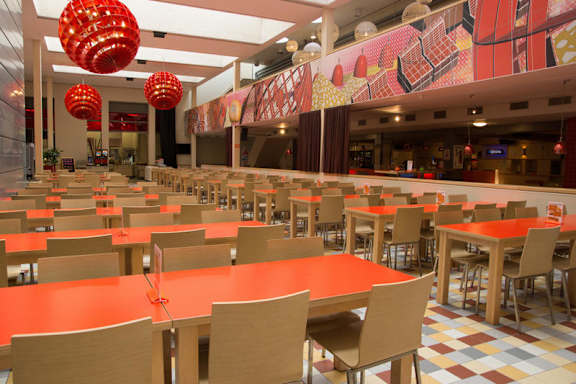 This hostel has an on-site cafe and restaurant where you can grab a quick bite to eat. This is also where breakfast is served every morning for a small price. The meals are either buffet style or counter service and there are a large number of tables to accommodate the large number of guests that pass through this hostel.
Common Areas
This is a large hostel with a large amount of common space. There are sofas, tables, and plenty of quiet space if you want to read a book. There's also a small kitchen that is decent quality if you want to prepare your own meals.
Outdoor Space
Head to the outdoor terrace when the weather's nice to take advantage of the beautiful day. This is a nice space to enjoy a meal.
The Location
Zeeburg
What's Nearby?
This hostel is located in a former school building about two miles outside of the city center in a quiet part of Amsterdam. It's a very safe and comfortable neighborhood that lets you experience a more authentic side to the city. Nearby is a great shopping street, restaurants, a few bars, and a movie theater. The historic center is less than 15 minutes away by bike. You can also take a 1-minute walk to the Zeeburgerdijk tram stop which offers direct access to Amsterdam center.
Nearby Transportation
Heading into the city is easy by public transportation. Right by the hostel is the Zeebergerdijk tram stop where you can take a tram directly into the city in about 15 minutes. You could also bike into the city center in about the same amount of time. If you choose to walk, expect it take take about 40 minutes.
Amenities
This is a large hostel with all of the standard amenities including Wi-Fi access, luggage storage, vending machines, and 24 hour reception service. The hostel feels very safe and secure with keycard access and plenty of security. There's also breakfast available for a price every morning in the cafe. Lunch is also served in the cafe. The elevators provide easy access to rooms and bike rental is highly recommended as exploring Amsterdam by bike is a must.
Staff
The staff here are professional and keep things running smoothly. They have tour and travel information if you need anything.
Heads Up
This hostel has a quiet, hotel-like atmosphere and some guests felt it's large size made it feel more like a corporation than a community hostel.
Stayokay Amsterdam Oost
Do you have a favorite hostel that you would like to review? Let us know!