Great cheap place to stay in Amsterdam. Definitely a young and energetic vibe. The decor has a good sense of humor and the hostel itself has lots of good activities. The free breakfast is a nice touch. The rooms are very basic but very clean and nice for a hostel. Would definitely stay again. - Rose
What sets them apart?
This place is a no-frills budget hostel with a party vibe. It's all about value for the money in a setting that is lively late into the night.
Hostel Personality
Who's staying here?
This hostel attracts a young and energetic crowd who are looking to have a good time. If you're looking for a party, then this hostel has it.
Insider Tip
Ear plugs are available at the reception area.
Hans Brinker Hostel Amsterdam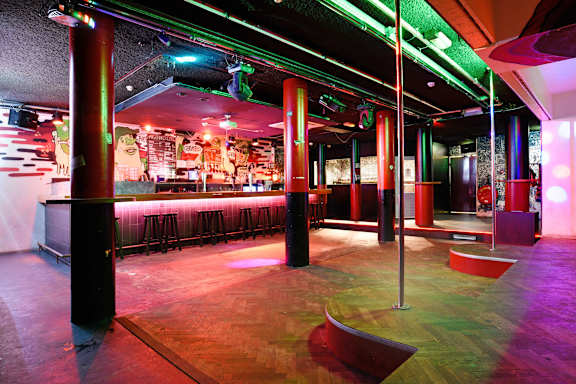 Hans Brinker Hostel is all about bang for your buck. It's a basic, no frills hostel that has simple rooms with limited furnishings. They do pay attention to what matters, though. The mattresses are comfortable and breakfast is free.
The on-site bar and club stays active late into the night, so if you don't join the party, you'll likely want to ask at this front desk for ear plugs. This is a hostel that attracts a young and fun crowd who are excited to meet new travelers and have a good time.
The Facilities
Dorms
Dorms sleep anywhere from four to eight people. They have basic furnishings and security lockers where you can store your belongings. If you have something particularly valuable, you can put it in the safe near the reception area.
Private Rooms
Twin and triple private rooms are available for travelers who aren't interested in dorms. The rooms are basic but comfortable. Some rooms have bunk beds while others have single beds. The rooms are relatively small and have no real furniture, but they do offer privacy.
Bathrooms
Bathrooms have toilets and showers. This is a hostel that focuses on price more than luxury, and the bathrooms are functional but have no frills. Many guests feel this is the worst part of the hostel.
Bar
This hostel has a bar, restaurant, and downstairs club where guests can hang out. The bar has an eclectic design and a fun vibe. You'll get the best deals at happy hour, which is every day from 5 until 6 pm.
The downstairs club is the place to be as the night fun picks up. There's music, drinks, and dancing until 3 or 4 in the morning.
Restaurant
If you don't feel like heading out for a meal, the on-site restaurant offers decent meals with fresh ingredients. The prices are great and the food is filling. It's a great option for anybody looking for a cheap and quick bite to eat.
Outdoor Space
There is a nice outdoor space where guests can hang out and enjoy a meal. There are tables and some basic seating available.
The Location
Leidseplein
What's Nearby?
This hostel is located on Kerkstraat, right around Leidseplein, which is a hub for nightlife activity in the city. The hostel is also just a five minute walk from Museumplein and some of the most impressive museums in Amsterdam. Also nearby is the beautiful Vondelpark, which is the perfect place to relax with a picnic lunch.
The neighborhood has plenty of restaurants and shops. There's plenty to see and do nearby.
Nearby Transportation
This hostel is just a few minutes walk from the tram stop Prinsengracht, which offers direct links to Central Station and the Museum District. It's also possible to rent a bike and explore the city in the most interesting way.
Activities
The downstairs club is where you'll find the most activities. There are parties many nights that last late into the night. The bar also has daily happy hours between 5 and 6 PM. Also ask the staff about their pub crawls.
During the day there are walking tours and boat tours of the cities. Tickets are available for all kinds of activities for a discounted rate.
Amenities
This is a no frills hostel, but they do have what matters. It's all about bang for the buck so you'll really appreciate the free breakfast, free towels and bed linens, and luggage storage. The hostel also has security lockers, a safety deposit box, and keycard access to makes sure your belongings are safe during your stay.
Staff
The staff here are young and fun, just like the guests. This is a hostel, so don't expect luxury, but you can expect to have a good time with a great group of people, staff included.
Heads Up
This is a party hostel, particularly on the weekends when the downstairs club is most active. Some guests feel that it's not the cleanest hostel, and the bathrooms in particular could be improved.
Hans Brinker Hostel Amsterdam
Do you have a favorite hostel that you would like to review? Let us know!